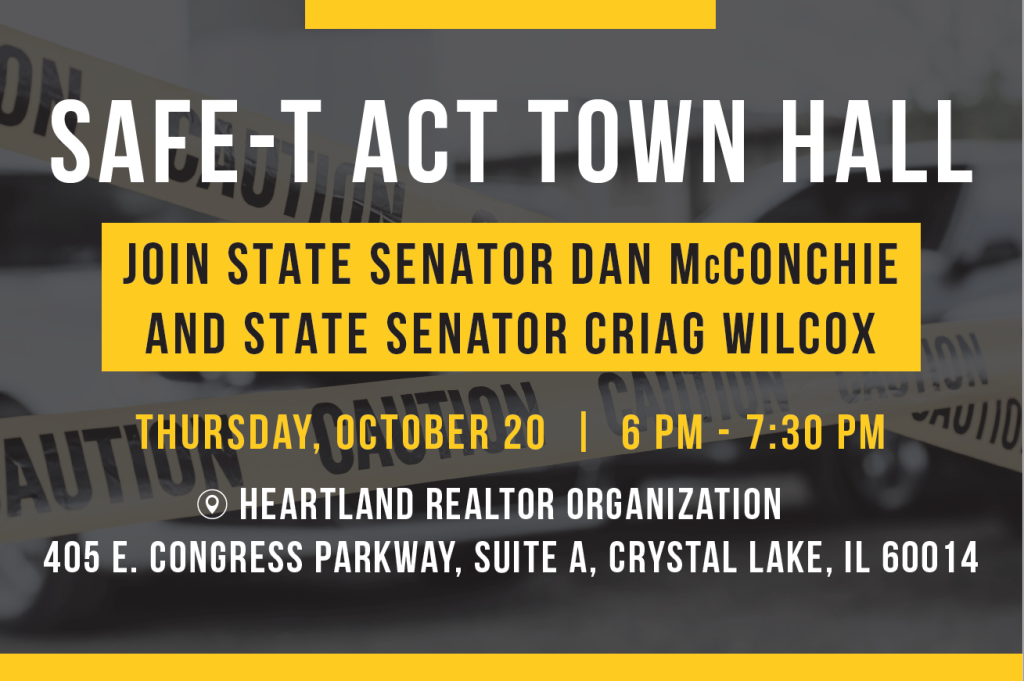 With conflicting information about the SAFE-T Act circulating around all areas of Illinois, State Senators Dan McConchie (R-Hawthorn Woods) and Craig Wilcox (R-McHenry) want to separate fact from fiction at a SAFE-T Act Town Hall Meeting that will be held on Thursday, October 20 in Crystal Lake.
"With a growing number of people becoming concerned and fearful of what will happen after January 1, this is a great opportunity for community members to come out, ask questions and get a better understanding of what to expect and how to best be prepared," said Sen. McConchie.
The event on October 20 will take place from 6:00-7:30 p.m. at the Heartland Realtor Organization Building, 405 E. Congress Parkway, in Crystal Lake. Guest speakers at the event include McHenry County State's Attorney Patrick Kenneally and Crystal Lake Police Chief James Black.
"State's Attorney Kenneally and Chief Black have studied the new law line by line and understand the benefits and shortcomings of the bill," said Sen. Wilcox. "As such, both will be able to speak in detail about how the law's provisions will affect the criminal justice system and the ability of law enforcement officers to do their jobs. There will also be time for Q & A with the audience."
Space is limited and RSVPs are strongly recommended. Those wishing to attend the SAFE-T Act Town Hall Meeting can reserve their spot by clicking here or contacting Sen. McConchie's office at (224) 662-4544, or Sen. Wilcox's office at (815) 455-6330.