Clock is running out on ethics reform
Comprehensive ethics reform is a critical step for the government of Illinois to earn back the trust of the residents of the State. As we enter the final 8 days of the spring legislative session, time is running out to pass meaningful ethics reform. We cannot adjourn at the end of May without sending the Governor approved ethics legislation that holds lawmakers more accountable and provides local and state prosecutors with more tools to investigate allegations of political corruption.
As of today, the Senate Ethics Committee has met only once all year. While over a dozen Senate Republican ethics bills were denied hearings, the only bill the committee considered this year is Senate Bill 4, which includes weak reforms and loopholes. SB 4, brought forward by Senate Democrats, fails to deliver necessary reforms and does not go far enough in ensuring those who deviate from their public oath of office are held accountable for their corrupt practices.
On May 17, Senate Republicans unveiled real, comprehensive ethics reform legislation. I am a co-sponsor of this legislation. Senate Bill 1350 takes the provisions of SB 4 and expands and strengthens them in many ways. Our bill would require greater levels of transparency by elected officials in their official duties, while also providing new, important tools to county state's attorneys and the Illinois Attorney General. Senate Bill 1350 would help root out government corruption by:
Allowing the Attorney General to impanel a statewide grand jury to investigate, indict and prosecute bribery and misconduct by members of the General Assembly;
Authorizing state's attorneys to use wiretaps to investigate crimes of public corruption;
Granting the Legislative Inspector General the ability to investigate members of the General Assembly without first receiving approval from the Legislative Ethics Commission;
Banning legislators from lobbying other branches of state government or units of local government for compensation;
Requiring legislators to wait one year after leaving office, or until the end of the current term (whichever is longer) before they can become a lobbyist;
Prohibiting a legislator from leaving office and continuing to use their campaign fund to support lobbying activities; and
Updating the Statement of Economic Interests to enhance the disclosure of potential conflicts of interest.
The constant stream of elected officials running afoul of the law and stories of self-serving deals by legislators have caused Illinoisans to lose faith in their state government. The only way that Illinois lawmakers can begin to rebuild the public's trust is to pass meaningful ethics reform that will truly address the ongoing corruption that currently plagues the state.
Budget talks start to heat up
As the spring legislative session approaches its end, budget talks have begun to pick up steam at the Capitol. While negotiations are ongoing, I am calling for the removal of tax hikes on businesses that Gov. JB Pritzker proposed in his February Budget Address.
Since the Budget Address, the state has added $3 billion in unexpected revenues between Fiscal Years 2021 and 2022. Additionally, the federal government passed a federal relief package that will provide the state with another $8 billion. Businesses, through no fault of their own, absorbed tremendous financial stress during COVID-19, and many closed their doors forever. As budget talks continue, any tax increase on businesses should be completely off the table.
Controversial sex education curriculum passes the Senate
On May 20, the Illinois Senate passed Senate Bill 818, a controversial education bill that would rewrite existing state standards for sex education in grades K-12. I opposed this bill.
The legislation would significantly limit local control over sexual education by requiring school districts to either teach the new standards as written or nothing at all. These standards were formulated by advocacy groups from outside of the state, many of which are considered divisive.
Some of the contentious provisions that can be found in Senate Bill 818 include:
Requiring second-grade students to define consent, reproduction, and gender identity, as well as identify different types of families, including cohabitating and same-gender;
By fifth grade, students would be required to describe the role of hormone blockers, to distinguish between the sex assigned at birth and gender identity, define and explain differences between cisgender, transgender, gender nonbinary, gender expansive, and gender identity, and to be able to articulate that gender expression and identity exist along a spectrum;
Language that deemphasizes that abstinence is the only 100 percent effective way to prevent STIs and pregnancy; and
Requiring course materials to include local resources for reproductive health (including abortion providers), and prohibiting any instruction or materials in the classroom, including guest lectures, which might conflict with the provisions of the bill.
The legislation now heads to the Illinois House of Representatives for further consideration.
Senator Wilcox delivers appreciation cards to local police officers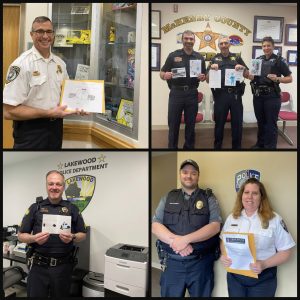 Last week while I was in Springfield, my staff delivered cards to local police officers in honor of National Police Week. Community members from across the 32nd Senate District created homemade cards to show their appreciation for local law enforcement's service and dedication to keeping their communities safe.
Thank you to everyone who participated in my "Appreciation for your Dedication" card drive for local law enforcement. In recognition of Police Appreciation Week, several different police departments were showered with cards, drawings, and well-wishes.
Bipartisan legislation that strengthens laws for child abuse and child sexual abuse advance in Senate
This year I am co-sponsoring two bills that enhance Illinois laws relative to child sexual abuse. Both of these pieces of bipartisan legislation advanced through Senate Committees this week.
House Bill 3462 provides that every child reported to the Department of Children and Family Services (DCFS) or law enforcement believed to be a victim of sexual assault or sexual abuse has the right to have the child's forensic interview conducted by an interviewer from an accredited children's advocacy center if the service is available in the region.
House Bill 3461 makes the provisions of "Erin's Law" a requirement rather than an option for school districts in Illinois. Erin's Law, named after sexual abuse survivor and Illinoisan Erin Merryn, was signed into law in 2013 as a permissive policy that encourages schools to adopt an age-appropriate and evidence-informed curriculum that addresses sexual abuse.  Age-appropriate curriculum materials for educators must include a definition of prohibited grooming behaviors and boundary violations, and instructions for how school personnel can report these behaviors.