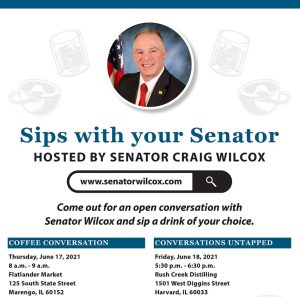 State Senator Craig Wilcox (R-McHenry) will be hosting a series of "Sips with your Senator" events throughout the 32nd District this summer. The first two events are scheduled next week on June 17 and 18 in Marengo and Harvard.
"With the recent completion of our spring legislative session and the bills that were passed, there is plenty to talk about," said Sen. Wilcox. "These events are very informal, and I want to provide the residents of the 32nd Senate District the chance to come out and meet with their Senator and talk casually about the issues that matter to them. I will also do my best to address any questions or concerns people may have."
The gatherings will include morning Coffee & Conversation events at local coffee houses, and early evening Conversations Untapped events at breweries and distilleries throughout the 32nd District. Next week's events include:
Thursday, June 17
8:00-9:00 a.m.
Coffee & Conversation
Flatlander Market
125 S. State Street
Marengo   
Friday, June 18
5:30-6:30 p.m.
Conversations Untapped
Rush Creek Distilling
1505 W. Diggins Street
Harvard                                                                  
"These are the first two of several of these community engagement events I'll be hosting this summer," added Sen. Wilcox. "My hope is that constituents who might not otherwise engage with their elected voice in Springfield will find an event close to where they live and stop by to say hello. And if there is an issue they'd like to discuss or bring to my attention, it provides the perfect opportunity for a conversation."
According to Sen. Wilcox, similar events are being planned in McHenry, Crystal Lake, Woodstock, and Fox Lake. As events are planned, information will be posted to Sen. Wilcox's web site (Senatorwilcox.com). For more information about these or other summer events, please contact the Senator's district office at (815) 455-6330.