Wilcox End of Session Report lands in District 32 mailboxes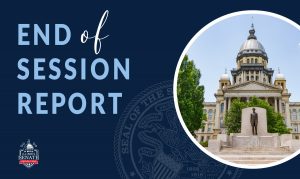 My 2021 End of Session report landed in mailboxes across the 32nd District this week. The report summarizes important legislation from the spring session, and also includes a link to a short digital survey. Click here to access the survey.
The EOS report also makes reference to transportation projects that were included in IDOT's multi-year plan. Click here to view the list of IDOT multi-year plan projects for the 32nd District.
I hope you take a few minutes to read through the report, and that you find the information helpful and enlightening. If you did not receive a copy, please call my office at (814) 455-6330, and we will mail you a copy.
Official Census numbers don't align with Democratic-drawn maps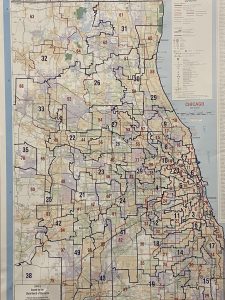 Earlier this year, instead of waiting to use accurate U.S. Census data to draw legislative maps, Democrats forged ahead with partisan-drawn maps by using population estimates from the American Community Survey (ACS). These estimates have been proven to be unreliable for the tedious and complex map-drawing process. When official U.S. Census Bureau data was released last week, Senate Republican's claims were confirmed—the Democrat-drawn legislative redistricting maps violate the U.S. Constitution and federal law, as well as comparable provisions of the Illinois Constitution.
The statutes require individual legislative districts to be relatively uniform in population. Ideally, since there are 59 individual Senate districts, the population of the state should be divided by 59 to create the number of people who should live in each Senate District. Along those same lines, since there are 118 House Districts, the state's population should be divided by 118 to create the estimated population of each House District.
An analysis of the maps shows a 30 percent population deviation between some districts, which is three times the maximum allowable limit according to federal law (the law allows for a 10% swing). The data also show underrepresentation of minority populations in several Illinois communities. I believe these flaws render the maps unlawful and unusable. Republicans have filed a lawsuit, McConchie v. Illinois, asking the courts to rule the maps as unconstitutional. With this new data, it is clear the maps violate federal law.
Senate and House Republican Leaders file motion for summary judgment on maps lawsuit
Following the release of official U.S. Census data that prove the Democrat-drawn legislative maps are unconstitutional, on Friday Senate Republican Leader Dan McConchie (R-Hawthorn Woods) and House Republican Leader Jim Durkin (R-Western Springs) filed a motion in federal court for summary judgment on their maps lawsuit.
The motion for summary judgment outlines that the facts and evidence presented in the case are so overwhelming that no real dispute still exists and requests an immediate ruling because a trial is no longer necessary to determine the case. If the summary judgment motion is granted by the court, the legislation Governor Pritzker signed that includes the maps as drawn by the majority party (HB 2777) will be declared unconstitutional and void without a lengthy trial. The nullification of the maps provides an opportunity for the process to go to a bipartisan commission.
While the court continues to consider the case, Senate and House Democrat leaders have called legislators back to Springfield on Tuesday, August 31 to "fix" the maps. However, they do not have the legal authority to redraw the maps because:
The June 30 deadline has passed; therefore, under the Constitution, the process should now head to a bipartisan commission; and
Since the original map was already signed into law, the General Assembly loses jurisdiction to amend the map.
Capital Development Board releases funds for two key 32nd District projects
On Thursday I learned that the state's Capital Development board released funding for two important projects in the 32nd District. They include:
Chain O'Lakes State Park – $1,311,200: The project includes upgrading electrical service to all campsites, including trenching, underground wiring, and new distribution panels. The work also includes upgrading electrical services.
Moraine Hills State Park – $643,100: The project includes replacing approximately 22,840 square feet of both steep and flat roofing on six buildings. The work includes new decking where needed, underlayment, shingles, standing seam metal panels, ventilation, sheet metal, membrane, and insulation.
Sen. Wilcox to host mobile DMV event in Johnsburg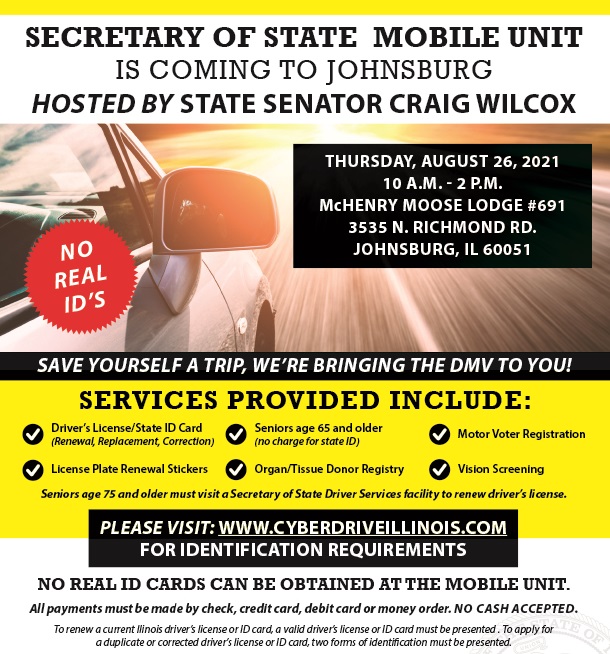 Lines at local driver's services offices remain long throughout the region. On Thursday, Aug. 26, I invite the residents of the 32nd Senate District to skip the long lines and attend my mobile DMV event.
On the 26th, I am hosting the Secretary of State's mobile team for a DMV event at the McHenry Moose Lodge, 3535 N. Richmond Road in Johnsburg. The mobile team will be on site from 10:00 AM until 2:00 PM to help constituents with their driver's services transactions.
Unfortunately, Real IDs and driving tests cannot be processed at this event, but many other transactions can be accommodated. The graphic to the left lists the services that will be offered at this event.
Participants must pay for their transactions with either a check or a credit card. Cash transactions will not be accepted. Visit www.cyberdriveillinois.com to learn more about mobile events and the identification requirements for specific transactions.
Jobs! IDOT to open application process for Snow Bird Program
The Illinois Department of Transportation (IDOT) is looking for qualified individuals to apply for their annual "snowbird" program. Each year, several seasonal snow-and-ice removal positions open up for temporary full-time employment to help keep the roads cleared throughout the winter.
Snowbirds are required to promptly respond to emerging weather situations and stay alert to work in emergency conditions at any time, including nights, weekends, and holidays. Applicants must have a commercial driver's license and submit to a criminal background check. Each winter, IDOT has approximately 1,800 plows to put into service, providing coverage to nearly 16,000 miles of roads statewide. For more information on the program, and how to apply, click here.
Application window now open for new small business grant program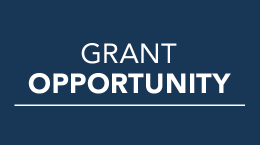 Illinois small business owners can now apply for COVID-19 recovery assistance through the new Back to Business (B2B) grant program. The grants are funded by the federal American Rescue Plan Act (ARPA).
The new $250 million rolling grant program builds on last year's Business Interruption Grant (BIG) program. Within the new program, $100 million is earmarked for businesses in areas disproportionately affected by the pandemic, $30 million for entertainment and art businesses, $25 million for restaurants and taverns that did not receive grants through the Restaurant Revitalization Fund, $25 million for hotels, and $25 million for small businesses that did not receive funds through the BIG program.
To be considered for a grant between $5,000 and $150,000, applicants must demonstrate they had a reduction in revenue in 2020 when compared with 2019, and annual revenues of no more than $20 million in 2019. Hotels with $35 million or less in 2019 revenues are also eligible.  As part of the application, businesses must also provide two bank statements, a business owner ID, and federal tax returns for 2019 and 2020.
For more information on how to apply and where to access small business assistance, please visit https://www2.illinois.gov/dceo/Pages/default.aspx.
Illinois State Fair comes to a close
After a full week of family fun, the Illinois State Fair in Springfield will come to a close for the 2021 year on Sunday. The fair this year marked a return following the 2020 cancellation due to COVID-19. Entertainment at year's fair featured performers like Kane Brown, Toby Keith, the I love 90's tour, and Brett Young.
The final weekend of the fair will be topped off with car racing featuring drivers from across the country at the historic Springfield Mile. The DuQuoin State Fair is scheduled to take place Aug. 27–Sept. 6.