Revised energy legislation passes in Senate and is signed into law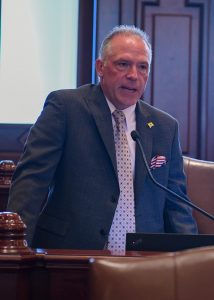 The bill passed by the House and sent to the Senate earlier this month, Senate Bill 2408, includes many of the same sweeping provisions from the original Senate energy legislation, Senate Bill 18. As you may recall, I was a "present" vote on SB 18. The vote signified my belief that the bill was headed in the right direction and that with a bit more work the legislation could become something I could support. Unfortunately, the text of the new bill went in the other direction and I had to vote "no." I officially registered that vote when the Senate was in session on Monday, September 13.
With regard to rates, the RPS, or Renewable Portfolio Standards, collects a fee from every ComEd and Ameren customer on their bills. Those funds are deposited into the Renewable Portfolio Fund. SB 2408 doubles that fee to subsidize renewables, but does not provide for a change to any of the RPS standards for credits, despite many known limitations and outright problems with the program after FEJA enacted it years ago. We will still pay out based on installer estimates of production for solar arrays versus paying based on validated production output.
While SB 2408 addresses the "solar cliff," ComEd has been rebating $1 million per day. That rebating stops as soon as the Governor signs this bill. Will this be a case of some people getting a rebate and others not? Will those who got rebates have to pay that money back? Those answers were not provided.
Additionally, we've seen so many scandals under the Capitol dome with ethical standards being a constant problem, yet in SB 2408 we can't seem to put ethical standards in place for wind and solar industries so that ethical standards are identical across all types of energy. Why are solar and wind operators above ethics requirements and reporting? We had an opportunity to increase ethical standards for all of our energy companies that have proven to have such problems, and remove legislators from the ratemaking process altogether, yet this bill continues the ICC status quo and picks and chooses what companies need to follow ethical rules and requirements and which ones do not.
We also made no attempt to place carbon footprint goals on the production processes that occur all over the world to allow wind and solar to be installed in Illinois. There was no discussion of the carbon footprint in the creation of renewable energy equipment, no discussion of strip-mining for Lithium, but we continue to push for electric vehicles.
This was our chance to really change the way we work with utilities in Illinois. We could have improved the process, made it stronger and more transparent, more ethical, and acknowledged the need to get greener deeper than just in Illinois. But that would have required more work and apparently was not in the cards this time around.
SB 2408 delivers the largest utility rate increase in Illinois history, yet rather than solidifying reliable energy for consumers, Illinois will find itself in a position where electricity must be purchased from other states at what is almost assuredly a higher price.
In addition, I am extremely concerned about a provision in SB 2408 that will allow private, for-profit companies the ability to use eminent domain to gain land in nine Illinois counties. This is unprecedented, and quite likely unconstitutional. Eminent domain statutes were never intended to help enrich private companies.
Despite all of these negatives, this was a difficult vote for me because I am 100% in support of a cleaner energy future for Illinois. I believe firmly that a path to carbon-free energy and increased renewables exists without the abovementioned negatives from SB 2408. But in the end, and at the expense of rank-and-file Illinois residents, politics was the driving force behind the final bill language. As much as I wanted to support a clean energy bill, the language brought before us went way too far. I represent about 220,000 constituents in McHenry and Lake Counties, and as their legislative voice, I could not support this overreaching bill.
Senator Wilcox to host upcoming events in 32nd District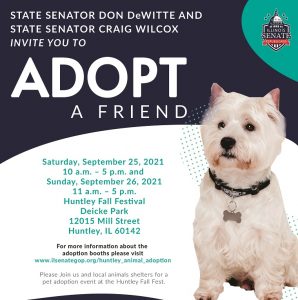 My staff is putting the finishing touches on three community outreach events that will take place between now and the end of the month. We made a real effort to offer events that would appeal to all age groups and interest areas, so I look forward to seeing a good cross-section of the 32nd District community at these events:
Saturday, September 25 and Sunday, September 26— Pet Adoption Booth at Huntley Fall Fest: I will partner with Senator Donald DeWitte and the Huntley Animal House Shelter for a two-day pet adoption event that will take place during Huntley Fall Fest at Deike Park in Huntley. Come find a new furry friend from 10-5 Saturday or 11-5 Sunday. Deike Park is located at 12015 S. Mill Street (intersection of Route 47 and Mill Street).
Monday, September 27— Free online FAFSA and college financial aid/loan repayment seminar: I will partner with the Illinois Student Assistance Commission (ISAC) for a one-hour webinar starting at 6:00 p.m. that outlines the financial aid process and provides insight on how financial aid works, how to apply for it, student eligibility, and how it can be used to help pay for college. It introduces the Free Application for Federal Student Aid (FAFSA) and the Alternative Application for Illinois Financial Aid, along with summarizing state and federal aid programs for undergraduate and graduate-level students. Registration is required, and information on how to join the webinar will be sent to registrants prior to the Sept. 27 event. To register, please visit: https://www.ilsenategop.org/sen_wilcox_fafsa_student_loan_virtual_seminar.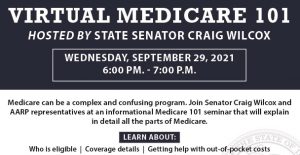 Wednesday, September 29— Free "Medicare 101" program: I will be joined by experts from AARP, who will explain in detail the various and often confusing aspects of Medicare. The event begins at 6:00 p.m. and should last one hour. Topics to be discussed include eligibility, coverage details, and getting help with out-of-pocket costs. Registration is required, and information for how to join the meeting will be sent to registrants prior to the Sept. 29 event. To reserve a spot, please visit: https://www.ilsenategop.org/sen_wilcox_virtual_medicare_101_seminar.
For additional information about these events or for assistance with registration for the FAFSA or Medicare event, please contact Senator Wilcox's office at (815) 455-6330, or contact Keith at KWoodruff@sgop.ilga.gov. Additional outreach events will be added to the calendar in the coming weeks, including a town hall meeting, a teleforum, and a senior fair.
Senate Republicans on JCAR push for clarity from ISBE on school recognition revocations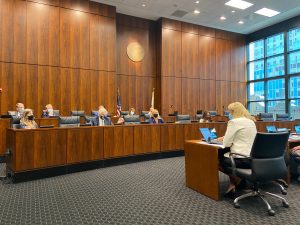 In the legislature, there is an oversight body known as the Joint Committee on Administrative Rules (JCAR). This panel is split equally between Republicans and Democrats, and a majority vote is required for any action. This keeps their proceedings fair. Last Tuesday, JCAR had an opportunity to question legal counsel from the Illinois State Board of Education (ISBE) about it's perceived authority to revoke a school's recognition status and withhold state funding for non-compliance with mask mandates.
The role of JCAR members is to ensure that agencies are implementing laws through administrative rules that follow the intent of lawmakers when bills are passed, or when an executive order is handed down by the Governor. The panel's oversight over the rulemaking process also ensures agencies do not arbitrarily enforce the provisions of a law or mandate, and that they act within legislative intent and within the boundaries of state statute. While many who tuned into the proceedings were hoping to hear a discussion about the legality of the school mask mandate, Tuesday's hearing was not about masks. It was about process and how ISBE is enforcing the Governor's executive order.
During the questioning, Kristen Kennedy, Deputy Legal Officer for ISBE (shown in the photo above), said the agency did not plan to participate in JCAR's rulemaking process, and instead would rely on authority she believes exists through a court decision that found that executive orders for mask mandates at school were lawfully issued and are enforceable.
During JCAR's deliberations, the panel expressed concern that policy outside of rule may exist. The panel voted 10-0 to recommend that ISBE place their policies for mask enforcement in administrative rule. Specifically, ISBE was asked to provide clarifying rules that outline processes the agency will utilize prior to the revocation of a school's recognition status. ISBE was asked to update JCAR within 30 days.
Ethics bill clears final hurdle
During the spring session, members of the Senate and House sent an ethics reform bill (Senate Bill 539) to the Governor. Rather than sign the bill, the Governor issued a narrow amendatory veto, which the Senate accepted during a session day over the summer. The House, however, failed to garner to 2/3 majority vote required to accept the amendatory language, which would ordinarily kill the bill. However, during a motion to reconsider that vote last week, the House did accept the veto language. Upon the acceptance of the amendatory veto language by the House, HB 539 was returned to the Governor for certification.
I supported SB 539 during the spring session and voted to accept the amendatory veto, but admit there is much more work to be done. While the provisions of SB 539 will hold elected officials to a higher ethical standard and will empower the Legislative Inspector General (LIG) to independently initiate investigations of alleged misconduct, additional reforms should include providing the LIG with subpoena powers, a provision that allows the Illinois Attorney General the ability to use a statewide grand jury to investigate, indict, and prosecute public corruption crimes, and an even stronger legislator-to-lobbyist revolving door.
Senate Republican Caucus launches listening tour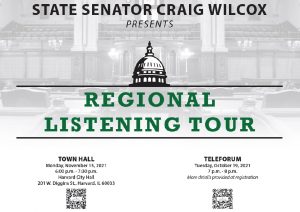 The Senate Republican Caucus is kicking off a statewide Listening Tour with September dates set in Dixon, Peoria, Morton, and Quincy. Other regional listening tours are scheduled for October and November across the state.
Illinoisans will have an opportunity to attend a regional event in or near their home town, and will also be offered an opportunity to participate in a regional teleforum featuring Senators from their area.
I will be hosting a town hall meeting on Monday, November 15 at 6:00 p.m. at Harvard City Hall. I will be joined at this event by Deputy Minority Leader Sue Rezin, Assistant Minority Leader Dave Syverson, and State Senator Brian Stewart. Prior to the town hall meeting, we will co-host a teleforum on Tuesday, October 19 at 7:00.  RSVPs for these events are appreciated. To reserve a spot at the town hall meeting click here, and to RSVP for the teleforum, click here.