Controversial Legislation from Veto Session Not Yet Signed into Law
While Governor Pritzker has been expected to sign several controversial bills from the recent fall veto session, the three pieces of legislation that generated the most concern have not yet received his signature.
Senate Bill 1169 would reduce protections provided by the Illinois Health Care Right of Conscience Act (HCRCA) related to COVID-19 vaccinations and testing. These changes generated significant pushback from the public, including more than 54,000 individuals who filed witness slips in opposition to the bill. This bill was initiated at the request of the Governor.
House Bill 370 repeals the state's Parental Notification of Abortion (PNA) act. Under current law, parents would have to be notified before one of their minor children receives an abortion. Provisions to waive notification are in place for individuals who are victims of abuse. The recently-passed legislation, however, completely ends the notification requirement. In media interviews, Gov. Pritzker has repeatedly stated his support for repealing the PNA.
House Bill 1291 contains proposed new Congressional maps as part of the once-every-ten-years process of redistricting, following the census. Despite pledging as a candidate to veto maps drawn by lawmakers, the Governor already signed new legislative and Supreme Court maps that were drawn by the majority party. According to recent news stories, as well as an admission from the House Speaker's office, Gov. Pritzker's office was directly involved in drafting the new Congressional maps with lawmakers, and is thus expected to sign this bill as well.
There are a handful of less controversial bills from the veto session that also still await the Governor's signature, including an incentive program designed to help attract and grow jobs and businesses related to electric vehicles, as well as the legalization and regulation of midwives.
If you would like to urge the Governor veto any of these bills, you can call his office at 217-782-6830 or 312-814-2121. You can also consider adding your name to the following petitions:
Governor, veto changes to the HCRCA
Governor, veto the bill that repeals the PNA
Senators Wilcox, McConchie, and DeWitte to Host Free Senior Fair on Nov. 12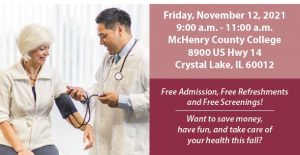 On Friday, November 12, I am partnering with State Senators Dan McConchie and Don DeWitte for a free Senior Health Fair from 9:00-11:00 a.m. at McHenry County College, 8900 US Route 14, in Crystal Lake. Attendees should enter the McHenry County College campus from the Route 14 entrance and park in Lot D. People should enter through the main doors for Building B.
We are expecting this event to be well-attended, as we will have dozens of not-for-profit organizations, businesses and medical professionals on hand that focus on improving the lives of senior citizens. With COVID-19 precautions in place for everyone's protection, I'm looking forward to a great turnout.
Along with vendors that will provide information tailored to seniors, attendees can receive free health screenings and free flu shots.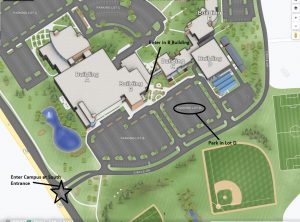 Participants include (the list may change as the vendor list is finalized): Advocate Aurora Health Good Shepard, Algonquin Township, Cary Fire, Cary Police, Crystal Lake Park District, Crystal Lake Public Library, Cycling Without Age McHenry County, Citizens Utility Board, ComEd, Dundee Township Park District Senior Center, Elderwerks, Envoy Mortgage, Family Health Partnership Clinic, Greater Family Health, Harvard Community Senior Center, Home Helpers, Humana Market Point, IL Attorney General, IL Department of Aging- Office of State Long Term Care Ombudsman, IL Treasurer ,IL Department of Veterans Affairs, IL Comptroller, Independence Health & Therapy, James A Lovell Federal Health Care Center, McHenry County Sheriff, McHenry County Task Force on Aging, Melody Living Lake in the Hills, Oasis Senior Advisors, PACE Bus Service, Prairie State Legal, Revere Court Memory Care, Senior Care Volunteer Network, Senior Services Associates/McHenry Township Senior Center in Johnsburg, SOAR @ Dorr Township, Ultracare Home Health, Veterans Path to Hope, Veterans Assistance Commission of McHenry, Walgreens, and Woodstock Public Library.
CDC and IDPH health guidelines will be in place, and masks will be required for entry. All vendor tables will be six feet apart, and hand sanitizing stations will be available throughout the vendor area. For more information, please contact my office at 815-455-6330.
Senator Wilcox to Host Regional Listening Tour Town Hall Meeting on Nov. 15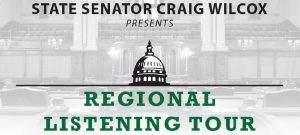 Thank you to everyone who participated in the Listening Tour Teleforum I co-hosted a few weeks ago with some of my Senate Republican colleagues. We had a great discussion with constituents, as we took your questions during the hour-long event.
Whether you were able to participate in the teleforum or not, I hope you'll mark your calendar and join me for an in-person town hall meeting on Wednesday, Nov. 15 from 6:00-7:30 p.m. at the Harvard City Hall, 201 W. Diggins Street, in Harvard. I will be joined at this event by Deputy Senate Republican Leader Sue Rezin, and by State Senators Dave Syverson and Brian Stewart.
RSVPs are appreciated for this event, and you can click here to reserve your spot.
DNR Offers Hunting Safety Tips
The state's annual archery deer harvest has been underway for just over a month, with waterfowl seasons either open now or opening soon. As hunters head out to the fields and forests to take their quarry, the Illinois Department of Natural Resources (IDNR) is offering tips to stay safe.
The agency's tips for firearm safety include:
Watch the muzzle of their firearm and keep it pointed in a safe direction
Treat every firearm as if it is loaded, and never assume a firearm is unloaded
Be sure of the target, and what is in front of it and behind it
Keep fingers outside the trigger guard until ready to shoot
Check the barrel and ammunition to make sure they are clear of obstructions, and carry only the proper ammunition for the firearm being used
Unload firearms when not in use
Never run, jump or climb with a loaded firearm – always unload a firearm before climbing a fence or tree;
Store firearms and ammunition separately and safely.
According to the IDNR, safety considerations also include proper ventilation for heating systems in cabins and boats, and wearing high visibility clothing while hunting. The agency also has tips on tree stand safety at: http://www.huntercourse.com/treestandsafety/.
The busiest hunting season in Illinois is the annual fall firearm deer season, which runs from Nov. 19-21 and Dec. 2-5.
Submit Veterans for Recognition at the Capitol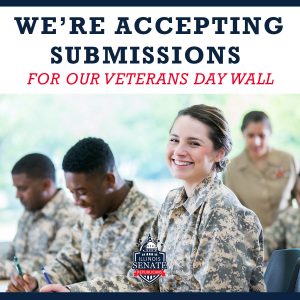 The Senate Republican Veterans Day "Wall of Honor" will be opening in the Capitol on Nov. 10. Hosted in the rotunda of the Illinois State Capitol, the exhibit serves as tribute to veterans and their stories, by showcasing them for visitors to the statehouse.
You can submit a veteran by emailing veteransday@sgop.ilga.gov and providing the following information:
Name;
Photos (Military photos are preferred but not required);
Written stories (max: 250 words);
Military branch (Air Force, Army, Coast Guard, Marine Corps, National Guard, Navy); and
Conflict served (Afghanistan, Iraq, September 11, Gulf War, Vietnam, Korea, WWII, WWI, Peacetime, other).
You can find out more about the "Wall of Honor" here.
In addition, the IL Dept. of Employment Security and IL workNet are hosting a Veterans Virtual Recruitment Series from November 8-10. Click here to see the schedule and learn about the events.
Don't Forget to "Fall Back" This Weekend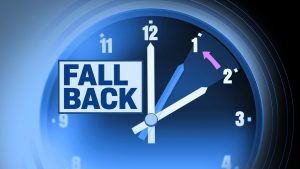 Don't be surprised if you feel a little more refreshed on Sunday morning, as the annual time change means an extra hour of sleep. Daylight Saving Time (DST), which started on March 14, comes to an end on Nov. 7 at 2:00 a.m. People are advised to move their clocks back before they go to bed on Saturday evening, though cell phones, most computers, and many other electronic devices will automatically make the change Sunday morning.
While many people will welcome the extra bit of sleep, the end of DST will also mean that it gets dark earlier each night, increasing your chances of heading home from work next week with your headlights on.
Several state lawmakers have filed legislation in recent years to move the state to Daylight Saving Time throughout the entire year, though none of the bills have been made into law yet. If one of the proposals were to pass, however, the state would still need Congressional approval to make the change official.