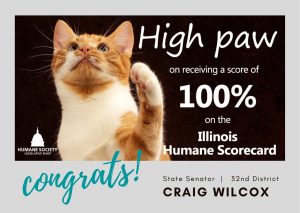 State Senator Craig Wilcox (R-McHenry) has received a perfect score from the Illinois Humane Society Legislative Fund (HSLF) for votes taken in Springfield this year regarding the humane treatment of animals. The HSLF is the legislative/lobbying arm of the Humane Society, and each year the organization creates a scorecard to hold state and federal legislators accountable as they advance efforts to ensure proper treatment of animals.
"The ethical treatment and protection of animals is a policy issue I follow closely, and this year I was proud to support measures that protect our four-legged friends," said Sen. Wilcox. "Unfortunately, there are some bad actors out there that engage in disreputable activity. The measures I supported this year addresses some of the key areas of animal welfare where improvement was needed."
In 2021, lawmakers were scored by the HSLF on the following bills:
Humane Pet Store Act (HB 1711): cracks down on puppy mill operations by prohibiting the sale of commercially-raised dogs and cats in pet stores, driving the pet market towards shelters, rescues, and responsible breeders.
Predatory Pet Sales Loans (HB 572): prohibits sellers/breeders from charging astronomical rates for pets and then financing them through a third-party financer with shockingly high interest rates and hidden fees.
Mandatory Forfeiture (HB 168): prohibits people convicted of two offenses of animal abuse such as dogfighting, aggravated cruelty, or animal abuse from owning a pet and provides for the forfeiture of pets in a home where an individual has two convictions.
Wildlife Trafficking (HB 395): expands protections for an increased number of imperiled species from the illegal wildlife trade, by restricting the sale of parts or products from giraffes, tigers, lions, great apes, sharks, sea turtles, pangolins, etc.
Sen. Wilcox voted in favor of all four bills, earning him a perfect score. To learn more about the scoring process and to see the scorecard for all 188 members of the Illinois General Assembly, visit: https://hslf.org/sites/default/files/2021-12/IL%20Scorecard%202021.pdf.