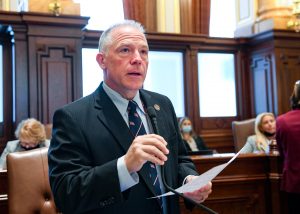 State Senator Craig Wilcox (R-McHenry) has filed legislation that provides for a showing of gratitude and respect for family members of Illinois servicemen and women who perish during active duty.
Filed on January 5, Senate Bill 3031 builds on legislation signed into law in 2021 that states that upon the death of an Illinois serviceman/woman in the Illinois National Guard, the next of kin will be will be presented with a State of Illinois flag.
"The 2021 bill is good legislation, and I was proud to support it, but I believe we need to expand this program to include all Illinoisans who answer the call to serve," said Sen. Wilcox. "It is a small, yet important gesture that lets our military families know we recognize, appreciate, and honor their loved one's sacrifice and devotion to duty."
Through Sen. Wilcox's SB 3031, the Military Code of Illinois would be amended to state that when a member of any branch of the military dies while on State Active Duty or while serving in duty or training statuses, the Adjutant General, the Assistant Adjutant General for Army, or the Assistant Adjutant General for Air shall present a State flag to the next of kin of the deceased.
"This is a common-sense change that I expect will receive wide, bipartisan support," added Sen. Wilcox. "I look forward to presenting this legislation to the Senate Veterans Affairs Committee in the coming weeks."