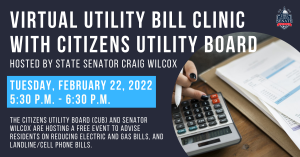 State Senator Craig Wilcox (R-McHenry) is partnering with the Illinois Citizens Utility Board (CUB) on February 22 for a FREE session on how to reduce electric and gas bills and landline/cell phone bills.
Following a brief introduction at 5:30 p.m., participants will have a specific time slot between 5:45 p.m. and 7:30 p.m. when they can speak one-on-one with a CUB counselor to review their household bills. Those who participate in the virtual event will also learn how to spot unnecessary or suspicious charges on gas, electric, and phone bills, learn about energy efficiency programs and rebates that can help lower utility bills, and receive tips on how to spot errors and avoid scams.
Participants will want to have their most recent gas, electric, and phone bills in front of them for their individual appointment with a CUB counselor.
"I am hearing almost daily from people who are having a hard time paying their utility bills this winter, so I'm glad to offer this important community outreach and educational program," said Sen. Wilcox. "Having an opportunity to meet individually online with a CUB expert will allow every resident to ensure they are not paying one cent more than is necessary for gas, electric, and phone service."
Registration is required for this online event and during registration, participants will be able to choose a time to go over their individual bills with a counselor. To register, please click here, or contact Keith at Kwoodruff@sgop.ilga.gov.
Full registration link: https://www.ilsenategop.org/sen_wilcox_virtual_utility_bill_clinic_with_citizens_utility_board