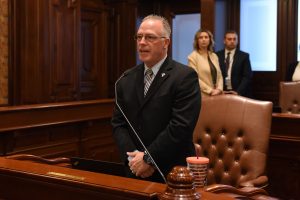 Late in the day on Friday, the Illinois Supreme Court denied Gov. Pritzker's petition to appeal the Appellate Court decision on his school mask, vaccine, and testing mandate. The state's highest court also vacated (eliminated) the Circuit Court's temporary restraining order (TRO) that was in effect, deeming it moot. Additionally, the Court also denied the Governor's stay on the TRO since it is moot. Following the issuance of the decisions, State Senator Craig Wilcox (R-McHenry) issued the following statement:
"All three layers of Illinois' judicial system, plus the legislature's bipartisan and bicameral Joint Committee on Administrative Rules (JCAR) have weighed in on Gov. Pritzker's mask, vaccine, and testing mandate for schools. Yet we still have a Governor who is unwilling to acknowledge that his actions represented an abuse of his authority. In fact, he actually claimed the decisions represented a 'victory.'
"This entire situation is an example of what happens when one man tries to unilaterally control every decision relative to how Illinoisans live and work during a pandemic. It was nothing short of an uprising by parents when they had had enough. They knew their rights were being violated and stood united against the Governor's overreach."
Read the decision denying the petition to appeal and to vacate the TRO here.
Read the decision denying the request to stay and TRO here.