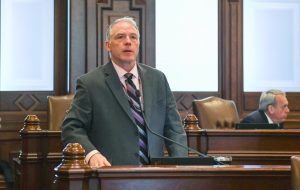 On Thursday, the Illinois Senate unanimously approved legislation sponsored by State Senator Craig Wilcox (R-McHenry) that clarifies procedures and ensures adequate funds are available for distribution to military veterans through county Veterans Assistance Commissions (VACs).
House Bill 5148 specifically seeks to clarify the relationship between VACs and county boards regarding funding. There are currently six pending lawsuits regarding the perceived misinterpretation of the current statutes as they relate to funds appropriated in county budgets for veterans assistance.
"This legislation addresses concerns that have led to litigation, by separating the taxes for Veterans Assistance Commissions and ensuring an adequate amount of funds are placed into a specific budget fund to be distributed to our military veterans," said Sen. Wilcox. "It also gives county VACs sole control over administration and distribution of the funds, removing county board involvement."
HB 5148 makes changes to the Counties Code Act and the Military Veterans Assistance Act, and the need for the bill was brought forward by the Illinois Association of Veterans Assistance Commissions. It previously received unanimous approval in the House of Representatives on March 3.