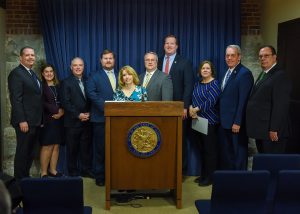 State Senator Craig Wilcox (R-McHenry) joined a bipartisan group of lawmakers earlier this week to push for the passage of legislation that allows seniors in nursing homes on Medicaid to use life insurance policies to pay for dignified funerals and burials. Following the press conference, House Bill 4979 was approved in the Senate and the House.
When the Medicaid reform legislation known as the SMART Act was signed into law in 2012, a provision was unintentionally left out of the bill that exempted funeral costs from insurance policies that would have to be cashed in before becoming Medicaid-eligible.
"I am extremely proud to co-sponsor this bipartisan legislation," said Sen. Wilcox. "The provisions of House Bill 4979 will correct the oversight within the original SMART Act, and allow Medicaid-reliant seniors to use life insurance policies they paid faithfully over the years for their final expenses. In many cases, these seniors carefully planned for a dignified funeral that would not add a financial burden to their loved ones. To deny them that peace of mind is wrong."
The legislation now awaits final action by the Governor. If signed into law, its provisions would take effect immediately.