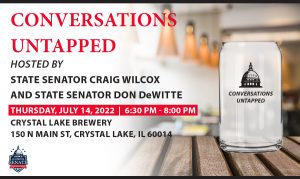 In an effort to connect with their constituents in the 32nd and 33rd Senate Districts in McHenry, Lake, and Kane Counties, State Senators Craig Wilcox (R-McHenry) and Donald DeWitte (R-St. Charles) are partnering for a Conversation Untapped event at Crystal Lake Brewery in downtown Crystal Lake. The public and the media is invited to attend.
"I look forward to these casual events when legislators can connect with their constituents for individual and small-group conversations," said Sen. Wilcox. "With so much going on right now with government at the local, state, and national levels, there is plenty to talk about."
Conversations Untapped
Thursday, July 14
6:30PM-8:00PM
Crystal Lake Brewery
150 N Main Street, Crystal Lake
"These events are very informal and provide local residents with the chance to come out and meet with their Senators and talk casually about the issues that matter to them," added Sen. DeWitte. "We will do our best to address any questions or concerns people may have, and together we will gain a greater understanding of the priorities of the people we represent in the collar counties."
For more information about this event, please contact Sen. Wilcox's office at (815) 455-6330, or Senator DeWitte's office at (847) 214-8245.