Pritzker Touts Unemployment Payment, Leaves Businesses and Employees on the Hook for $1.3 Billion
Governor Pritzker recently held a press conference to tout a fund sweep of $450 million in Illinois business tax dollars to the state Unemployment Insurance (UI) trust fund. The Illinois UI trust fund was severely depleted during the pandemic due to large numbers of unemployment claims, including hundreds of millions in unemployment fraud that the Pritzker Administration failed to effectively combat.
After the recent payment, the trust fund still faces a debt of $1.3 billion, leaving Illinois as one of only five states still owing money on its UI trust fund loan.
Illinois received $8.1 billion from the federal American Rescue Plan Act of 2021 (ARPA). Thirty-one states used their ARPA money to eliminate their UI trust fund deficits and replenish their fund balances. Instead of following suit, Pritzker and his legislative allies waited for ARPA funds to be depleted by other proposals and programs, including personal pork projects for Democratic lawmakers.
The situation leaves businesses and employees on the hook for the remainder of the trust fund deficit, which will likely mean higher taxes. If the debt isn't repaid by November 10, Illinois employers will lose part of the Federal Unemployment Tax Act credit for 2023. This would mean that the unemployment tax per employee would increase next year from $93.96 to $173.28 for a minimum rate-taxed employee, and from $988.20 to $1,326.72 for a maximum rate-taxed employee.
Wilcox Joins Crystal Lake Seniors for Beanbag Baseball

On Friday I took a short break from my legislative duties and joined in a game of "Beanbag Baseball" at Grand Oaks Recreation Center in Crystal Lake. We had a great time and I enjoyed meeting a lot of new people.
The Crystal Lake Park District offers a comprehensive list of activities for people of all ages, and if you live within the CLPD boundaries, I encourage you to check out the list of fall/winter program offerings. Click here to visit the park district's website.
IDOT on the Hunt for Snowbirds
Looking for some extra winter work? The Illinois Department of Transportation (IDOT) is hiring Snow Removal Operators and Winter Salaried Highway Maintainers. The jobs, which are often referred to as snowbirds, involve operating IDOT snowplows to help clear the roads during winter weather. The department is responsible for maintaining more than 45,000 lane miles.
If you are interested in applying, you can do so online at the state's job portal at https://illinois.jobs2web.com/.
IDOT is also hosting open houses to help people submit applications. You can find more information at https://www.illinois.gov/news/press-release.25480.html.
Watch Out for Farm Equipment on the Roads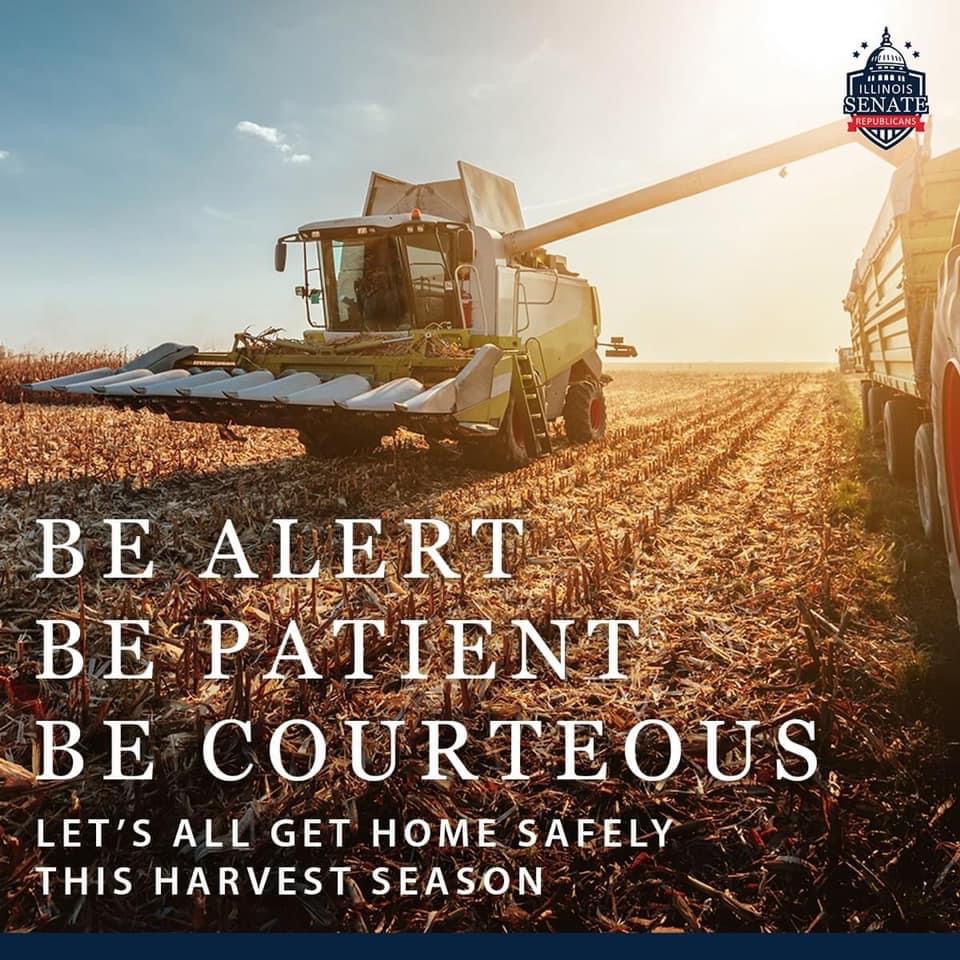 The cooler weather of fall signals a busy time for Illinois farmers. As the state's corn and soybean producers get underway harvesting their crops, rural roads and even some city streets will be seeing a major uptick in farm equipment traffic.
Drivers should be aware that most ag equipment will be traveling much more slowly than car traffic. According to the University of Illinois Extension Service, a car traveling at 55 mph takes five seconds to brake 300 feet, the length of a football field, to avoid rear-ending farm equipment traveling at 15 mph.
Most pieces of farm equipment are very large and the operators have limited visibility, especially at the rear of the equipment, so exercise caution when approaching them on the roadway. The extension service recommends that motorists assume that the driver of the implement cannot see them, and should slow down when they see farm equipment, giving themselves plenty of space, being prepared to stop, and making sure the farmer is not preparing to turn before attempting to pass them.
According to the United States Department of Agriculture's National Agricultural Statistics Service, only 6 percent of the state's corn has been harvested, along with just 2 percent of soybeans. But the agency says that 47 percent of the Illinois corn crop is considered mature, along with 63 percent of soybeans. This means that farmers will soon be hitting the fields hard.