Redistricting committee hearings continue to receive criticism
Senate Redistricting Committees continued hearings last week, with a Wednesday afternoon hearing held at the College of Lake County in Grayslake to seek input from residents of McHenry and Lake Counties. I attended this hearing through a virtual link. Hearings are being held across the state to seek input from the public on how to best draw a new legislative map.
Despite decennial census data not expected to be released until mid-August, Senate Democrats seem to be forging ahead with the map-making process using the much less accurate American Community Survey (ACS) data, which is a sampling of the population. Use of this data has the potential to disenfranchise voters in areas that have changed over the past ten years. I liken the use of "sample" data to draw maps to basing election results on poll numbers rather than the actual counting of each individual ballot. After spending millions to encourage all Illinoisans to participate in the U.S. Census, falling back on estimates rather than waiting on real numbers is wrong, and it shows us all how important it is to the Democrats to control the map process.
As hearings continue this week, I will continue to advocate for Senate Bill 1325 (the People's Independent Maps Act), which would create an independent map-making process—free of politicians. I am a proud Chief Co-Sponsor of SB 1325. Identical legislation has been supported by a group of bi-partisan legislators in previous years; however, not a single democrat legislator has expressed support for Senate Bill 1325.
Click here to learn more about the People's Independent Maps Act.
Sen. Wilcox joins Metra officials for rededication of Woodstock Train Station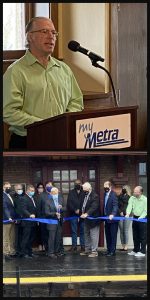 Friday morning it was a pleasure to join officials from Metra, the City of Woodstock and McHenry County for a rededication ceremony of the Woodstock Metra Train Station. This station, located in the heart of downtown Woodstock, has provided safe, convenient rail service since 1915.
The $250,000 project, funded by Metra and overseen by the City, was the first major rehab of the 2,100-square-foot building in more than 25 years. Work was performed on building's interior and exterior. The station's HVAC system, fire alarm and water heater were replaced, and the bathrooms were repaired. The project also included the replacement of the station's roof, gutters and downspouts, as well as tuckpointing and painting all the exterior trim. A limestone cladding was also added to the station's exterior, and the concrete walkways surrounding the building were replaced to improve ADA accessibility and drainage.
These train station improvements will help solidify Woodstock's position as a destination site for tourists and a welcoming location for those who wish to relocate to the area. Real Woodstock and the City of Woodstock have worked hard to establish this brand, and these Metra station upgrades will enhance positive first impressions of this wonderful city and area.
McHenry County to host two electronic recycling events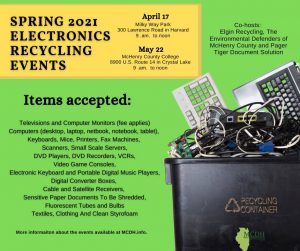 Electronics recycling is available in McHenry County Mondays through Saturdays in Crystal Lake at 5114 Terra Cotta Avenue. Special Saturday events are coming up on April 17 in Harvard and on May 22 in Crystal Lake (see graphic). There is a fee for recycling televisions and computer monitors, but most other items are accepted free-of-charge. In addition to the April and May events promoted in the flyer, plans are underway for a September 11 electronics recycling event at Woodstock North High school, and on October 16 at a location that has yet to be determined. Click here for more information and exact fees for TVs and computer monitors.
Uptick in Scott's Law crashes cause concerns
With crash totals on the rise, I want to urge drivers to slow down and move over for stopped emergency vehicles. Scott's Law, known as the state's Move Over Law, is designed to protect law enforcement and emergency responders who are stopped along the side of roadways. However, Illinois State Police are warning that violations against this safety law are increasing at an alarming rate.
According to the Illinois State Police, Scott's Law crashes are significantly up from this time last year, with 12 crashes reported so far in 2021. At this time last year, two crashes had been reported. To address the uptick in crash occurrences, new legislation has been filed in the Senate to increase the penalty for Scott's Law violators. Senate Bill 1913, which was unanimously passed out of the Senate Criminal Law Committee on March 24, would give judges the authority to mandate community service hours to violators of the Move Over Law.
Local Tulip Festival to feature 300,000 blooms in coming weeks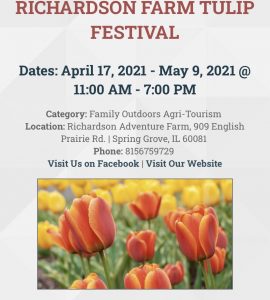 The tulips are starting to bloom at Richardson Farm! Weather drives the blooming of tulips, and it looks like the second half of April and beginning of May will be prime time for viewing this beautiful display. You'll see 300,000 bulbs and 30 different varieties covering five full acres at the farm. Tickets are required.
Richardson Farm is open seven days per week from 11:00 AM until 7:30 PM, and there will be live music on weekends. This is great family fun! Learn more about the Tulip Festival and other events at Spring Grove's Richardson Farm at: https://richardsonadventurefarm.com/.
COWL Announces Annual Scholarships Program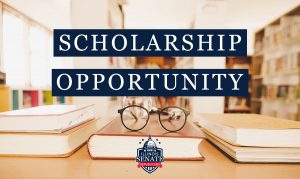 The Conference of Women Legislators (COWL) has announced its 2021-2022 Annual Scholarship Awards Program. COWL created the scholarship program as part of its mission to promote economic independence, community service and leadership development. The scholarship program endeavors to assist Illinois women, 25 years or older, who are seeking to earn undergraduate college degrees. Up to ten awards of $2,500 each are available.
Scholarship applicants are required to enroll in an Illinois accredited college or university for a minimum of six credit hours to qualify, making the scholarships available to part-time and online students. Applications are accepted at www.cowlil.com until May 1, 2021. Awardees will be notified by June 1, 2021. Please visit info@cowlil.com for additional information or assistance.