Senator Wilcox honors A J Freund at Springfield Capitol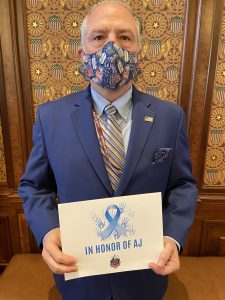 While in Springfield on Thursday, I joined friends from McHenry County and across Illinois in remembering the life of A J Freund. As you recall, little A J's life was tragically cut short when he was murdered by his parents two years ago. I wore blue, A J's favorite color, and displayed a sign of support.
April is Child Abuse Prevention Month. If you suspect a child is at risk of abuse or neglect please call the 24-hour IL Child Abuse Hotline @ 1-800-25-ABUSE or the National Child Abuse Hotline @ 1-800-422-4453.
Gov. Pritzker urged to testify at redistricting meeting
Last week, the two Republican leaders on redistricting efforts from the Senate and House sent a letter to Gov. Pritzker, asking that he or a high-level member of his administration testify at a joint Redistricting Committee meeting scheduled for Monday, April 19. State Sen. Jason Barickman and State Rep. Tim Butler specifically want to know if Gov. Pritzker plans to keep a campaign promise regarding the drawing of legislative maps.
When he was a candidate for Governor in 2018, JB Pritzker pledged to veto any legislative map that was in any way drawn by politicians. When a Springfield reporter asked: "Will you pledge as governor to veto any state legislative redistricting map proposal that is in any way drafted or created by legislators, political party leaders and/or their staffs or allies?", Pritzker replied, "Yes, I will pledge to veto. We should amend the constitution to create an independent commission to draw legislative maps, but in the meantime, I would urge Democrats and Republicans to agree to an independent commission to handle creating a new legislative map."
As redistricting committees and public hearings continue for the new map, I am advocating for Senate Bill 1325, which would place the map-drawing responsibilities in the hands of an independent commission. I am a Chief Co-Sponsor of the legislation.
Bill Providing for cell phone location in emergencies clears Senate committee
On Thursday, legislation I am proudly co-sponsoring this year that would allow law enforcement to pinpoint cell phone location in cases of kidnapping and other emergencies cleared the Senate Energy & Public Utilities Committee. This legislation, known as "Kelsey's Law," has already been enacted in 27 other states.
Tragically, in 2007, Kelsey Smith was kidnapped and murdered. She had a cell phone on her, but law enforcement was unable to obtain her cell phone location until more than three days had passed. Through Senate Bill 2530, law enforcement would be able to quickly ascertain the location of a wireless telecommunications device if a person has been determined, by law enforcement, to be at risk of death or serious physical harm. The bill now moves to the Senate floor for full consideration and a vote.
Senators utilize 'agreed bill' list to approve non-controversial legislation
This year just short of 2,900 Senate Bills were filed by Illinois' 59 Senators. In an effort to meet statutory deadlines for bill consideration, the Senate has decided to utilize a voting maneuver that has not been used for approximately 15 years— an "agreed bill" list. This procedural move will allow the Senate body to approve several bills under one sweeping vote. The agreed bill list, which was drafted together by Senate Democrats and Republicans, includes legislation that is determined to be without controversy or opposition. Still, a mechanism is in place for senators to be recorded as a no, present, or not voting.
Preposterous Proposals at the Capitol
Included in the nearly 7,000 Senate and House bills that were filed this year are some measures that are strange, out of touch with reality, or just plain bad. These measures are being highlighted on the Senate Republicans' list of "Preposterous Proposals." At a time when legislators should be focusing on critical issues like ethics and pension reform, and ensuring a balanced budget for the next fiscal year, lawmakers will also consider these two gems:
Senate Bill 2115: Expands early release by increasing sentencing credits to allow violent offenders to serve less time in prison.
Senate Bill 649: Applies Illinois' $15 minimum wage law to prisoners.