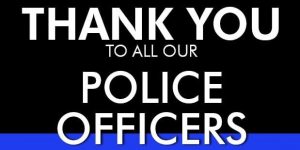 National Police Week is May 9-15, and State Senator Craig Wilcox (R-McHenry) is seeking assistance from residents throughout the 32nd Senate District to send a hearty thank you to law enforcement for their work in keeping our communities safe.
"These dedicated public servants put their lives on the line daily and without hesitation," said Sen. Wilcox. "They are deserving of our deepest gratitude, and I'm hoping the community participates in my card drive to show their thanks."
Sen. Wilcox is asking people to mail or drop off cards, handwritten notes, encouraging and uplifting stories, drawings, etc. by Thursday, May 13 to his McHenry office, located at 5400 W. Elm Street, Suite # 103. He and his staff will personally deliver the notes/drawings to police officers throughout the 32nd District.
"In addition to participating themselves, I hope community members will help spread the word about this card drive," added Sen. Wilcox. "Our police officers need to know they are supported and appreciated, and I look forward to showering them with kindness through this card drive."
Sen. Wilcox is also encouraging residents to display blue outdoor house lights during the week of May 9-15, and to extend a verbal thank you as they encounter police officers during the course of their day.