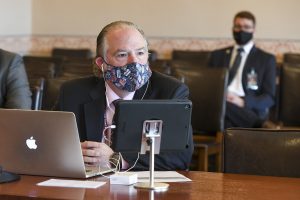 The Illinois Inspector General's report on massive failings within the state's Department of Veterans Affairs with regard to the deadly COVID-19 outbreak at the LaSalle Veterans' Home was released on Friday. In response to the details included in the scathing report, State Senator Craig Wilcox (R-McHenry), who serves as the Minority Spokesperson for the Senate Veterans Affairs Committee, issued the following statement:
"The Inspector General's independent report reveals utter incompetence at nearly every level of the Department of Veterans Affairs. Thirty-six veterans died as a result of widespread failures to first prevent, and then control, the spread of COVID-19 at the facility. As the Minority Spokesperson for the Senate Veterans Affairs Committee, this report is infuriating. We have a responsibility to look after our Veterans, and this report outlines failure after failure.
"Much of my anger is directed at Governor Pritzker and his administration for failing to implement life-saving protective measures that were recommended after the much smaller legionnaires outbreak at the Quincy Veteran's Home a few years ago, and majority party legislators, who have done nothing to pass legislation to ensure heightened health and safety protocols were put in place at our veterans' homes. These are the same people who were very quick to criticize and castigate our former Governor for his handling of the legionnaire's disease outbreak, yet now it appears our current Governor is being let off the hook for his role in these failures and for his handling of his hands-off political appointee. Hopefully Acting VA Director Prince will be given the hiring support he needs to ensure he has adequate and knowledgeable staff moving forward.
"While pleased that the then VA Director and Chief of Staff are no longer working for our Department of Veterans Affairs, their resignations are not enough. This was a top-to-bottom failure; a complete lack of adherence to protocols and regulations. We must rebuild that department with top-notch, dependable public servants who will ensure the sloppy practices that led to 36 deaths are replaced with rigid safety measures that protect the health of our veterans."