Omnibus energy bill stalls again
When Senate President Don Harmon called Senators back to the Capitol for a one-day session on June 15, Senate Republicans were told to expect a vote on an omnibus energy bill that would eliminate coal-powered energy by 2035 and natural gas by 2045. In addition to closing the Prairie State Energy Campus and Springfield's City Water, Light and Power before the ends of their useful lives, the legislation included another massive bailout for scandal-ridden Excelon/ComEd, which has repeatedly threatened to close nuclear energy plants if the State did not provide significant financial support.
After waiting all day for a negotiated bill to be filed and heard, the Senate abruptly adjourned shortly before 6:00 p.m. It was learned shortly after adjournment that in addition to remaining sticking points involving closure timelines for Prairie State and Springfield's City Water, Light and Power, the developer of a $1.3 billion natural gas plant currently under construction in Grundy County threatened to pull the plug on his project if the bill was passed as written.
In a press conference following adjournment, President Harmon admitted he was having trouble lining up votes within his caucus for legislation that pitted what Harmon referred to as "two critical constituencies" against each other, organized labor and environmental activists. It is no coincidence that these two groups are also primary donors to Senate Democrats' campaigns. When legislators prioritize their donors over their district constituents, Illinoisans lose.
I'm told we may return to Springfield later in the summer to vote on an energy bill. I remain hopeful that the bill that ultimately comes before the Senate is one that I can support. I am supportive of a cleaner energy future for Illinois, but I am looking for a bill that balances what is best for the environment with what is best for ratepayers and workers. I have met numerous times with environmental groups in and around the 32nd District, and I respect their points of view and they understand my concerns. Those conversations will be ongoing over the summer.
Sloppy FY 2022 budget requires legislative fix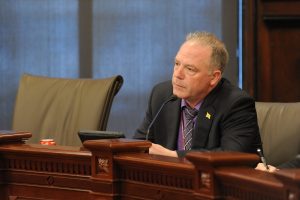 In the overnight hours of May 31-June 1, majority party Democrats rammed through a nearly 4,000-page budget that guides spending for the fiscal year that begins July 1, 2021. No committee hearing was held, and legislators were not provided with an adequate amount of time to read and understand the document.
As approved and sent to the Governor, the Fiscal Year 2022 budget had several drafting errors including the absence of many key effective dates. Without the effective dates, 85% of General Funds money could not be spent by State agencies until June of 2022, 11 months into the fiscal year. It was a sloppy mistake, and one that could have been avoided if there was transparency within the budget process and if ample time had been provided for a thorough review of the lengthy document.
The budget fix required an amendatory veto by the Governor. While fixing the multiple drafting errors, the Governor could have used his veto pen to strike out the line item for legislator pay raises. Senate Republicans urged the Governor to do the right thing and remove legislative pay raises, but their request was ignored and the Governor kept the raises in the budget. Governor Pritzker had an opportunity to right a wrong, but instead chose to go along with giving Senators and State Representatives an undeserved raise for FY 22.
Wilcox Kicks Off Summer Events Series with events in Marengo and Harvard


This week on Thursday and Friday I kicked off my summer events series with a Coffee & Conversation in Marengo on Thursday, and a Conversations Untapped Friday evening in Harvard. We had great turnouts at both, as constituents were eager to have face-to-face conversations again after over a year of restrictions.
I will be hosting several more of these events throughout the summer in communities in the 32nd District, so please visit my website (SenatorWilcox.com) often for updates.
FOID legislation including optional fingerprinting clears General Assembly
The Senate and House both passed their own versions of Firearm Owners Identification (FOID) card legislation before adjournment on May 31-June 1. Whereas the House's version included a mandatory fingerprinting for anyone who wants to obtain a permit to own a gun, the Senate FOID bill made finger printing optional, but also included provisions to streamline approvals with hopes of addressing the huge backlog of FOID applications and renewals that currently exists with the State Police's Division of Firearms. Neither bill was approved by the other chamber.
On Wednesday, the House of Representatives passed the Senate's version of the bill (House Bill 562). As passed by both chambers, the legislation includes the following:
Encourages but does not require fingerprinting. Those who agree to fingerprinting have a more streamlined process for renewal, but still must apply for a renewal and pay a $10 renewal fee.
FOID cards are automatically renewed through the valid period of a CCL
Expands background checks to all gun purchases, including those for person-to-person transactions, and requires person-to-person transactions to take place through a licensed dealer or through online validation by ISP.
Requires records from private gun sales to be tracked for 20 years.
Creates a database of stolen guns.
Creates a Violent Crime Intelligence Task Force and tasks that task force with conducting enforcement operations against those with revoked FOID cards.
Establishes funding for school and community-based mental health programs.
I voted against the bill.
General Assembly Approves Hybrid to Fully-Elected Chicago School Board legislation
Before leaving Springfield on June 1, the Senate approved legislation (House Bill 2908) that would create a hybrid elected/appointed 21-member elected board of education for Chicago Public Schools. The House approved the bill on Wednesday.
The hybrid will include a mixture of appointed and elected board members across 20 districts, and one board president. In 2025, the board will have 10 members plus a board president appointed by the mayor and approved by the city council, and an additional 10 members elected to four-year terms by district. Beginning with the 2026 general election, the president shall be elected at large, but will lack veto power. By the end of 2026, all board positions will be elected.
The legislation includes a provision that prohibits members of the Chicago Teachers Union (CTU) from serving on the board, and a requirement that board members be U.S. citizens. It also provides for the creation of a non-citizen advisory board, and requires the board to commission an independent review and report of the district's finances.
Senator Wilcox attends groundbreaking ceremony for new Mercyhealth hospital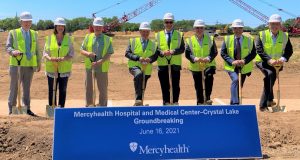 On Wednesday, it was my pleasure to attend and speak at the official groundbreaking ceremony for Mercyhealth's new Crystal Lake hospital. When this state-of-the-art facility is completed in 2023, Crystal Lake will finally have its own 24/7 emergency room. The hospital will also offer private inpatient and intensive care suites, surgery suites, and diagnostic services, plus primary and specialty care physician offices. This will truly be a marvelous addition to Crystal Lake and the surrounding areas.
Rockton Chemical Fire
A massive explosion at a grease manufacturing plant in Rockton, Illinois (near Rockford) created giant plumes of smoke and led to the evacuation of about 1,000 residents within a two-mile radius of the plant. Remarkably, more than 50 employees inside the Chemtool plant at the time of the explosion got out safely.
Fire officials were limited in their ability to use water to extinguish the fire due to environmental concerns over potential chemical runoff into the nearby Rock River. Instead, firefighters remained on alert as fluids that caught fire burn out on their own. An estimated 1,000 residents near the plant were evacuated. A disaster proclamation, which will allow for additional state help and potentially federal assistance, is in effect at least until June 21 across Winnebago County.
Capitol Complex to reopen to visitors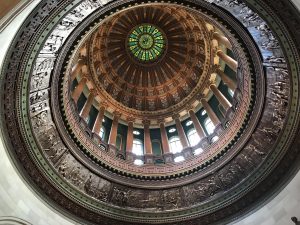 Since the start of the COVID-19 pandemic in March of 2020, the Springfield Capitol has been closed to visitors. Even when Senators returned to conduct business beginning in January of this year, residents were kept out of the building to help prevent the spread of the virus. As rules relaxed and the State of Illinois finally reached Phase 5 (full reopening) of Governor Pritzker's Restore Illinois Plan, visitors were still banned from entering the Capitol and the Stratton Building. On Tuesday, Senate Republicans learned the Capitol and its accessory buildings will finally reopen to visitors on Monday, June 21.