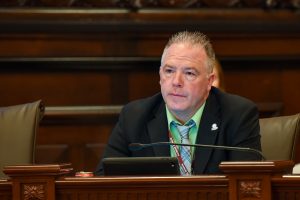 Legislation that allows county, city, village and township boards to waive building permit and inspection costs for residential repairs and rebuilds following a disaster has been signed into law by Gov. JB Pritzker. State Senator Craig Wilcox (R-McHenry) served as the Senate Chief Co-Sponsor of House Bill 1932.
"Just last week in the western suburbs we saw significant devastation caused by tornadoes," said Sen. Wilcox. "Some people lost everything. Through this legislation, those who have to rebuild and repair the structure of their homes or businesses following a disaster can seek permission to have building permit and inspection costs waived."
According to Sen. Wilcox, the fee waivers are permissive, not mandatory.
In determining a disaster, HB 1932 utilizes definitions found in the Illinois Emergency Management Agency Act. For purposes of waiving fees, a disaster includes instances such as fire, flood, earthquake, wind, storm, hazardous materials spill, explosion, riot, public health emergencies and acts of domestic terrorism.
"People experience a range of emotions when they experience property damage or loss due to a disaster that was completely out of their control," Sen. Wilcox said. "Allowing local units of government to waive fees tied to permits and inspections is one small way to lessen the financial burden tied to these events."
The provisions of HB 1932 take effect immediately. The bill received unanimous support in the Senate and House.