Republicans push for state offices to resume operations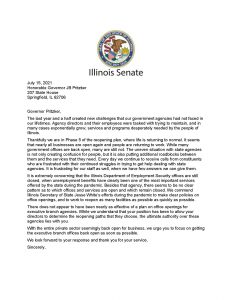 With the State of Illinois solidly in Phase 5 of the reopening plan, Senate Republicans continue their calls to have all state offices reopen, especially the Illinois Department of Employment Security (IDES), which continues to remain closed. These state agencies, especially IDES, provide critical services, and the prolonged closure of these agencies is becoming increasingly frustrating to Illinoisans. This week I joined several of my Senate Republican colleagues in sending a letter to Governor Pritzker, urging the reopening of all state offices.
While some state offices, such as the Illinois Secretary of State, have resumed full operations, others such as IDES remain inexplicably shuttered. This is creating confusion for residents and is adding unnecessary barriers to receiving state services.
IDES, which handles issues with unemployment benefits for employees throughout the state, has been closed for almost 500 days and continues to be criticized for fraud issues, the slow response time, and the backlog of unaddressed claims.
The entire private sector is back open for business. There is no excuse for state offices to not be fully opened and operational.
Wilcox hosts successful events, looks ahead to future events in 32nd District



I want to thank everyone who participated in my community outreach events last week. We had a fabulous turnout for the blood drive I hosted at Skyline Cruise Night on Monday in McHenry, and about two dozen people participated in a webinar I co-hosted on Tuesday, that included information on the Illinois Housing Development Authority's rental assistance program.

On Saturday, we had a good turnout area-wide for the annual DamYak challenge in McHenry, with more than 150 kayaks in the water and additional event supporters cheering from land. The event raises awareness and funds for Kids In Need McHenry County, a non-profit organization created to identify and provide kids in need with important recourses to help them have a happy and healthy childhood. Great fun was had by all at this annual event.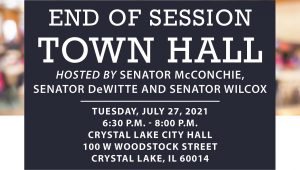 Looking ahead, on Tuesday, July 27, I will join Senate Republican Leader Dan McConchie and State Senator Donald DeWitte for a town hall meeting in Crystal Lake at City Hall, 100 W. Woodstock Street. This public event begins at 6:30 PM and will include a short PowerPoint that highlights the successes and challenges of the recently completed spring session, and we will leave plenty of time to take questions from those who attend the town hall. It's not often you get all three Senators who cover McHenry County into the same room for a public meeting, so please don't miss this opportunity to learn how your Senator has worked on your behalf this year, and to ask questions about issues that are important to you.
Legislative Inspector General announces resignation
Citing a lack of "true ethics reform," Legislative Inspector General (LIG) Carol Pope offered her resignation to members of the Legislative Ethics Commission on July 14. She offered her resignation immediately, until a replacement is chosen, or until her term ends in December.
I have been vocal about the ongoing issues of corruption and misconduct within state government, and this is just further evidence of the need to pass substantive ethics reforms in the legislature.
Earlier this year, lawmakers came together in a bipartisan effort to pass an ethics reform package that included a component to empower the LIG to investigate corruption allegations. While it was a good step forward to begin addressing the ongoing ethical concerns in state government, there is still a lot to be done to ensure elected officials are held accountable for their actions and to address the longstanding history of legislator misconduct.
Senate Republican lawmakers sponsored several additional reforms proposed by the LIG that were never called before the Ethics Committee for a hearing. They include:
SB 551 (Tracy): Amends the law to include more disclosure on Quarterly Reports filed by the Legislative Inspector General. Adds that the reports will include the total number of founded reports (currently complaints) forwarded to the Attorney General.
SB 1870 (Barickman): Amends the State Officials and Employees Ethics Act to allow the Legislative Inspector General to conduct investigations and issue subpoenas without the prior advance approval of the Legislative Ethics Commission.
SB 2529 (Plummer): Amends the State Officials and Employees Ethics Act so that the Legislative Inspector General shall not initiate any investigation without giving notice of the allegations involved to each member of the Legislative Ethics Commission. The Legislative Inspector General does not require the advance approval of the Commission to initiate any investigation, but the Legislative Inspector General shall not investigate matters that are beyond the scope of, or are unrelated to, the initial complaint upon which the investigation was founded, without the advance approval of the Commission.
SB 1350 (Curran): Amends the State Officials and Employees Ethics Act to:

Allowing the Attorney General to impanel a statewide grand jury to investigate, indict and prosecute bribery and misconduct by members of the General Assembly;
Authorizing state's attorneys to use wiretaps to investigate crimes of public corruption
Granting the Legislative Inspector General the ability to investigate members of the General Assembly without first receiving approval from the Legislative Ethics Commission;
Banning legislators from lobbying other branches of state government or units of local government for compensation;
Requiring legislators to wait one year after leaving office, or until the end of the current term (whichever is longer) before they can become a lobbyist;
Prohibiting a legislator from leaving office and continuing to use their campaign fund to support lobbying activities; and
Updating the Statement of Economic Interests to enhance the disclosure of potential conflicts of interest
McConchie v. Illinois is underway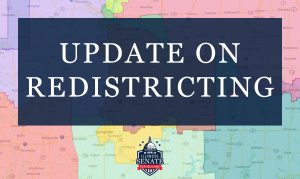 Preliminary hearings in the case of McConchie v. Illinois have begun. Filed by Senate Republican Leader Dan McConchie to challenge the partisan legislative maps signed into law earlier this year, the lawsuit had its first hearing on July 14.
Filed against Illinois House Speaker Emanuel Chris Welch, Illinois Senate President Don Harmon, the offices of the Speaker of the House and the Senate President, and the Illinois State Board of Elections and its members, the lawsuit argues that the American Community Survey (ACS) data used to draw the legislative maps violates federal law.
During redistricting hearings earlier this year, Republican lawmakers argued that the use of such inaccurate and outdated data would undercount minority, rural and growing communities throughout Illinois. Despite their requests to Democrat lawmakers urging them to wait for more accurate Census data to draw legislative borders, Majority party leaders pushed through partisan maps before the conclusion of spring legislative session. On June 4, Gov. JB Pritzker broke his campaign promise and signed the gerrymandered legislative maps into law.
Republican lawmakers maintain, however, that ACS data violates the "one-person, one-vote" principles of the U.S. Constitution, making the maps unconstitutional. I am optimistic that the courts will agree to overturn the maps and allow for them to be drawn using accurate and comprehensive Census data.
Farmers and agribusinesses now eligible for emergency drought relief
Farmers and agricultural businesses are now eligible for emergency relief due to the ongoing drought in northern Illinois. Last week, Secretary of Agriculture Tom Vilsack designated McHenry County and 12 neighboring counties disaster areas, which allows farmers hurt by the drought to pursue emergency loans.
The US Small Business Administration subsequently made Economic Injury Disaster Loans available to small businesses such as agricultural cooperatives, aquaculture, farm markets, nurseries and others. Small businesses can learn more and apply through the SBA's online portal, at DisasterLoanAssistance.sba.gov/ela/s, or by calling 800-877-8339. Farmers can learn more about the drought loans and other recovery tools available to them at www.farmers.gov.
The eligibility area for the farm and SBA loans also includes Boone, Cook, DeKalb, DuPage, Kane, Kendall, Lake, LaSalle, Lee, Ogle, Will and Winnebago counties.
Wilcox attends McHenry County Farm Bureau meeting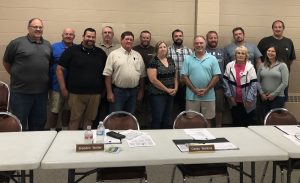 Last week it was a pleasure to meet with my friends at the McHenry County Farm Bureau. I provided a brief legislative update, including a detailed discussion of my agritourism bill, Senate Bill 458. As you may recall, this bill would remove liability from agritourism businesses when visitors choose to participate in on-site activities. The bill did not get called for a final vote this spring, but I will be pushing for consideration of this important measure when the legislature reconvenes. After the update, I listened intently as local farmers discussed challenges, including this summer's drought, a possible fertilizer shortage, and issues that may arise during the upcoming fall harvest.
Legislation helps generational farmers
Recently signed legislation, which received bipartisan support in the General Assembly, will help farms and other family businesses navigate the often complicated process of estate planning. I was proud to support this bill.
Senate Bill 47 expands the use of the TODI (Transfer on Death Instrument), which allows for ownership of property to transfer upon the death of the owner. Under current Illinois law, the use of a TODI is only allowed for residential real estate including at least one residential dwelling, but no more than four dwellings, and containing 40 acres or less of farm ground. SB 47, however, allows a TODI to be used for all real estate, including farm ground. The legislation was proposed as a way to help farmers who frequently face challenges when it comes to passing on their operations to the next generation.
SB 47 was signed into law on July 9.
Sweet Victory for young entrepreneurs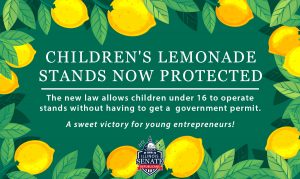 Legislation that aims to protect young entrepreneurs was recently signed by the Governor. Senate Bill 119, commonly known as Hayli's Law, will give children the freedom to operate lemonade stands without having to obtain a permit or license from local health departments. The legislation was in response to a report of an 11-year-old child in Illinois whose lemonade stand was shut down by the local city and county health department. Now, under Hayli's Law, the Illinois Department of Public Health or local health departments or districts are prohibited from regulating lemonade or nonalcoholic drink stands operated by a person under the age of 16. Senate Bill 119, which unanimously passed out of the General Assembly earlier this year, was signed into law on July 9.
IDNR now accepting applications for firearm and archery deer hunters
We may be in the dog days of summer, but the Illinois Department of Natural Resources has announced it is now accepting applications for youth firearm deer hunters and adult archery deer hunters for Fall 2021 deer hunting on private land through the Illinois Recreations Access Program (IRAP). Click here to learn more or to access an application.
IRAP also offers an Illinois Learn to Hunt program that provides FREE educational workshops aimed at teaching ADULT participants how to hunt deer, turkey, small game, upland game, and waterfowl.