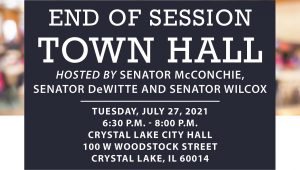 Senate Minority Leader Dan McConchie (R-Hawthorn Woods), Assistant Minority Leader Donald DeWitte (R-St. Charles), and State Senator Craig Wilcox (R-McHenry) are hosting a town hall meeting in Crystal Lake on Tuesday, July 27. The public is invited to attend.
"With the 2021 spring legislative session over, there is a lot to unpack," said Sen. McConchie. "We hope that by providing this forum to constituents, we are able to address the measures that came out of Springfield this year, as well as hear any concerns."
The event will take place from 6:30-8:00 p.m. at Crystal Lake City Hall, 100 W. Woodstock Street. The three Senators, who all cover portions of McHenry County, will provide a short update on the recently completed spring legislative session in Springfield and take questions from the audience.
"It's not very often when all three McHenry County Senators are in the same room for a public event outside of Springfield," said Sen. DeWitte. "We will discuss successes and challenges from the 2021 spring session, and talk about legislation that could still come before us when the legislature reconvenes. We'll also leave plenty of time for a Q & A with the audience."
RSVPs are appreciated, and those who wish to attend can register through any of the three legislators' websites (www.SenatorMcConchie.com, www.SenatorDewitte.com, www.SenatorWilcox.com) or by calling their district offices.
"Not only does the current gerrymandered legislative map divide McHenry County into three separate Senate Districts, but the City of Crystal Lake itself is carved into those three districts," added Sen. Wilcox. "Regardless of where people live, they are guaranteed to have access to their Senator at this event. I look forward to an informational evening with lively discussion."
For additional information about this event or to RSVP by phone, please contact Leader McConchie's office at (224) 662-4544, Leader DeWitte's office at (847) 214-8245), or Senator Wilcox's office at (815) 455-6330.