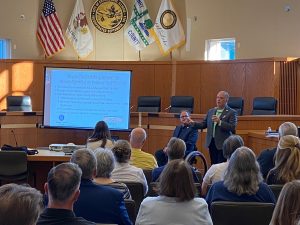 On July 27, Senate Minority Leader Dan McConchie (R-Hawthorn Woods), Assistant Minority Leader Donald DeWitte (R-St. Charles) and State Senator Craig Wilcox (R-McHenry) hosted a successful town hall meeting at Crystal Lake City Hall in McHenry County. All three senators cover a portion of the county.
Approximately 85 residents attended the forum, which included a short presentation by the legislators and a lengthy Q & A session with attendees. Items discussed included the Fiscal Year 2022 budget, the criminal justice reform legislation that passed this year, and many other topics.
Click here to view the PowerPoint slides used in the presentation.