Schools regain some local control
On July 9, 2021, the federal Centers for Disease Control (CDC) released its updated Guidance for COVID-19 Prevention in Kindergarten (K)-12 Schools. Immediately thereafter, the Illinois Department of Public Health (IDPH) announced it was fully adopting the CDC's updated guidance for schools. Final decision-making authority over protocols in the classroom- including for masks- has been given to locally-elected school boards. Here locally in the 32nd District, some school boards have opted for optional mask-wearing, while others will be enforcing mask requirements for all unvaccinated students and staff. If you have school-aged children, your school will be providing information regarding their protocol decisions.
While school officials now have final say on COVID-19 protocols within their buildings, the updated guidance states masks "should" be worn indoors by all individuals (ages 2 and older) who are not fully vaccinated, and recommends that if school administrators remove any prevention strategies based on local conditions that they should do so "one at a time" to monitor the effect on COVID-19 cases.
Despite the local control, masks will still be required for all passengers on school buses in accordance with CDC guidelines, regardless of the school's mask policies.
Wilcox to join Senators McConchie and DeWitte for joint town hall in Crystal Lake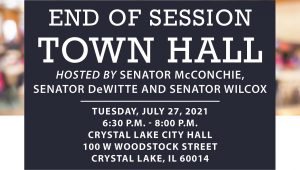 Tonight you won't want to miss a joint town hall meeting I am hosting with Senate Minority Leader Dan McConchie and State Senator Don DeWitte. As the three Senators who represent McHenry County, we will all be in attendance as we share an update of the recently-completed spring legislative session and take questions from audience members.
The Tuesday, July 27 event will be held at Crystal Lake City Hall, 100 W. Woodstock Street in downtown Crystal Lake. We will begin at 6:30 with a short PowerPoint detailing key legislative issues that came before the General Assembly this year. Then we will spend the remainder of the evening fielding questions from attendees. RSVPs are appreciated for this event, so if you would like to reserve your spot, click here.
Looking ahead, plans are coming together for a Thursday, August 26 mobile DMV event at the Moose Lodge in Johnsburg. From 10:00-2:00, a mobile DMV team from the Secretary of State's Office will be at the lodge to assist motorists with most DMV transactions. No Real IDs or driving tests will be offered, but available transactions will include:
Traditional driver's license renewals and corrections (No Real IDs)
New/renewal/corrections of State ID cards (ID cards are free for seniors age 65+)
License plate renewal stickers
Voter registration with renewal of driver's license/ID
Organ donor registration with renewal of driver's license/ID
Completing change of address forms
Northwest Herald publishes Wilcox guest editorial on "Fix the FOID" bill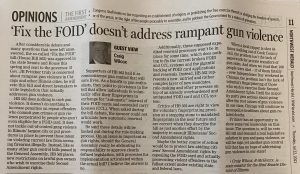 This year the Democrat majority in Springfield pushed through gun control legislation they said will save lives while addressing the huge backlog of FOID and CCL applications and renewals. I voted against this legislation because it will do neither. Last Thursday, the Northwest Herald published an op-ed I penned. Here is the text:
'Fix the FOID' Does Nothing to Address Rampant Gun Violence
After considerable debate and many questions that were left unanswered, the so-called "Fix the FOID" bill (House Bill 562) was approved in the Senate and House this spring and sent to the Governor. If Governor JB Pritzker is truly concerned about rampant gun violence in Chicago and other Illinois cities, he will veto this bill, and direct lawmakers to write legislation that actually addresses gun violence.
House Bill 562 does nothing to curb gun violence. It doesn't do anything to increase penalties on repeat offenders who commit gun crimes, or gun violence perpetrated by people who aren't even eligible for a FOID card. It does not tackle out-of-control gang violence in Illinois' largest city, or put procedures in place to prevent those intent on violating current law from accessing firearms illegally. Instead, like so many other gun control bills passed in the General Assembly, House Bill 562 places new restrictions on lawful gun owners who wish to exercise their Second Amendment rights.
Supporters of House Bill 562 hail it as common-sense gun control that will save lives. As a benefit to gun enthusiasts, they point to provisions in the bill that allow individuals to voluntarily offer their fingerprints in exchange for "automatic" renewal of their FOID cards and Concealed Carry Licenses (CCL). When asked during the bill debate, the sponsor could not articulate how automatic renewal would work. He said those details will be hashed out during the rule-making process. On an issue as important as gun rights, should the General Assembly really be abdicating its responsibility to approve clearly-defined legislation, with processes for implementation articulated within the actual bill? I believe the answer is no.
Additionally, these supposed expedited renewal processes won't be in place for some time, which does nothing to fix the current broken FOID and CCL systems and the gigantic backlog of FOID card applications and renewals. Instead, House Bill 562 represents a new, untried, and rather complex layer of new mandates, rule-making, and other processes on top of an already overburdened and antiquated FOID card and CCL system.
Critics of House Bill 562 are right to view the voluntary fingerprinting provision as a stepping stone to mandated fingerprints in the near future, and are correct when they describe the bill as just another effort by the majority to assault Illinoisans' Second Amendment rights. Maybe the better course of action would be to protect law-abiding citizens' Second Amendment rights by repealing the FOID card and actually prosecuting violent offenders to the fullest extent under existing state and federal laws.
When a local rapper is shot 64 times walking out of the Cook County jail, the problem isn't the lack of paperwork for private transfers of gun sales. And when we read that 108 people were shot— 17 of them fatally— over Independence Day weekend in Chicago, the problem isn't the lack of voluntary fingerprinting of those who wish to exercise their Second Amendment rights. Until the majority party gets serious about going after the root causes of gun violence in our state, Chicago will continue to monopolize headlines about gun-related deaths.
Governor Pritzker has an opportunity to show some real leadership on this issue. The question is, will he veto House Bill 562 and demand a real legislative solution to gun and gang violence, or will he sign yet another gun control bill that has no hope of addressing gun violence in our state?
Illinois to receive nearly $800 million after opioid settlement
Johnson & Johnson and three opioid distributors have agreed to pay billions to settle thousands of government lawsuits accusing them of helping to create the opioid public-health crisis. The deal will have McKesson Corp., Cardinal Health Inc. and AmerisourceBergen Corp. pay approximately $21 billion to settle claims that they ignored unusually large opioid shipments. Johnson & Johnson will pay $5 billion to resolve allegations it illegally marketed opioids.
The Illinois Attorney General announced that the state will be signing on to the settlement and, if finalized by all local governments, would receive approximately $790 million. The majority of the settlement money would be spent on opioid treatment and prevention.
Illinois unemployment fraud exceeds $15 million
For months, the Illinois Department of Employment Security (IDES) has declined to disclose how much it has lost to fraudulent claims. Recently, WGN 9 news discovered that IDES has reported to the United States Department of Labor that it has lost more than $14.8 million to fraudulent claims since the beginning of the COVID-19 pandemic.
After the number was made public, an IDES spokeswoman confirmed that the $14.8 million sum is reflective of fraud committed by people who were allegedly working while receiving benefits, and doesn't include those associated with identity theft-related unemployment fraud. This would likely mean that the total amount of money that IDES has lost to fraudulent claims is much higher than the nearly $15 million figure.
Rampant fraud is just one more reason why IDES should reopen its offices to the public. IDES has been closed for almost 500 days and continues to be criticized for fraud issues, the slow response time, and the backlog of unaddressed claims.