District 32 Constituents Flock to Mobile DMV Event in Johnsburg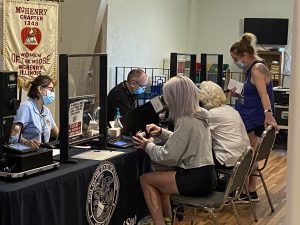 It was my pleasure to bring the Secretary of State's mobile DMV unit to McHenry County for an event in Johnsburg on Thursday. During the four-hour event, 81 residents were able to avoid the long lines as regional DMV offices, and take care of important motor vehicle registration and licensing business.
As legislators, we are allowed to host these mobile DMV events every six months. I will certainly be working with the Secretary of State's office to bring another mobile event to the 32nd District just as soon as I can. My thanks go out to the mobile team who did great work in moving so many people through the line so they could complete their transactions. I also appreciate all the constituents who participated in this very successful event.
Wilcox Pens Op Ed on Afghanistan
Prior to the suicide bombings near the Kabul airport this week that claimed the lives of U.S. military personnel and innocent civilians, I penned an opinion piece on the mishandling of the withdrawal from Afghanistan. I'm told it will be published in the Northwest Herald in the coming days.
Who will defend freedom?
As a people who enjoy freedom and democracy, I join the vast majority of Americans who are reeling from news that 20 years after brutal Taliban forces were removed from power, they have regained control of Afghanistan and of the Presidential Palace. Knowing that the country's admittedly fragile democratic form of government has crumbled, and that the Capital City of Kabul is now under the control of violent extremists known for their hatred of the United States and other free countries, is cause for global concern. And like many others, I am experiencing a range of emotions, including equal measures of anger, sadness, and disbelief.
I am a former U.S. Air Force Colonel who spent 24 years in service to this country, so I have strong feelings about what has and is transpiring. I am appalled over our government's handling of Afghanistan. It is an utter failure of leadership and a failure of the United States that will have ramifications for years to come.
I support the United States' structure where we elect civilian leaders and have a separate but supporting military. But when elected leaders do not heed expert military advice-especially in times of war or conflict, we are doomed for failure. This is not a single administration critique, but the withdrawal chaos in Afghanistan rests solely with the current administration.
The American people deserve answers, and those who sent their sons, daughters, and loved ones into military service in the volatile middle east definitely deserve answers. If we were going into Afghanistan, or Iraq, or anywhere, why were we not fully committed to rooting out the evil that existed and forcing unconditional terms of surrender?  Was there intelligence that the Taliban were likely preparing for this day since last November's election?  Was there military advice for how to effectively remove our troops and civilians from the area, or recommended options to disrupt or destroy the Taliban's surface military potential before it could be used to topple the Afghan government? And were those recommendations dismissed by the current administration?
The actions we have witnessed over these last few weeks and especially over the last several days do not unfold unexpectedly. They result from ignoring or discounting sound military advice. I implore Congress and the media to ask exactly what the President was asked to approve, when, and why military recommendations were not followed. I believe military officials should explain what they knew, what they expected, and what they planned in a detailed timeline to Congress, and someone needs to explain why actions were not taken. 
On a larger scale, I can only imagine how emboldened Russia and China are feeling right now in the wake of this massive American failure. Perhaps now Americans have an inkling of the fear felt in Taiwan, Ukraine, the Kurds in Turkey, Iraq, Iran, the Uighurs in China, and every other population living under authoritarian rule around the world.
The United States used to stand up to bullies, and hold them accountable, but I have seen none of that from the U.S. in far too long. Are we ready to ask our newest generations to defend freedom again soon? Are they ready to selflessly respond as our Greatest Generation once did? Based on the debacle in the handling of the withdrawing of troops and American civilians in Afghanistan, should they even be asked to?
Take my summer survey!
I recently made a digital summer survey available to the residents of the 32nd Senate District. I hope you'll take the time to fill out the short survey, which includes a few questions and room for expanded comments at the end. I hope everyone will take a few minutes to complete the survey, because the responses help me take votes in Springfield that are representative of the opinions within the 32nd District. You can access the digital survey at: https://senatorwilcox.com/summersurvey/.
Indoor Mask Requirement Returns, Teachers and Health Professionals Ordered to Get Vaccinations or Regular Testing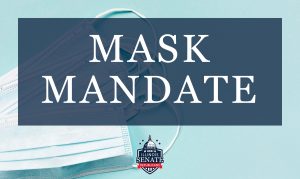 On Thursday, Gov. Pritzker announced a new statewide indoor mask mandate. The Pritzker administration is also requiring that all P-12 teachers and staff, higher education teachers and staff, college students, and healthcare workers (including nursing home workers) get vaccinated for COVID-19 or get tested once per week. The new masking requirement takes effect on Monday, August 30, and the vaccinate-or-test mandate for the healthcare and education sectors begins September 5.
Pritzker cited the surge of coronavirus cases across Illinois fueled by the Delta variant as the reason for the additional mitigations. The Illinois Education Association (IEA) and the Illinois Federation of Teachers (IFT) released statements in support of the new vaccination requirements.
Meanwhile, the Governor and AFSCME, the largest state employee union, are still in talks over vaccine mandates for state employees. On Aug. 25, the union announced that it firmly opposes a "rigid mandate" requiring vaccinations for state employees. Following the Governor's announcement of his new mandates the next day, AFSCME released a statement requesting similar vaccinate-or-test flexibility to any mandate for state employees.
Lawmakers Return to Capitol to Deal with Unconstitutional Map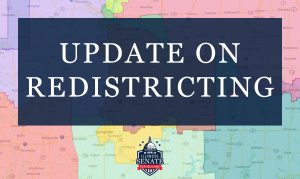 After the recent release of census data made it clear that Illinois Democrats' partisan legislative maps are not constitutional, the majority party scheduled a one-day session for Aug. 31 to try to "fix" their maps. They also ordered a series of seven redistricting hearings, beginning on Aug. 26 and wrapping up Sunday.
Legislative districts are supposed to be roughly equal in population, but they don't have to be exactly the same. According to previous rulings from the United States Supreme Court, the maximum deviation from the most-populated to the least-populated districts is capped at 10 percent.
During the spring legislative session, Democrat leaders refused to wait for the release of the actual census data to draw maps, and instead rushed ahead with less accurate American Community Survey (ACS) data.  When the newly-released census data was plugged into their maps, it showed deviations between districts as high as roughly 30 percent, three times the allowable limit. It is expected that Democrats will file new legislation to update their maps to bring districts within the proper population limits.
Still, there are serious legal questions regarding whether lawmakers can make changes to the maps at this point during the year. The Illinois Constitution sets a June 30 deadline for lawmakers to pass a map, which has already passed. After that date, the authority to draw a map falls to a bipartisan redistricting commission.
Meanwhile, multiple lawsuits are pending against the current map, including McConchie v. Illinois, filed by Illinois Senate Republican Leader Dan McConchie (R-Hawthorn Woods), who argues that the court should demand that the process be handed over to the bipartisan redistricting commission.
I believe a bipartisan panel would enable all sides to work together to put together legislative maps that better protect the voices of communities across the state.
Could Lawmakers Act on New Energy Legislation?
After failing to advance a bill during the regular legislative session, negotiators have continued to work over the summer on new comprehensive energy legislation.
The effort started as an attempt to help grow the state's green energy portfolio while saving two large nuclear plants from closing. Disagreements quickly appeared over the potential future closures of coal and natural gas power plants.
Gov. JB Pritzker and environmental groups have pushed for a firm date for the closure of all carbon-producing power facilities, while local governments, unions and many lawmakers have fought to preserve the large number of good-paying jobs provided by the existing coal and gas plants, as well as their contributions to the state's energy portfolio and economy.
As negotiations continue, a new energy bill could emerge for a vote when lawmakers are in Springfield on Aug. 31, though nothing is scheduled yet.
Pritzker Administration Forced to Apologize for Threatening School Board Member
An elected member of an Illinois school board, who is also a well-respected physician, was recently informed that his medical license was under investigation by the Illinois Department of Financial and Professional Regulation (IDFPR) due to his opinions of the Governor's statewide mask mandate.
An official from the agency contacted the doctor to inform him of the investigation and to request a "detailed statement" on his opinion of masks, and whether he would support and enforce a mask mandate as an elected member of a school board.
State Sen. Chapin Rose (R-Mahomet) filed a complaint with the Office of the Executive Inspector General, believing that the IDFPR's actions could represent an attempt to influence or coerce the doctor in his role as an elected member of a school board, which is potentially a crime under Illinois law.
Following significant public outcry and pushback over the agency's actions, IDFPR officials issued an apology to the doctor and promised to make a strong recommendation to their medical disciplinary board to close the investigation.
State Unemployment Rate Remains High
Despite a fast-moving national economic recovery following the COVID-19 pandemic, the unemployment rate in Illinois remains significantly higher than the national average.
The Land of Lincoln currently holds the eighth highest unemployment rate in the country at 7.1 percent, compared to the average U.S. rate of 5.4 percent. As businesses have reopened and people have headed back to work, the national rate has been steadily declining while Illinois has been stuck at that same 7.1 percent since March.