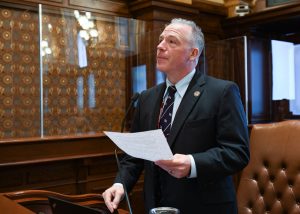 In an effort to gain greater insight into the opinions and priorities of the residents living in the 32nd Senate District, State Senator Craig Wilcox (R-McHenry) has launched a summer survey.
"When I take votes in Springfield, I want to ensure they reflect the opinions and priorities of the residents of the 32nd District," said Sen. Wilcox. "I will read every response, so I am hoping for wide participation by my constituents."
A link to the summer survey was included in an end-of-session report that was recently mailed to households in the 32nd District. The survey can be accessed at: https://senatorwilcox.com/summersurvey/.  Additional paper copies of the survey are available through Sen. Wilcox's district office. To have a paper survey mailed, please contact the office by phone at (815) 455-6330.
"I will be accepting survey responses through October 30, and I look forward to receiving this valuable community feedback," Sen. Wilcox said. "I would encourage all residents in the 32nd District to provide input through my summer survey."