Senate to vote on new energy bill on Monday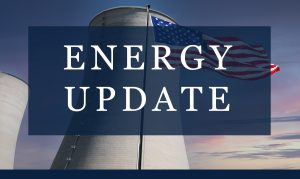 The Illinois Senate is back in Springfield today (Monday, Sept. 13) to consider a new version of a comprehensive energy bill. We will take action on legislation passed by the House of Representatives late in the evening on September 9.
Building off work done in the Senate the previous week, the proposal – now contained in Senate Bill 2408 – includes many of the same sweeping provisions from the original Senate legislation, Senate Bill 18. As you may recall, I was a "present" vote on SB 18 last week. The vote signified my belief that the bill was headed in the right direction and that with a bit more work the legislation could become something I could support. Unfortunately, the text of the new bill went in the other direction and I will be voting "no" when it comes before us this afternoon.
I am 100% in support of a cleaner energy future for Illinois and I cannot discount that there are several positive components of the bill. I am especially pleased to know that nuclear plants in Northern Illinois will remain operational and that a significant investment is being made in renewables. However, it is clear that the final legislation was drafted to placate labor unions and environmental lobbyists, with absolutely no consideration whatsoever given to ratepayers and to communities that rely on coal-based energy. This legislation includes no plan to backfill energy lost when coal plants close, leaving several communities, including many in the 32nd District, open to blackouts/brownouts in the future.
I believe firmly that a path to carbon-free energy and increased renewables exists that does not create overt financial hardship for ratepayers. But in the end, and at the expense of rank-and-file Illinois residents, politics was the driving force behind the final bill language. Other concerns I have with this new energy package include:
Creates the largest utility rate increase in Illinois history.
Closes the Prairie State Coal Plant seven years earlier than the date listed in SB 18. This places several Illinois municipalities on the hook for remaining debt service payments for energy they will not be receiving from Prairie State while having to also purchase energy from another source. The result will be a significant tax increase for residents in those communities.
Gives private companies the power to invoke eminent domain in nine counties, stretching from Pike County to Clark County, to build out new transmission lines. This is a dangerous precedent. Eminent domain laws are not meant to extend to private companies.
Gives nearly $700 million in ratepayer funds to bail out Exelon.
Excludes wind and solar from the same ethical standards that traditional energy must follow.
SB 2408 passed the House by a vote of 83 to 33.
Mental health resources expanding for Illinois farmers
A pilot program started in 2019 is expanding to help farmers and their families facing stress-related mental health problems. Announced during the highly anticipated annual Farm Progress Show, the Illinois Department of Agriculture shared that the Farm Family Resource Initiative pilot program, which currently serves six Illinois counties, will be expanded to all 102 counties throughout the state. The expansion was made possible through a $500,000 grant from the U.S. Department of Agriculture.
The expansion means farmers across the state will be able to connect with mental health providers and resources through a Farmer Assistance Helpline. The hotline is also expanding to include text and e-mail communication options. The program is administered under the Southern Illinois University School of Medicine Center for Rural Health and Social Services Development. Famers and their families seeking assistance can call 1-833-FARM-SOS. The line is open 24 hours per day, seven days per week.
Wilcox visits VonBergen farm in Hebron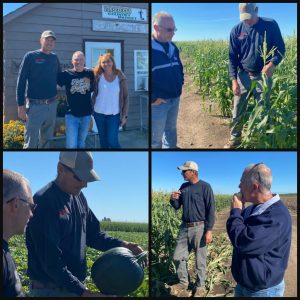 Last week I had the pleasure of visiting the VonBergen farm in Hebron. This local agritourism business offers wholesome family fun and opportunities to purchase some of the finest farm goods in the region.
My thanks go out to Mike and Tracie VonBergen, who gave me the tour. The 32nd Senate District is home to many farms and orchards that offer interactive activities for families. VonBergen Farm and other agritourism businesses like corn mazes, pick-your-own pumpkin patches, Christmas tree farms, and apple orchards offer wonderful outdoor fun across this region. Unfortunately, insurance costs for these agritourism businesses have caused some to go under, and potential agritourism business owners to rethink starting this type of business.
This year I sponsored legislation that would protect agritourism businesses from liability when visitors choose to engage in on-site activities. Through my Senate Bill 458, owners and operators of agritourism businesses would not be held liable for injuries sustained by visitors who engaged in activities on their properties. It was not brought forward for a vote this year, but I'll be resurrecting this pro-business legislation in 2022.
Nation commemorates 20th anniversary of 9/11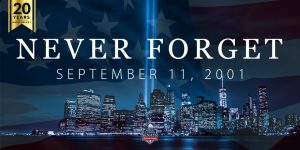 Saturday, Sept. 11, 2021, marked the 20th anniversary of the 9/11 terrorist attacks on our country. As a veteran of the U.S. Armed Forces, 9/11 has especially deep meaning for me. On the morning of September 11, 2001, I was in Montgomery, Alabama at Air Commander and Staff School when I learned of the terrorist attacks on our country. When that training was complete a few weeks later, I was deployed to the Middle East where I led a team to support the United States' efforts in the war.
Our world changed forever on September 11, 2001, when terrorists brazenly attacked symbols of our freedom in New York and Washington, and on Saturday, 20 years later, I joined our country as we continue to mourn the thousands of innocent lives that were lost on that day. In addition to images of billowing smoke and twisted metal, also engrained in my mind are images of brave first responders who ran toward unknown danger in their attempts to save as many people as possible. I pray for the families who lost loved ones, give thanks to our first responders, and express my deepest appreciation to every member of the armed forces who worked selflessly to defend freedom over these last 20 years.
Now observed as Patriot Day, Sept. 11 serves as a yearly reminder to pay tribute to the victims, survivors, and first responders who were impacted on 9/11. The anniversary also serves as an opportunity to remember and appreciate the servicemen and women who dedicate their lives in service to their country, fighting for freedom and in defense of the American people.