Court ruling supports JCAR Republicans' claim of Pritzker, ISBE overreach on school recognition status
A court ruling out of Kendall County last week supports a recent assertion by Republican members of the Joint Committee on Administrative Rules (JCAR), who say it is inappropriate for the Illinois State Board of Education (ISBE) to strip nonpublic schools of their recognition with the state without due process.
The ruling by Kendall County Judge Stephen Krentz, which ordered ISBE to temporarily reinstate Parkview Christian Academy's state recognition, comes as schools across Illinois are losing state recognition for implementing different rules than those under the Governor's executive orders. Click here to read Judge Krentz' ruling.
During the September JCAR meeting, Senate and House Republican JCAR members expressed serious concerns over the lack of due process afforded to nonpublic schools prior to ISBE stripping a school of its recognition status. Public schools are placed on probation and are given a defined timeline to respond, yet nonpublic schools are not given that same consideration.
In the case of Parkview Christian Academy, which operates two campuses in Yorkville, the schools' official recognition was stripped on the same day it received notification of non-compliance with the Governor's mask mandate. Loss of state recognition leads to consequences such as the revocation of students' ability to participate in the Invest in Kids scholarship program and the suspension of a school's ability to participate in Illinois High School Association and Illinois Elementary School Association sanctioned sports, among others.
JCAR is not a panel that can set policy. It's charge is to ensure that agencies are implementing laws through administrative rules that follow the intent of lawmakers when bills are passed, or in this case, when a mask mandate for schools is handed down by the Governor. JCAR's oversight over the rulemaking process ensures agencies do not arbitrarily enforce the provisions of a law or mandate, and act within legislative intent and within the boundaries of state statute.
At its September meeting, members of JCAR asked ISBE to bring amended rules to the panel that afford due process to nonpublic schools before removal of recognition takes place. JCAR's October meeting is set for Tuesday, October 19.
Senator Wilcox hosts busy week of events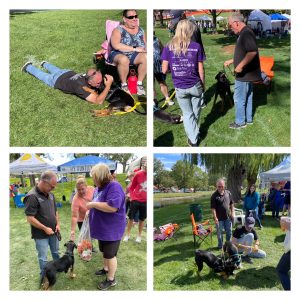 This last week has been extremely busy in the 32nd District, as my staff and I executed three different community outreach events.
On the weekend of Sept. 25-26, I partnered with State Senator Don DeWitte and Huntley Animal House Shelter for a two-day pet adoption event. We had dogs available at a booth at Huntley Fall Fest, and I'm told some pets successfully found new forever homes. Then, on Monday, Sept. 27, I partnered with the Illinois Student Assistance Commission (ISAC) for a free, online session on FAFSA and college financial aid— how to apply, how to maximize opportunities for grants, etc. We had over 150 RSVPs for this free virtual event!
Two days later, on Wednesday, Sept. 29, I partnered with AARP for an informational session on "Medicare 101." Participants learned about the often-confusing program and had an opportunity to ask questions about when to apply, what coverage is needed, and how to review plans to ensure a participant has adequate and the most affordable coverage to meet their needs. Click here to view the slide deck for the FAFSA event, and click here to view the slides for the Medicare event.
My talented events staff is always organizing new and engaging events for the constituents living in the 32nd District, so check my website often (SenatorWilcox.com) for updates.
Senate Republican Caucus launches listening tour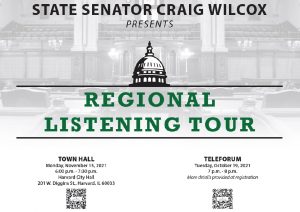 The Senate Republican Caucus is continuing its statewide listening tours with several October and November dates across the state. Illinoisans will have an opportunity to attend a regional event in or near their home town, and will also be offered an opportunity to participate in a regional teleforum featuring Senators from their area.
I will be hosting a town hall meeting on Monday, November 15 at 6:00 p.m. at Harvard City Hall. I will be joined at this event by Deputy Minority Leader Sue Rezin, Assistant Minority Leader Dave Syverson, and State Senator Brian Stewart. Prior to the town hall meeting, we will co-host a teleforum on Tuesday, October 19 at 7:00.  RSVPs for these events are appreciated. To reserve a spot at the town hall meeting click here, and to RSVP for the teleforum, click here.
Still time to apply for small business Back to Business grants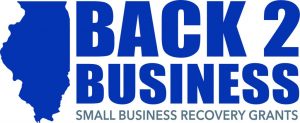 The deadline for receipt of Back to Business grant applications is quickly approaching, so DO NOT DELAY in getting those applications submitted! Small business owners who want a share of $250 million in Back to Business grant funds must submit an application to the Illinois Department of Commerce & Economic Development (DCEO) by October 11.
The first group of grant recipients was announced this week, and I'm pleased to announce that five businesses within the 32nd Senate District have already been approved to receive funds. Congratulations to DC Cobbs (McHenry), the Double Yolk Café, WE Entertainment, Inc., Dance Party DJs Inc., and M&M Brothers of Lake County, Inc. Together, these small businesses received $210,000 in grant funds.
The following documentation is required when submitting an application:
Business owner ID (ITIN business owners eligible)
Business 2019 AND 2020 federal tax returns
Two (2) business bank statements— one from the period April through December 2020, and also the most recent bank statement
Grants range from $5,000-$150,000 per business, and can be used to cover a wide range of operations/staff/overhead costs. Hotel grants can be as high as $250,000.
For full eligibility requirements and other additional information about the program, visit: https://www2.illinois.gov/dceo/SmallBizAssistance/Pages/B2B.aspx?gclid=Cj0KCQjws4aKBhDPARIsAIWH0JUFi916f2tsk3xhor_ghzZt1-18wsJsj3fYSDo3tyvnJZHcosUdeJwaAtuKEALw_wcB
Illinois eviction moratorium set to end this weekend
On Sunday, the eviction moratorium in Illinois came to an end. Governor Pritzker issued the final extension of the moratorium in September with an expiration date of October 3. The moratorium had been in place since March 2020 as a way to avoid evicting tenants who might end up in shelters or other crowded facilities during the pandemic. The lifting of the moratorium allows eviction hearings to resume in Illinois courts.
Assistance is still available for Illinois renters who might need help in staving off eviction. The state has distributed about half of the federal money it received for rental assistance under the pandemic relief bills. Aid remains available through the Illinois Department of Human Services.