Second Week of Veto Session Shaping Up to be Busy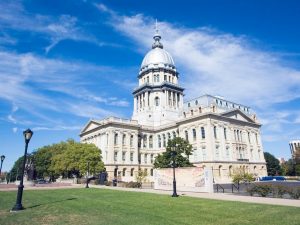 With little legislative action occurring during this first week of veto session, it's quite likely we'll have a heavier workload when lawmakers return to the Capitol on Tuesday, October 26.
Several bills could be considered when we return, including possible changes to the Healthcare Right of Conscience law. This Act allows people the right to refuse to receive or take part in healthcare services that are contrary to their conscience. Governor Pritzker and some Democratic lawmakers have indicated that they would like to make changes to the long-standing law so that the protections don't apply to COVID vaccinations and testing. I support the Healthcare Right of Conscience Act and the vital protections it provides to Illinoisans, and will be voting "no" to any attempt to weaken the Act to allow for continued government overreach by the Governor.
Consideration could also be given to a proposal that would repeal the Parent Notification of Abortion Act (this law requires that a parent/guardian of a minor female child be notified prior to an abortion procedure being performed), set in place protocols to display the U.S. flag at half-staff in Illinois, and a possible gaming expansion bill. I am firmly opposed to attempts to remove notification requirements prior to an abortion being performed on a minor.
Senate Republicans Focus on Public Safety
On October 20, Senate Republicans stood at the Capitol's Illinois Police Memorial to renew calls for comprehensive public safety reforms to address the surge in gun violence across Illinois. You can listen to the full press conference here.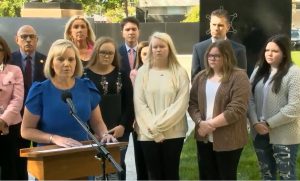 Senate Republicans were joined at this press conference by Amber Oberheim and her four daughters. Amber the widow of slain Champaign police officer Chris Oberheim, who was gunned down while on duty in May of this year. The offender who is accused of taking the life of Officer Oberheim was a repeat felon using an illegally-obtained gun. Amber echoed the calls from Senator Republicans to take action, urging Democrat lawmakers to bring the public safety reform package before members of the General Assembly during the final days of the fall veto session. During her remarks, she said, "You had an opportunity to send this proposal to committee yesterday and you didn't. You have four days left. Do not let the State of Illinois down. Do something to ensure the safety of the residents who elected you to make these decisions."
Republicans filed the package of public safety bills two weeks ago. The package includes a "Fund the Police" component, which would provide a major infusion of resources to criminal justice and mental health programs. Other components of the package include:
Requiring those who assault police officers or bring weapons into penal institutions to serve at least 85 percent of their sentences.
Increasing sentencing for violent gun offenders to a mandatory 10-year sentence for a first offense, and a sentence of life for a second offense.
Requiring a minimum 10-year sentence for those who would purchase or supply a gun to any individual who is prohibited from owning a gun.
The fall veto session is set to conclude on Oct. 28. As of this writing, all of these bills remain blocked from consideration by the majority party.
Parental rights under attack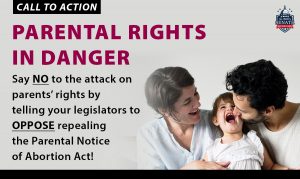 As veto session continues, members of the Senate Republicans are continuing to bring attention to attempts to repeal the Parental Notice of Abortion (PNA) Act.
The Illinois Parental Notice of Abortion Act requires that parents of minors be notified before their child receives an abortion procedure. Currently, the law simply stipulates that a parent be informed of the procedure. Parents are not required to provide consent.
Leading up to veto session, Democrat lawmakers indicated they may attempt a repeal of the PNA during the fall veto session, and Governor JB Pritzker has expressed his support for the effort. In response, the female members of the Senate Republican Caucus hosted a press conference on October 19 to oppose any efforts to repeal the long-standing act and take a stand for parental rights.
While opponents of the law continually argue that the PNA endangers victims of abuse, Republican senators argue that the PNA law actually provides safeguards to vulnerable minors. The current law also provides alternative avenues for minors who may not feel safe sharing their decisions. In the case of sexual abuse, neglect, or physical abuse by an adult family member, a minor who wishes not to have their parent informed can declare this to an attending physician who can grant a notification waiver. Additionally, minors can also choose to seek a waiver in circuit court, where a judge can grant an exemption.
Republican lawmakers argue that efforts to repeal the PNA is a direct attack on parental rights and will leave countless young girls vulnerable at a time when they desperately need support and guidance. As I mentioned above, I will be voting no on any attempt to circumvent the rights of parents when it comes to healthcare decisions for their children.
Court seizes redistricting process from Illinois Democrats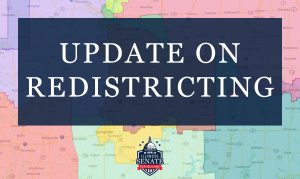 On October 19, a federal court declared the initial legislative map crafted by Democratic lawmakers behind closed doors to be unconstitutional.
Earlier this year, Republicans filed a lawsuit, McConchie v. Illinois, asking the courts to review the legislative maps crafted by Democratic lawmakers, noting that the original proposal was drawn without the use of comprehensive Census data and drawn by party politicians.
Under the ongoing case, a federal court granted the motion for summary judgment filed by the Republican caucuses and the Mexican American Legal Defense and Educational Fund (MALDEF), declaring that the Democratic map (Public Act 102-0010), passed by the Democratic majorities and signed by Gov. Pritzker, violated the Equal Protection Clause of the Fourteenth Amendment to the United States Constitution.
The court has declared a remedial phase concluding the court has the duty to determine and approve any legislative map going forward. Said another way, the court has seized control of the state's redistricting process from the Governor and the Democratic majorities.
This ruling validates the concerns of Senate Republicans and other advocacy groups regarding the Democrats' unconstitutional attempt to gerrymander Illinois' legislative districts. I look forward to being part of a process that is constitutional and inclusive of all Illinoisans.
ISBE Changes Course, will Submit Mask Enforcement Rules to JCAR
After initially indicating they had no intention of using the Joint Committee on Administrative Rules' (JCAR) rule-making process to create the enforcement policy for Governor Pritzker's Pre-K-12 mask mandate for schools, the Illinois State Board of Education (ISBE) reversed course this week and told members of JCAR on Tuesday that rules would be filed in the coming days.
JCAR serves an important purpose, as the members are responsible for ensuring state agencies do not arbitrarily set policies that do not align with state statute or with legislative intent behind bills that are signed into law. A few months ago, members of JCAR learned that ISBE had been using a different set of rules to enforce Governor Pritzker's school mask mandate for public and non-public schools. Whereas public schools were given a defined time period to respond and remediate after being notified of non-compliance, private schools were allowed virtually no due process. In some cases, private schools had their recognition status pulled by ISBE on the same day they were notified of non-compliance.
Whether you believe masks in schools are good or not, we simply cannot have a different set of rules for enforcement in public and non-public schools, especially since it is the students who would suffer the consequences. Private school students stood to lose a great deal through ISBE's lopsided enforcement policy. Challenges to the school mask mandate continue to work their way through the court system, and while ISBE quietly changed course and offered due process to private schools a few weeks ago, as of this writing, official rules requested by JCAR have not been received.
October is Manufacturing Month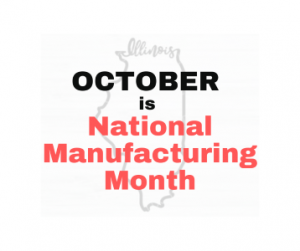 October has been declared as Manufacturing Month, recognizing the vital role of manufacturing throughout Illinois. The month-long celebration highlights the work of those in the manufacturing industry and serves as an opportunity to promote and advocate for future growth and development for Illinois' manufacturers.
According to the Illinois Manufacturers' Association, approximately 550,000 men and women are employed in the manufacturing sector in Illinois. The industry also generates the largest share of any industry to the state's Gross Domestic Product, contributing approximately 12 percent.
The IMA notes that manufacturing is an economic powerhouse that will eventually face a workforce shortage, with an estimated 300,000 men and women expected to leave the industry and retire in the coming years. Senate Republicans note it is more important than ever that lawmakers support the industries that create jobs and opportunities in the state, including manufacturing.