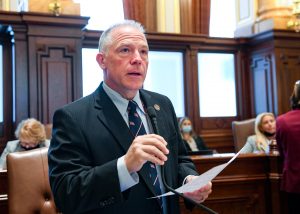 Following a heated debate in the final hour of the fall veto session in Springfield, Senators approved changes to the Healthcare Right of Conscience Act that eliminate Illinoisans' protections against mandatory COVID-19 vaccines and testing. In response to the vote, State Senator Craig Wilcox (R-McHenry), who voted against the measure, issued the following statement:
"Today's vote marks yet another attack on people's personal freedoms. The Healthcare Right of Conscience Act has provided vital protections to Illinoisans for decades, and now, when the Governor's mandates are being successfully challenged in the courts, the majority party has decided to change the laws rather than abide by them. The majority party set a dangerous precedent by carving out a COVID-19 exception within this key statute. It opens the door to future carveouts anytime the public pushes back against government overreach.
"More than 54,000 Illinoisans submitted digital witness slips in opposition to the bill. Never before have so many Illinoisans engaged with such passion over an issue in Springfield. But rather than recognizing the overwhelming opposition to this massive infringement on personal rights, Governor Pritzker and Illinois Democrats once again chose politics over good policy.
"Today was the first step in completely removing the protections guaranteed through the HCRCA. This legislative overreach restricts freedoms and sends the message to Illinoisans that their voices do not matter, and that they can, in fact, be fired from their jobs if they dig in their heels and stand firm in their convictions regarding healthcare procedures they do not want."