Majority Party pushes aggressive veto session agenda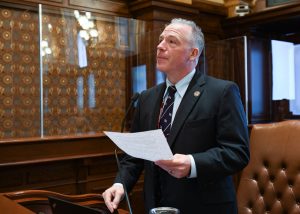 The Senate and House just completed the annual fall Veto Session, and the residents of Illinois were losers on several fronts, as majority party Democrats used their supermajority to push through an aggressive and dangerous agenda. From attacks on parental rights, the removal of protections against discrimination in the workplace, another gerrymandered map that strengthens their power and gives voters fewer choices at the polls, and the blocking of Republican bills that directly address the surge in violent crime in the state, we witnessed new levels of brazen partisan politics over the two-week session. You, as residents of Illinois, deserved much better from your state government.
Leading into the final week, several Senate Republicans provided an update on what we hoped to see, and bills we hoped would fail. You can click here to listen to the full press conference.
Parental rights eroded during Veto Session
On Wednesday, Illinois Democrats voted to repeal the Parental Notice of Abortion (PNA) Act of 1995. Through House Bill 370, facilities performing an abortion procedure on a minor will no longer have to notify the minor's parents or legal guardians 48 hours before the procedure. Previously, the law simply stipulated that a parent be informed of their daughter's procedure, but there was no requirement for them to provide consent.
Following the vote in the Senate, I issued the following press statement:
"The repeal of the Parental Notice of Abortion Act represents a low point of my tenure in the Illinois Senate. The heavy hand of government has no business interfering with a parent or guardian's responsibilities when it comes to the medical and emotional health of their children. Senate Democrats sent a clear message to Illinois families when they decided parental rights and children's emotional and medical health aren't important.

"The action Senate Democrats took today defies all logic. A young girl should not face a decision that carries such significant medical and emotional consequences as an abortion without the support and guidance of parents or guardians. At a time when a young girl would need her parents the most, Democrats all but suggested they go it alone rather than have a difficult yet necessary conversation."
The Governor has indicated he will sign the bill. Please contact his office and tell him to veto this dangerous proposal. You can call his office at 217-782-6830 or 312-814-2121. Please also consider adding your name to our petition.
As parental rights continue to come under attack in our state, we need to make sure our kids know they can always talk to us about difficulties they may be experiencing in their personal lives. Open communication between parent and child is incredibly important.
Democrat lawmakers vote to change Healthcare Right of Conscience Act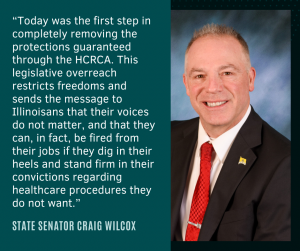 In the late hours of Oct. 28, Senate Democrats rammed through changes to the Health Care Right of Conscience Act (HCRCA). The HCRCA has been a long-standing law that allows people to be protected from being forced into healthcare decisions that violate their religious or moral beliefs.
Following the 31-24 vote, I issued this press statement:
"Today's vote marks yet another attack on people's personal freedoms. The Healthcare Right of Conscience Act has provided vital protections to Illinoisans for decades, and now, when the Governor's mandates are being successfully challenged in the courts, the majority party has decided to change the laws rather than abide by them. The majority party set a dangerous precedent by carving out a COVID-19 exception within this key statute. It opens the door to future carveouts anytime the public pushes back against government overreach.

"Close to 85,000 Illinoisans submitted digital witness slips in opposition to the bill. Never before have so many Illinoisans engaged with such passion over an issue in Springfield. But rather than recognizing the overwhelming opposition to this massive infringement on personal rights, Governor Pritzker and Illinois Democrats once again chose politics over good policy.

"Today was the first step in completely removing the protections guaranteed through the HCRCA. This legislative overreach restricts freedoms and sends the message to Illinoisans that their voices do not matter, and that they can, in fact, be fired from their jobs if they dig in their heels and stand firm in their convictions regarding healthcare procedures they do not want."
Until recently, the Governor's nearly 100 Executive Orders related to the COVID-19 pandemic have gone mostly unchecked. However, based on protections provided to plaintiffs under the HCRCA, some courts appeared to be poised to rule against the Governor, which prompted the push by the majority party to amend the Act.
The new changes to the HCRCA state that its protections do not apply when it comes to COVID-related mandates. But the larger issue is not about vaccines, testing, or masks. It is about the removal of protections against discrimination in the workplace. Since the amendment was unable to garner a three-fifths majority vote in the House and Senate (required for immediate implementation), the changes do not take effect until June 1, 2022. That being said, it may be used in upcoming court cases and there are indications that the General Assembly may pass an identical bill during the upcoming January session, which would give it an immediate effective date.
As mentioned in my press statement above, we saw an unprecedented level of community engagement by Illinoisans who pushed back at efforts to weaken protections guaranteed through the HCRCA. In all, close to 85,000 witness slips were filed in opposition to the bill. This number is unheard of in Springfield. One amendment received over 54,000 witness slips in opposition. To put that in perspective, of Illinois' 102 counties, 79 of them have countywide populations lower than 54,000.
Despite massive pushback from everyday Illinoisans who viewed the proposed changes as a massive government overreach, Democrats still pushed through the bill, stripping away important protections against discrimination.
Veterans Day display returns to the Capitol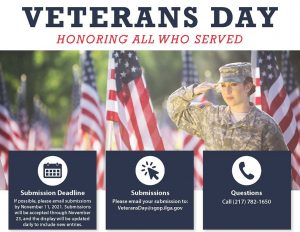 The Senate Republicans have been hosting an annual Veterans Day tribute since 2017. This year's tribute will be on display at the Illinois Capitol from Nov. 11 to Nov. 20.
To help remember veterans, tell their incredible stories, and honor their service on Veterans Day, I am encouraging constituents to submit a tribute and photo of their loved ones who served their country so it can be displayed on the annual Veterans Day "Wall of Honor."
The tribute serves as a reminder to everyone who visits the Capitol of the bravery and sacrifice of Illinoisans who answered the call to protect our nation.
Families who would like to participate in this year's display should submit the following:
Name
Photos (Military photos are preferred but not required)
Written stories (max: 250 words)
Military branch (Air Force, Army, Coast Guard, Marine Corps, National Guard, Navy)
Conflict served (Afghanistan, Iraq, September 11, Gulf War, Vietnam, Korea, WWII, WWI, Peacetime, other)
If possible, please email submissions to veteransday@sgop.ilga.gov by Nov. 11. Submissions will be accepted through Nov. 20, and the display will be updated daily to include new entries. Submissions can also be mailed to Veterans Day Wall, 309 G Statehouse, Springfield, IL 62706. For questions, please call 217-782-1650.
Congressional maps pass despite lack of public input
Within two hours of making it public, and with no public hearings, at about 9:00 p.m. on Oct. 28, Senate Democrats approved a new Congressional map that sets Congressional district boundaries from 2022-2032. A short while later, the map passed in the House with the minimum number of votes required. The Congressional map being sent to the Governor for his signature was the fourth version of the Congressional map that Illinois Democrats proposed since Oct. 15.
In spite of the fact that Gov. Pritzker vowed to veto any map drawn by politicians, several news outlets reported that the Governor and his staff actually engaged in the drawing of the Congressional map. If accurate, this would mean that the Governor not only broke his promises by signing two different legislative maps drawn by politicians, one of which has been ruled unconstitutional, but became an active participant in a process he campaigned against in 2018.