Senator Wilcox co-sponsors legislation designed to return power to voters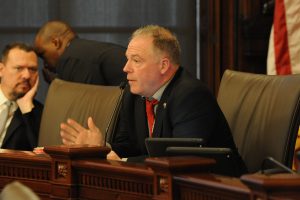 Members of the Illinois Senate Republican Caucus are working to provide Illinois voters with a stronger voice in their state government, and I am proud to be a co-sponsor of a legislative package that puts the power back where it belongs, in the hands of the people of the state. The aptly named "Voter Empowerment Project" contains several constitutional amendments to allow citizens to take back control of their democracy and hold corrupt politicians accountable.
The Voter Empowerment Package includes the following constitutional amendments:
SJRCA 13 would help end the practice of partisan gerrymandering in Illinois. During the last year, citizens watched as legislative Democrats rammed through extremely partisan legislative, congressional, and judicial maps, all swiftly signed into law by Gov. JB Pritzker. The Senate Republicans' proposal would take the power out of lawmakers' hands by creating an independent redistricting commission made up of 17 commissioners, including seven Republicans, seven Democrats, and three independents, chosen by the Chief Justice of the Illinois Supreme Court and the most senior Supreme Court Justice from the opposite party.
SJRCA 14 is designed to allow citizens to initiate referendums to make substantial changes to the state Constitution. Currently, the Constitution places overly strict limits on what changes can be made by voters, which has stalled many popular referendums, including redistricting reform efforts. The new proposal would give the people of Illinois much more broad authority on what can be changed via referendum, including subjects such as taxes and redistricting.
SJRCA 15 would further enhance the power of popular referendums, and is in direct response to the recent practice of controversial legislation being rammed through by supermajority lawmakers in the middle of the night with little transparency. Many controversial changes, including tax hikes and sweeping criminal justice changes, have been passed by so-called "lame-duck" legislatures, made up of retiring lawmakers and those who have already lost reelection campaigns, who are no longer accountable to voters.
The new proposal would allow citizens to initiate up-or-down referendums on newly-passed laws. This important change would make sure that voters have the final say on what actions lawmakers take, and would provide an important check on a runaway supermajority party.
SJRCA 16 would provide a mechanism to recall many corrupt state and local elected officials. Illinois voters, more so than the residents of most states, have repeatedly witnessed reports of wrongdoing by their elected representatives, from ethics convictions to bribery and even theft of public funds. Under current law, only the Governor of Illinois may be recalled by citizens, and restrictions in place make it all but impossible to actually undertake. The new proposal would provide a reasonable system, with moderate requirements, for the recall process, and would expand it to state constitutional officers, legislative leaders, members of the General Assembly, and local government officials.
I believe the Voter Empowerment Project is a desperately needed step to undo years of elected officials ignoring the will of the people. These constitutional amendments would finally put the citizens back in the driver's seat to hold their elected officials, especially corrupt politicians, accountable.
Senator Wilcox launches 2022 legislative survey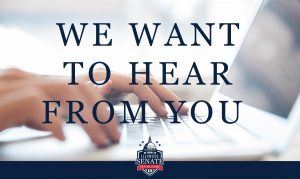 I have created a 2022 legislative survey that covers a variety of topics, and I hope you'll take a few minutes to share your opinions. I will read every response, and the results will help me represent the interests of the 32nd Senate District in Springfield. You can access the survey digitally at https://www.ilsenategop.org/wilcox-survey-22. Paper copies of the survey are also available, and can be requested by calling my legislative office at (815) 455-6330.
Of course, if there is an issue that is not included in the survey that you want to bring to my attention, you are always welcome to call my office or send me an email through the contact form found in the upper righthand corner of my website, SenatorWilcox.com.
Please participate in Valentines for Seniors card drive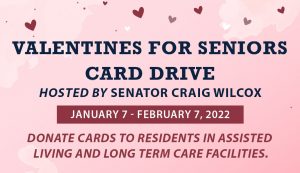 Cards, poems, and well-wishes continue to trickle in to my office for this year's Valentines for Seniors card drive. I hope you'll pitch in and help me reach my goal of delivering 4,000 valentines to seniors living in nursing homes, assisted living centers, and long-term care facilities.
Cards, poems, and other well-wishes will be collected between now and February 7 at Senator Wilcox's McHenry office, located at 5400 W. Elm Street, Suite 103. Those dropping off cards in person can place them in the valentine mailbox outside of the office between 8:00 a.m. and 8:00 p.m. Monday through Friday. Cards can also be mailed.
Pritzker Administration Still Mum on Unemployment Fraud Numbers
Illinoisans still do not know how much the state paid out in fraudulent unemployment assistance claims during the pandemic. The Pritzker Administration has yet to release any totals and isn't offering a timeline for when the data will be made available.
A recent report from the Illinois Auditor General indicated that the $155 million in potentially improper payments were made during just the first few weeks of the pandemic.
According to a recent article from "The Center Square," United States Department of Labor data indicate that the state's fraud rate was 8.4 percent of a total of $5.1 billion paid, indicating that the total over the covered time period was in the range of $430 million.
It is extremely disappointing that fraud was apparently so rampant in the Pritzker Administration's unemployment system. It's unacceptable that the Pritzker Administration is still refusing to release accurate data on the extent of COVID-related unemployment fraud.
In September, Republican lawmakers helped push through resolutions directing the Illinois Auditor General to perform full audits of the state's Pandemic Unemployment Assistance (PUA) and Business Interruption Grant (BIG) programs.
Statewide Teacher Shortage Getting Worse
During the pandemic, teachers have faced tremendous difficulties and have risen to the occasion. Unfortunately, Illinois has been facing a shortage of teachers for a number of years now, and the problem is getting worse.
According to a recent study by the Illinois Association of Regional Superintendents of Schools, 88 percent of schools districts reported problems with teacher shortages, with 77 percent of them saying that the problem is getting worse. Substitute teachers are apparently even harder to find, with 96 percent of superintendents reporting issues with finding substitutes.
A new driver of the crisis has been educator burnout due to COVID-19 related issues. Forty-nine percent of superintendents said that COVID-19 has increased teacher turnover in their schools.
According to the study, the shortage has led to more than 400 classes being cancelled, and more than 300 being online, due to the inability to find qualified teachers. Approximately 2,000 teaching positions are currently either unfilled or filled by someone not qualified.