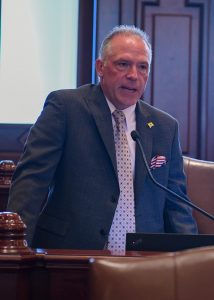 Illinois Senate Republicans are seeking to deliver Illinois families much-needed tax relief through their recently announced package of tax reform proposals. They say these measures will provide the citizens of Illinois with permanent, substantive relief, instead of the temporary relief that is expected to be proposed by Gov. JB Pritzker during his upcoming Budget Address.
"It's encouraging to hear that the Governor has finally recognized the need to provide tax relief for struggling Illinois families, but they need more than just one-time, election year gimmicks. What they need is true, long-lasting tax relief that gets our state on the right track," said Illinois Senate Republican Leader Dan McConchie (R-Hawthorn Woods). "People continue to be taxed out of this state. Short-term solutions will not fix that."
As part of the proposed tax relief package, Senate Republicans are calling for reforms that help address the growing concerns of inflation and skyrocketing consumer prices. These changes include the elimination of the state's one percent sales tax on food and prescription drugs.
"According to the U.S. Bureau of Labor Statistics, Americans have experienced the largest 12-month increase in inflation since June 1982," said State Sen. Donald DeWitte (R-St Charles). "This includes a 6.3 percent increase in total food prices, and a staggering 16 percent increase in just meat prices. There are far too many Illinoisans worried about how they will be able to put food on their tables and pay for their family's medicine for the state legislature to sit idly by and do nothing."
Another section of the Senate Republicans' tax proposal is aimed at addressing the climbing price of gas. They support a proposal that lowers the overall amount consumers pay at the pump, but also ensure that critical funding necessary for road improvements remains the same. This proposal includes lowering the 6.25 percent sales tax on gas/gasohol to 5.25 percent, while also increasing the Road Fund disbursement from 32 percent to 53 percent.
"This plan will not only provide relief for Illinoisans filling up their gas tanks, but will also ensure that we continue to fund construction projects desperately needed throughout the state," said State Sen. Win Stoller (R-Germantown Hills). "In fact, our proposal will increase the state's road fund by $80 million. This is a common-sense approach to alleviating the burden that our constituents are currently experiencing while at the gas pump."
Additionally, the tax relief package being put forward would further help Illinois senior citizens by increasing the income tax exemption that they can receive on their Illinois income tax from $1,000 to $2,000.
"While there have been some state officials who have suggested the idea of placing additional taxes on our seniors, we are advancing ideas that actually save them even more of their hard-earned money," said State Sen. Chapin Rose (R-Mahomet).  "It is our goal to make Illinois a friendly tax state for both our seniors and retirees." 
Finally, Senate Republicans seek to take on the issue of property taxes that has plagued the state for far too long, by calling for an increase in the state's property tax income tax credit. Under this initiative, the tax credit would rise from 5 percent to 10 percent. The plan also allows voters who are subject to the Property Tax Extension Limitation Law (PTELL), the ability to go to referendum to lower their property taxes.
"It is no secret to anyone that property taxes have been a serious, long-standing issue that many Illinoisans continue to face," said State Sen. Craig Wilcox (R-McHenry). "For years, Illinois politicians have promised to provide property tax relief, and we intend to keep that promise."