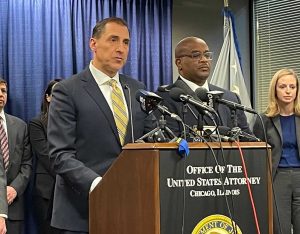 On Wednesday, a federal grand jury returned a 22-count indictment against former Illinois Speaker of the House Mike Madigan that includes charges of racketeering, bribery, and extortion. Following the issuance of the 106-page indictment, State Senator Craig Wilcox (R-McHenry) issued the following statement:
"The most notable aspect of this indictment is the allegation that former House Speaker Mike Madigan was the leader of a criminal enterprise. Those words go to the heart of the matter and illustrate the depth and breadth of corruption in this state. Anyone who assisted, enabled, or simply looked the other way while crimes were being committed should also be held to account. There's no telling how long it will take to fully root out the corruption or to undo the damage caused by decades of self-dealing by this powerful Illinois Democrat."
Read the full indictment here.
https://drive.google.com/file/d/1X58OwHMoBvQLMlog3O5mapw6q1GfS5Kv/view?usp=sharing