Former Speaker of the House Mike Madigan indicted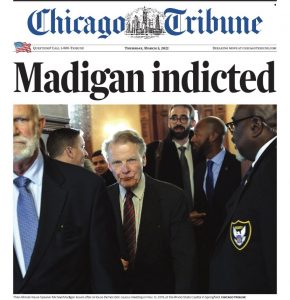 Michael Madigan, who was the longest-serving leader of any state or federal legislative body in the history of the United States, was indicted March 2 by a federal grand jury on 22 varying counts of alleged public corruption including racketeering, bribery, wire fraud, and extortion. Madigan was first elected to the Illinois House in 1971 and served as the Speaker of the House for all but two years from 1983 to 2021. You can read the full indictment here.
The former Speaker is accused of using his positions as House Speaker, chair of the Democratic Party of Illinois, and 13th Ward Democratic committeeman as a criminal enterprise to solicit personal financial rewards for himself and his associates.
The indictment of the former Speaker of the House is a shining example of exactly why serious ethics reforms are desperately needed. I am a sponsor of Senate Bill 3636, which would empower Illinois officials with the tools necessary to investigate and prosecute corruption. The people of Illinois shouldn't have to rely on the federal government to hold the state's elected officials accountable.
Following the Madigan indictment, I issued the following statement:
"The most notable aspect of this indictment is the allegation that former House Speaker Mike Madigan was the leader of a criminal enterprise. Those words go to the heart of the matter and illustrate the depth and breadth of corruption in this state. Anyone who assisted, enabled, or simply looked the other way while crimes were being committed should also be held to account. There's no telling how long it will take to fully root out the corruption or to undo the damage caused by decades of self-dealing by this powerful Illinois Democrat."
Illinois Supreme Court denies Governor's appeal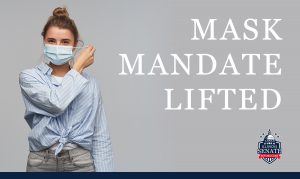 On Feb. 25, the Illinois Supreme Court denied Gov. JB Pritzker's petition to appeal the Appellate Court decision on his school mask, vaccine, and testing mandate by deeming his appeal moot. The Court also determined that the temporary restraining order (TRO) was moot and vacated it before remanding the matter back down to the Circuit Court of Sangamon County.
You can read the decision denying the petition to appeal and to vacate the TRO here, and read the decision denying the request to stay and TRO here.
In simple terms, the Illinois Supreme Court deemed the case moot because the 12-member Joint Committee on Administrative Rules (JCAR), on which I serve, took a bipartisan stand to block the Governor from reissuing emergency rules that were at the heart of the legal battle. With those rules no longer in place, the judges felt there was nothing for them to rule on.
After the court decision was announced, the Governor attempted to spin the ruling as a victory due to the TRO being vacated. He then announced that he would be lifting his school mandates while also claiming he could reissue his mandates in the future if he was so inclined. However, for the Governor to reinstate his school mandates, he would need to go back to the same legislative members of JCAR and have them vote to reinstate his blocked rules.
Meanwhile, since February 28 Illinoisians have been able to go mask-free in most settings. Currently, the mask requirement remains in place only for healthcare facilities, long-term care facilities, public transit, and congregate facilities such as prisons.
Here's my official statement on the Supreme Court ruling:
"All three layers of Illinois' judicial system, plus the legislature's bipartisan and bicameral Joint Committee on Administrative Rules (JCAR) have weighed in on Gov. Pritzker's mask, vaccine, and testing mandate for schools. Yet we still have a Governor who is unwilling to acknowledge that his actions represented an abuse of his authority. In fact, he actually claimed the decisions represented a 'victory.'
"This entire situation is an example of what happens when one man tries to unilaterally control every decision relative to how Illinoisans live and work during a pandemic. It was nothing short of an uprising by parents when they had had enough. They knew their rights were being violated and stood united against the Governor's overreach."
Senator Wilcox to host Mobile DMV event in Fox Lake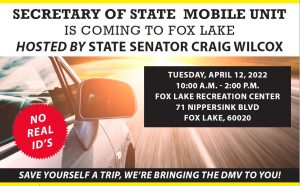 Mark your calendars now for a mobile DMV event I am hosting on Tuesday, April 12 in partnership with the Secretary of State's vehicle services division.
From 10:00 a.m. until 2:00 p.m. residents of the 32nd Senate District can avoid long lines at the DMV and attend an event that will be held at the Fox Lake Recreation Center, 71 Nippersink Boulevard, in Fox Lake.
While no Real IDs will be available, the following services will be provided:
Driver's License/State ID Card (renewal, replacement, correction)
License plate renewal stickers
Free State ID for seniors age 65+
Organ/tissue donor registry
Voter registration
Vision screenings
NOTE: Seniors age 75+ must visit a Secretary of State Driver Services facility to renew their driver's license.
Please visit www.cyberdriveillinois.com for identification requirements, and please keep in mind that all payments must be made by check, credit or debit card, or money order. No cash will be accepted.
Governor's Executive Orders surpasses the century mark
On Feb. 28, the Governor surpassed the century mark in COVID-19 related Executive Orders with his 101st order.
For two years, Gov. Pritzker has exercised emergency powers by issuing more than 100 Executive Orders to control nearly every aspect of the state's response to the COVID-19 pandemic. It is long past time for the Governor to allow the Legislature to be a part of the decision-making process.
According to the National Conference of State Legislatures, 47 states have attempted to rein in their Governor's emergency powers since the pandemic began, including 12 states who have successfully enacted new laws. Illinois should do the same, which is why I have sponsored legislation for the past two years (Senate Bill 103) to require the Governor to go the General Assembly for permission to reissue a disaster declaration past 30 days. Until then, Illinoisans appear to be stuck "celebrating" the 100 Executive Order milestone that no one asked for or wanted.
Wilcox joins local dignitaries for groundbreaking for Antioch Library improvements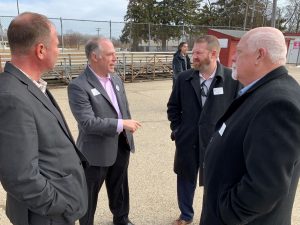 On Tuesday, March 1, I was able to attend the official groundbreaking ceremony for the Antioch Public Library's 10,000 square foot addition and 31,000 square foot renovation project. The referendum to borrow $9.6 million to fund the improvements was approved by voters in 2020. The library district serves approximately 26,000 patrons in Antioch, Antioch Township, and parts of Fox Lake, Spring Grove, and Newport Township.
I'm shown in this picture with Village Administrator Jim Keim, Mayor Scott Gartner, and Antioch Township Supervisor Tom Shaughnessy.
Legislation Advances to Protect Visitation Rights
While COVID-19 rules and restrictions, particularly during the height of the pandemic, have increased the isolation and loneliness felt by many, it has been especially tough for those confined to healthcare facilities.
To help relieve some of the emotional and mental anguish caused by the pandemic, the Illinois Senate recently passed legislation to ensure that patients in a hospital or long-term care facility can enjoy the company of loved ones.
Senate Bill 1405 requires healthcare facilities to allow patients and residents to receive at least one visitor, besides members of the clergy, in the event of a Governor's disaster declaration due to an outbreak or epidemic of communicable disease. The legislation still allows the healthcare facilities to maintain health and safety standards including health screenings or the use of personal protective equipment. I was proud to support this bill. The legislation passed the Illinois Senate on Feb. 24 and now sits in the House for further consideration.
Are you prepared for Severe Weather?
With spring just around the corner, the Illinois Emergency Management Agency (IEMA) kicked off Severe Weather Preparedness Month by partnering with the National Weather Service (NWS) to publish a Severe Weather Preparedness Guide to help prepare Illinoisans for upcoming severe weather.
Additionally, Illinois residents are strongly encouraged to have a National Oceanic and Atmospheric Administration (NOAA) All Hazards Weather Radio with battery backup. These radios can be programmed to receive alerts for specified counties to help keep you and your family safe during severe weather conditions.
Another resource to be aware of during Severe Weather Preparedness Month is the free mobile app developed by the Federal Emergency Management Agency (FEMA). This app provides notifications and updated information about severe weather while you are on the go.
For more information about what to do before, during, and after a storm, please click here.
What's the coolest thing made in Illinois?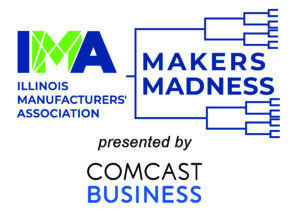 There are a lot of really interesting products made in Illinois, but which one is the coolest? The Illinois Manufacturing Association (IMA), in partnership with Comcast Business, has launched the third annual "Makers Madness" contest, to determine the most interesting item created in the Land of Lincoln. The nomination period for this year's competition is open through March 20.
You may recall that last year, McHenry's Jessup Manufacturing was a finalist in the competition for their patented griptape for skateboards. While Jessup made it to the "Elite Eight" in last year's contest (beating out over 300 other entries), the ultimate winner came from suburban Cook County's Elk Grove Village, where Termico Technologies creates a heater for traffic signals. This innovative design prevents snow and ice from freezing onto the face of the red, yellow, and green lights in traffic signals during frigid weather.
Makers Madness highlights the innovations and achievements of manufacturing in Illinois and draws attention to the vast number of creative products that are made right here in this state. The 2022 nomination form can be found on the Maker Madness website.