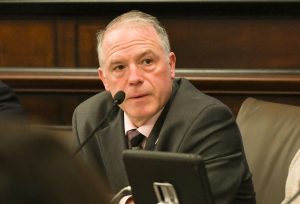 On Thursday, Senate Democrats passed an ill-advised and incomplete plan to address the state's multi-billion-dollar Unemployment Insurance Trust Fund deficit. Following the vote, State Senator Craig Wilcox (R-McHenry) issued the following statement:
"The Governor and Democrats wasted no time trying to spin their irresponsible vote as a victory, when all they succeeded in doing is increasing the state's massive debt and hurting businesses. They could have paid off the Unemployment Insurance Trust Fund debt a year ago, but they chose not to, and as a result they have already saddled Illinoisans with tens of millions in interest payments. Their vote cannot be construed as a 'win'. It was another attack on businesses and another slap in the face to taxpayers.
"Illinois received enough ARPA funds to fully replenish the state's Unemployment Insurance Trust Fund. Even though the $4.5 billion deficit is a direct result of Governor Pritzker's executive orders and widespread fraud within his Department of Employment Security, he chose to use the federal dollars for his own politically-motivated purposes. By passing this bill, JB Pritzker and legislative Democrats let business owners- those who took the brunt of the pain during the pandemic, know yet again that they do not matter.
"Paying off the Unemployment Insurance Trust Fund debt should have been Priority #1 when the federal government sent ARPA funds to Illinois. Democrats knew that anything short of paying the entire $4.5 billion debt would result in a huge tax hike on jobs, but they didn't care. They made a conscious choice to fund pet projects and to raise taxes on job creators.
"The Democrats' so-called 'solution' will affect all future unemployed Illinoisans who turn to IDES for unemployment benefits as we approach Biden's new recession. Those who find themselves out of work will face a reduction in benefits as a direct result of this irresponsible action by statehouse Democrats."