Democrats approve largest tax on jobs in Illinois history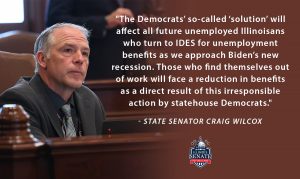 Democrat lawmakers continue to shirk their fiscal responsibilities to the people of Illinois. Last week they passed legislation that only partially pays down the $4.5 billion debt in the state's Unemployment Insurance Trust Fund. This is the fund that is used to pay unemployment benefits to out-of-work Illinoisans. The fund, which previously had a healthy balance, was decimated during the COVID-19 pandemic.
Even though the federal government sent Illinois enough American Rescue Plan Act (ARPA) funds to fully address the deficit, Gov. Pritzker and his Democrat leaders in the Senate and House made a conscious decision to only pay part of the debt. They spent the remaining money, which was supposed to be earmarked for COVID-related relief, on pet projects and other election year gimmicks. For example, over $1 billion of the funds went to pork projects in Democrat legislative districts.
Due to this irresponsible act, there is a remaining deficit in the fund of $1.8 billion. With the negative balance, employers and workers who suffered through COVID-related shutdowns for so many months will end up being the ones who have to pick up the slack, with what could become the largest tax increase on Illinois' employers in history (they will have to pay higher unemployment insurance taxes to replenish the fund).
Lawmakers should have used the billions of federal COVID-19 relief money to fully pay its unemployment trust fund debt, similar to how most states spent the money. Currently, Illinois is one of only nine states to have an unemployment insurance deficit and, and even after the $2.7 billion allocation that was approved last week, Illinois still has the fourth largest Unemployment Insurance Trust Fund debt in the country.
Following the party-line vote to only partially fund the debt, I issued the following statement:
"The Governor and Democrats wasted no time trying to spin their irresponsible vote as a victory, when all they succeeded in doing is increasing the state's massive debt and hurting businesses. They could have paid off the Unemployment Insurance Trust Fund debt a year ago, but they chose not to, and as a result they have already saddled Illinoisans with tens of millions in interest payments. Their vote cannot be construed as a 'win'. It was another attack on businesses and another slap in the face to taxpayers.
"Illinois received enough ARPA funds to fully replenish the state's Unemployment Insurance Trust Fund. Even though the $4.5 billion deficit is a direct result of Governor Pritzker's executive orders and widespread fraud within his Department of Employment Security, he chose to use the federal dollars for his own politically-motivated purposes. By passing this bill, JB Pritzker and legislative Democrats let business owners- those who took the brunt of the pain during the pandemic, know yet again that they do not matter.
"Paying off the Unemployment Insurance Trust Fund debt should have been Priority #1 when the federal government sent ARPA funds to Illinois. Democrats knew that anything short of paying the entire $4.5 billion debt would result in a huge tax hike on jobs, but they didn't care. They made a conscious choice to fund pet projects and to raise taxes on job creators.
"The Democrats' so-called 'solution' will affect all future unemployed Illinoisans who turn to IDES for unemployment benefits as we approach Biden's new recession. Those who find themselves out of work will face a reduction in benefits as a direct result of this irresponsible action by statehouse Democrats."
Senator Wilcox to host mobile DMV event in Fox Lake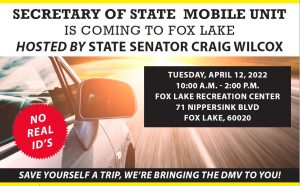 We had a record turnout at my last Mobile DMV event, so I'm bringing the Secretary of State's Mobile Drivers Services Team back to the 32nd District for a four-hour event on Tuesday, April 12.
For this event, we'll be at the Fox Lake Recreation Center at 71 Nippersink Boulevard from 10:00 AM until 2:00 PM. The following services will be available at this mobile event:
Driver's License/State ID Cards (renewal, replacement, correction)
License Plate Renewal Stickers
Free State IDs for those age 65+
Organ/Tissue Donor Registration
Voter Registration
Please note that those age 75+ must visit a Secretary of State Drivers Services Office to renew a driver's license, and no Real IDs will be available at this event. All payments must be made by check, credit card, debit card, or money order (no cash will be accepted).
Prior to attending the event, please visit www.cyberdriveillinois.com to learn identification requirements for specific transactions.
These events tend to get busy, so click here to pre-register to guarantee your spot.
Visitors return to Capitol as things begin to return to normal
For the last two years, the halls of the State Capitol have been pretty empty. On most days, only lawmakers and legislative staff could be seen in the building. But with the lifting of mandates and loosening of rules, groups and visitors are beginning to return to the Capitol.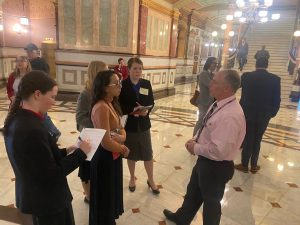 Last week I enjoyed seeing school groups from the Future Farmers of America roaming the halls, and we also were treated to visits from motorcycle and outdoor recreation enthusiasts from ABATE. The Leadership Team from the City of Chicago and the Suburbs for the Illinois Association of Firefighters were in town visiting, and so were a few families from the 32nd District that visited the seat of state government during breaks from school.
I'm shown in this photo with a group of kids who were visiting the Capitol for a school-sponsored trip. We had a nice discussion about election integrity, ballot security and other issues regarding the democratic process.
Senate rejects Governor's Prison Review Board appointee
Gov. Pritzker received a major blow last week when his Democratic legislative allies joined Republicans to address the serious issues surrounding the Prisoner Review Board, which is charged with determining parole for some of the state's most violent criminals.
On March 22, after nearly a year of calls from Senate Republicans, the Senate Executive Appointments Committee took up six of Pritzker's unconfirmed Prisoner Review Board (PRB) appointees; however, only one appointee was presented before the full Senate last week.
PRB appointee Jeff Mears was voted down by a 22-19 vote. He needed 30 affirmative votes for confirmation. Eighteen Democrats did not vote. Following the vote, Senate Democrats said their intent on Monday, March 28, is to take up some of the remaining unconfirmed appointees—two of which are the most controversial members on the board and will reach their deadline for confirmation on Monday, March 28.
The Illinois Constitution requires that appointees be confirmed by the Senate within 60 session days. Pritzker has often pulled his appointments right before the deadline, just to turn around and reappoint them to reset the 60-day clock—intentionally skirting the process outlined in the Constitution.
Addressing the shortage of volunteer emergency workers
Last week Senate and House Republicans stood with Illinois Association of Firefighters officials to call for the passage of legislation to help alleviate the critical shortage of volunteer fire and EMS workers in Illinois.
Modeled after legislation passed in New York, Senate Bill 3027 would provide a $500 state income tax credit for volunteer emergency workers who earn less than $10,000 in stipends for their service to the fire department. I am a proud co-sponsor of this important legislation.
Senate Bill 3027 passed the Senate by a unanimous vote on Feb. 23, but a vote has been put off in the House of Representatives. The House needs to join the Senate in passing this bill so it can be sent to the Governor for his signature.
Founded in 1889, The Illinois Association of Firefighters is dedicated to the advancement of the Fire Service by providing leadership through education, training, benefits, and information networking at the local, state, and national levels.