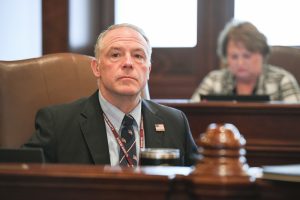 In the final hours of the spring legislative session in Springfield, majority party leaders skipped the statutorily-required committee voting process before bringing three massive bills to the Senator floor for votes. The bills, which guide taxation and spending for Illinois residents for the next fiscal year, were filled with temporary election-year gimmicks aimed at ingratiating Democrats with voters in what looks to be a difficult mid-term election year.
While votes for the budget and the budget implementation (BIMP) bill fell mostly along party lines, Senator Craig Wilcox (R-McHenry) was the sole dissenting vote on a Democrat so-called "tax relief" bill that offers temporary measures that expire in 2023, and in most cases within weeks of the November election. Wilcox says that money would have been better-spent addressing state debt or providing permanent tax relief to Illinoisans facing record-high inflation.
"The Democrats' politically-motivated tax relief bill was no surprise, but my sole 'no' vote stands out quite large," said Sen. Wilcox. "Budgets are all about setting spending priorities, and statehouse Democrats showed us all that they are willing to use people's tax dollars as a political tool. I felt I had to stand against efforts to use people's money to promote their political agenda. By structuring one-time 'rebate' checks to arrive shortly before the November election, and providing temporary tax relief that expires shortly after the election, they made it clear they have no problem bribing Illinoisans with their own money versus paying down state debt or adopting measures that would provide permanent tax relief."
Sen. Wilcox said the majority party had an opportunity to use billions in federal ARPA funds and higher-than-anticipated sales tax revenues to address the state's Unemployment Insurance Trust Fund deficit or to help shore up the state's pension system. Either would have reduced the state's ongoing need to engage in expensive borrowing and interest payments.
"The Governor boasted about putting an extra $500 million toward pension debt in the FY23 budget, but even with that extra allocation, the actuarially-based reality suggests we will fall behind another $4.1 billion this year. If we had channeled toward pension debt the $1.8 billion in temporary measures, plus a $1 billion line item the Democrats have set aside for other future use, we could have saved Illinoisans over $10 billion in future pension debt interest costs. The growing pension deficit, coupled with the budget growth of $3.1  billion of new spending for FY23, shows Democrats are not interested in being the best stewards of taxpayer funds."
Senate Republicans proposed several permanent tax relief measures that were blocked from consideration this year. They include:
Permanently capping the sales tax on gas at 18 cents per gallon, generating savings of about 16 cents per gallon at the pump
Permanently eliminating the 1% sales tax on groceries and medical devices
Permanently doubling the income tax exemptions seniors receive, from $1,000 per tax year to $2,000 per tax year
"By rejecting permanent relief proposals, statehouse Democrats said they would rather have people's money in the state's coffers than in individuals' pockets," added Sen. Wilcox. "And by channeling tax dollars toward short-term measures, they're showing how insincere they are about the struggles Illinoisans are facing. When their 'relief' evaporates in 2023, the gaping hole in the Unemployment Insurance Trust Fund will remain, pension debt will continue to climb, and Illinois residents will be on their own to manage the skyrocketing costs of gas, groceries, and medical prescriptions and devices."