Wilcox Conversations Untapped tour continues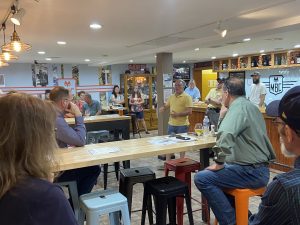 Thank you to everyone who came out to my Conversations Untapped event on May 12 in McHenry. We had a lively crowd and the conversations were wonderful and enlightening.
The Conversations Untapped tour continues this week with a Wednesday, May 18 event in Antioch. Future Conversations Untapped events include:
Wednesday, May 18: Dockers North, 955 IL Route 59, Antioch, 5:30PM-7:30PM
Thursday, May 26: Dockers-Fox Lake, 33 W. Grand Ave, Fox Lake, 5:30PM-7:30PM
Thursday, June 23: Crystal Lake Brewery, 150 N. Main St, Crystal Lake, 6:30PM-8:00PM
These are just part of a comprehensive list of spring, summer, and fall events that will be held in the 32nd District. Please check my website www.SenatorWilcox.com often, as new events are always being added. For more information about these events, please call my district office at (815) 455-6330.
Senator Wilcox thanks Northwestern McHenry nurses during Nurses Appreciation Week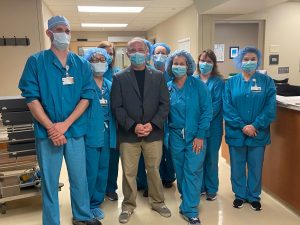 On Wednesday, May 12 it was an absolute pleasure to tour ongoing renovations at Northwestern Hospital McHenry, and visit with nurses who work incredibly hard and deliver compassionate, quality care. It was Nurses Appreciation Week, and I was able to visit several different areas of the hospital and personally thank these hard-working professionals for their dedication during challenging times. Nurses were also treated to chocolate-covered strawberries from McHenry's Riverside Chocolates.
Following the tour and visit, I spoke with Kristina Whitmore, Vice President of Operations, about recent successes, challenges, and the renovation project. Click here to view a video from the visit.
New audit report shows failures and mismanagement within DCFS
Inexcusable mismanagement and failures at the Illinois Department of Children and Family Services (DCFS) were laid out last week in a scathing Fiscal Year 2022 performance audit performed by Illinois' Auditor General. The troubled agency, whose director has been ruled in contempt of court 10 times just this year for failing to properly place children in appropriate care, has long been under scrutiny for its inability to keep the state's most vulnerable safe and protected. Locally we have a tragic reminder of DCFS's failures, as Crystal Lake's AJ Freund was murdered by his parents after DCFS failed to remove him from the abusive home three years ago.
The report outlines a list of upsetting findings including DCFS's negligence in ensuring that children in its care are receiving their well-child visits and check-ups. Of the cases tested, nearly 20 percent of children were missing at least one physical examination. Additionally, the report found that DCFS lacked major control over the Home Safety Checklists and lacked required documentation for families involved in after-service care.
Issues with the Department are a disappointment from the top down. Governor JB Pritzker needs to prioritize getting the agency turned around to do right by the many vulnerable children who are relying on the state government for care.
Senator Wilcox calls for special session as gas prices soar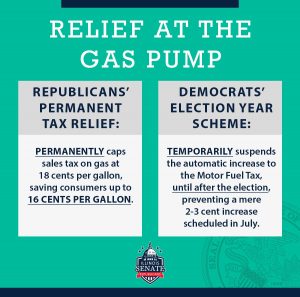 Gas prices aren't getting any cheaper; in fact,  I recently paid just under $5 per gallon at the pump.  According to AAA, as of May 12, the average price for a gallon of gas was at $4.80 in Illinois. In the city of Chicago, the average price for a gallon of gas is even higher — at $5.17. Those who drive diesel-fueled vehicles have it even worse and are paying $5.29 per gallon.
Despite these unprecedented prices that are doing harm to Illinois families and businesses that are trying to move products to market, the state government seems to be content taking advantage of this crisis by gouging consumers of millions of dollars it never expected to receive. Enough is enough, and I'm calling for legislators to return to Springfield immediately to provide meaningful relief at the pump.
Before adjourning the spring session in early April, I joined my Senate Republicans in unveiling a proposal that would cap the state's sales tax on gas, saving consumers up to 16 cents per gallon. Unfortunately, Governor Pritzker and Democratic legislators had something else in mind and passed a law that would simply delay an automatic two-cent increase to the state's Motor Fuel Tax until after the election in January 2023 instead of in July 2022.
While the Governor is touting this as relief, I would urge consumers to keep in mind that this isn't relief at all, and they will be paying the same price in July that they are now. Additionally, they will now be hit with two increases in 2023—one in January and another one in July. Motorists need relief NOW, and the General Assembly should reconvene for a special session to repeal the Governor's two-cent election-year gimmick and pass Senate Bill 4195, which caps the sales tax at 18 cents per gallon, which is more in line with what motorists were paying before gas prices skyrocketed earlier this year.
Illinois is one of just seven states that charge a sales tax on top of the motor fuel tax. While both the state and federal gas taxes are a flat tax, which means the tax does not change with the price of fuel, Illinois also charges a sales tax (6.25 percent) on top of the motor fuel tax, which means as gas prices go up, so does the amount of money the state receives.
ComEd offers new STEM program to give young women hands-on experience
ComEd has launched a new summer STEM program, called the EV Rally, and is seeking young women ages 13-18 to apply for a chance to build an electric racecar.
The program selects 30 applicants from the Chicagoland area who will be paired with women engineers at ComEd to build and drive an electric go-kart. The program is a chance for girls interested in career pathways in Science, Technology, Engineering, and Math to learn, make connections, and apply their skills. Additionally, each participant will receive a $2,000 scholarship for completing the program. Applications are being accepted now through June 6. Those interested can apply here.
Help local veterans through Operation Dropbox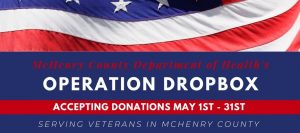 The McHenry County Department of Health is still hosting "Operation Dropbox" now through May 31. Items collected will be distributed to our local veterans in McHenry County. Those wishing to make a donation may drop items off at the Department of Health, 2200 N Seminary Ave in Woodstock, or at my district office, 5400 W. Elm Street, Suite 103 in McHenry.
They're looking for the following items: new pillows, manual can openers, household cleaning supplies, paper towels, coffee pots and supplies, napkins, toilet paper, non-perishable food items, new socks (men's and women's), and personal hygiene products. All collected items will be donated to Veteran's Path to Hope. Please consider donating to this very worthy cause.