New law paves way for youth entrepreneurs
Legislation that paves the way for youth entrepreneurs to start and operate businesses in Illinois was signed into law on May 13. Sponsored by Senate Republican Dale Fowler (R-Harrisburg), the provisions will help young adults make meaningful economic impacts in their communities by generating jobs and growing local revenues. I was proud to support the legislation and believe Illinois needs to support innovation and entrepreneurship throughout the state whenever possible.
Specifically, Senate Bill 2984 adds "youth entrepreneurs" to the groups that can be assisted at Entrepreneurship Assistance Centers as part of a program that was established in 2021 through the Illinois Department of Commerce and Economic Opportunity (DCEO). Entrepreneurship Assistance Centers offer guidance to young business owners, providing them with knowledge and mentorship, as well as access to capital and resources.
The new law defines "youth entrepreneurs" as persons between the ages of 16 and 29 who want to start a business in Illinois. The bill received unanimous support in the Senate and House and takes effect on Jan. 1, 2023.
Next stop on Conversations Untapped tour is Fox Lake on May 26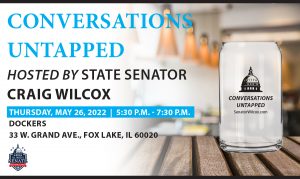 We had another great turnout last week when my Conversations Untapped tour stopped in Antioch at Dockers. This week we'll be in Fox Lake at Dockers North, 33 W. Grand, in Fox Lake, from 5:30-7:30 p.m. to continue the conversation.
No topic is off the table at these casual events, so bring your questions, opinions, and concerns. I truly enjoy these opportunities to connect with constituents, so please stop by and say hello at this upcoming event!
Following this Thursday's event in Fox Lake, the Conversations Untapped events will conclude with a stop at Crystal Lake Brewery, 150 N. Main Street, Crystal Lake, on Thursday, June 23 from 6:30-8:00 p.m. State Senator Don DeWitte of the 33rd Senate District in McHenry and Kane Counties will be joining me at this event.
ISP donates protective equipment to Ukraine


As the conflict between Russia and Ukraine continues, the Illinois State Police (ISP) is doing its part to support its Eastern European ally. ISP is donating more than 3,000 pieces of protective equipment, including body armor, ballistic face shields, and ballistic helmets to help the Ukrainian citizens enduring the Russian invasion. The equipment, which can no longer be used by ISP or any other law enforcement agency within Illinois, will help the Ukrainian people stand up against Russian soldiers.
ISP coordinated the donation with the Illinois National Guard, the United States Department of Homeland Security, the United States Department of Commerce, and the United States Department of State.
First black female justice to take seat on Illinois Supreme Court
Appellate Court Justice Lisa Holder White will make history this July when she becomes the first black woman to serve on the Illinois Supreme Court. Holder White, who currently presides over the 4th Appellate District, will take her seat on the state's highest court when Senior Supreme Court Justice Rita Garman retires on July 7.
Justice Holder White began her service to the courts as an Assistant State's Attorney for Macon County. Upon leaving the Macon County State's Attorney's Office, she went into private practice. In 2001 she was sworn in as an Associate Judge in Illinois' Sixth Judicial Circuit in East Central Illinois, and in 2008 was appointed as a Circuit Judge to fill a vacancy. She then won election to the position in 2010. Justice Holder White was sworn in as an Appellate Justice for the Illinois Appellate Court's Fourth District in January of 2013. She graduated magna cum laude from Lewis University and earned her Juris Doctor Degree from the University of Illinois College of Law in Champaign-Urbana.
Retiring Justice Garman will retire after a distinguished career that began more than two decades ago, when she was sworn into the high court in February of 2001.  Garman was the second woman to ever sit on the Illinois Supreme Court, and during her time as an Illinois Supreme Court Justice, she led the Court as its chief justice for a three-year term from October 2013 until October 2016.
Holder White's appointed term on the Illinois Supreme Court will expire in 2024, when a full-time replacement will be elected during the November 2024 General Election.
Illinois named third-most corrupt state in the nation
While the legislature was silent on ethics reform during the recently-completed spring session, an annual report from the University of Illinois at Chicago has named Illinois as the third-most corrupt state in the nation. The same report lists the City of Chicago as the nation's #1 most corrupt city. It is the third consecutive year that Chicago was ranked as America's most politically corrupt city. The report is based on a formula that compares each area's corruption convictions with its population and is based on public corruption statistics published by the U.S. Department of Justice.
Currently, the highest-profile corruption case in Illinois involves former House Speaker Michael Madigan, who has pleaded not guilty to 22 federal corruption counts alleging he used his elected position for personal gain. The case is pending in federal court.
Despite the Madigan indictment and other indictments of high-ranking Illinois politicians, the Senate Ethics Committee did not meet even once during the 2022 session. Instead, leading Democrats chose to block a comprehensive ethics package filed by Senate Republicans. The Senate Republicans' bills were never assigned to a committee. Ethics reform should have been a top priority during the 2022 session, and I will continue pushing for substantive ethics reforms to help clean up state government and restore the public's trust.
Nominations for Senior Illinoisan Hall of Fame accepted through June 1
If you know of a senior who is deserving of special recognition, nominations for this year's Senior Illinoisan Hall of Fame are being accepted through June 1. Nominations are open to adults aged 65 and older who excel in the categories of community service, education, performance and/or graphic arts, and the labor force. Established in 1994, the Hall of Fame honors seniors' accomplishments and contributions, and each year four Illinoisans are inducted into the honorary hall. For more information or to submit a nomination, please visit https://www2.illinois.gov/aging/HallofFame.