More summer fun in the 32nd Senate District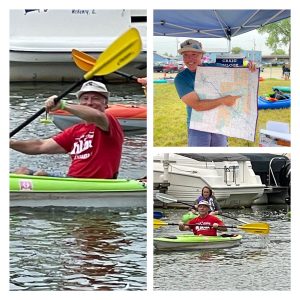 Last Saturday I had a lot of fun at the annual DamYak Challenge in McHenry. I participate in this local fundraising event every year, and I was pleased to see such a large crowd supporting Kids in Need McHenry County. While not in the water in my kayak, I was able to have several good conversations with visitors and participants at the event. Thanks to all who attended and supported this great cause!
Last Thursday I held another Conversations Untapped event, and I had an opportunity to have individual and small group discussions with constituents at the Richmond Brathaus. These casual outreach events provide a perfect low-key atmosphere to talk with the people I represent at the Statehouse about issues that are important to them.
Additional upcoming community outreach events include:
Tuesday, August 23, Unclaimed Property Day: Representatives from the Illinois Treasurer's office will be at the Crystal Lake Library's Ames Meeting Room, 126 W Paddock St in Crystal Lake to help connect Illinoisans with more than $3.5 billion in unclaimed property and cash. One in four Illinoisans who search the state's database find items or money that is owed to them, so please take a few minutes to participate in this free event. I am partnering with Senators Dan McConchie and Don DeWitte for this event.
Saturday, August 27, Document Shredding & Food Collection Drive: I am partnering with State Representative Steve Reick for this joint event. Constituents are welcome to bring up to two banker box-sized containers of documents for shredding, and we are encouraging visitors to bring a few non-perishable items that will be donated to local food pantries. The event will be held in the parking lot of Rep. Reick's office, 1072 Lake Avenue, in Woodstock from 9:00 AM until noon. Please note that documents will NOT be shredded on site but will be collected and placed in sealed bins for destruction at AMS Store & Shred in Lake in the Hills. An official certificate of destruction will be provided to each vehicle when documents are collected. The event will conclude at noon, or when the document truck is at capacity.
Friday, September 16, Senior Fair: Senator DeWitte and I are co-hosting a free Senior Fair at McHenry County College, 8900 U.S. Route 14, Crystal Lake, from 9:00 AM until 11:00 AM. A variety of local vendors will be on site to discuss and provide information about several local programs that benefit seniors. There will be free refreshments and health screenings.
Governor's department rules under FOID Act allowed Highland Park suspect to purchase firearms
In the days following the July 4 Highland Park mass shooting, where seven people died and dozens of others were injured, it was discovered that the alleged shooter was issued a Firearms Owner's Identification (FOID) card just months after he threatened to kill his family. After that incident in 2019, the local police department did their due diligence and filed a "clear-and-present-danger" report with the Illinois State Police (ISP), but because of administrative rules filed by ISP and supported by the Governor, that report was not kept on file, and the suspect was issued a FOID card.
As a strong Second Amendment supporter, I have never been in favor of the FOID card requirement in Illinois. The fact that the state's FOID system failed to stop an individual with several disqualifying markers from obtaining a FOID card calls the entire system into question. In this case, the accused shooter had police involvement where there were reports of verbal and written threats of gun violence, suicidal actions, and an admission of habitual drug use. What good is the FOID card system if people like the Highland Park alleged shooter slip through the cracks?
There is nothing in the current Firearm Owner's Identification Act (430 ILCS 65) that limits the amount of time that a "clear-and-present-danger" report can be kept on file. ISP and the Governor's Administration made a choice when they wrote the administrative rules (procedures for how a new law will be implemented and enforced) for the Act. They essentially tied the hands of the ISP and severely limited the scope of available information that could be accessed when reviewing FOID card applications. Again, if the state is going to require a FOID card, why limit its ability to keep guns from getting into the wrong hands?
Last week, the rules that allowed the suspect to purchase several firearms including the one he used on July 4, were changed under new emergency rules filed by the ISP. The rule change is a clear admission that the Governor's Administration could have done more to prevent the Highland Park shooter from obtaining a gun under current law. It is yet another example of the Administration's failure to fully exercise the complete extent of its authority under the law to combat gun-related crimes.
New, simplified suicide and mental health hotline activated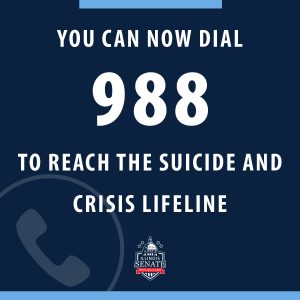 Those in need of mental health or suicide prevention assistance will no longer have to dial an 11-digit phone number to access professional help. A new three-digit code, 9-8-8, will now route callers and texters to the National Suicide Prevention and Mental Health Lifeline. The 9-8-8 system went live across the country on July 16.
When people call, text or chat 9-8-8, they will be connected to trained counselors who will listen, assess, provide support, and connect them with additional resources if necessary. The current Lifeline phone number of 1-800-273-8255 will remain active.
Plans for 2022 Illinois State Fair coming together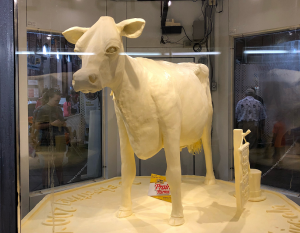 Plans are coming together for the annual Illinois State Fair, which will be held in Springfield from August 11-21. The theme for this year's State Fair is "Grow With Us." While gates open to guests at 7:00 AM on Aug. 11, the Twilight Parade, which officially kicks off the Fair, will take place at 5:30 PM that day. Carnival rides will be active later in the day on Aug.11, after thorough inspections are conducted throughout the day.
A wide variety of entertainers have been lined up for performances at the main grandstand area, and tickets for those concerts are now available. Click here to view the lineup. Additional entertainment will take place on other stages on the fairgrounds. A daily calendar of events can be found here.
After the closing festivities in Springfield on August 21, the celebration moves to southern Illinois for the DuQoin State Fair, which will run from August 25 until September 5. Information about the DuQuoin State Fair can be found here.
In addition to the state's fairs, each county also has its own county fair. Here in McHenry and Lake Counties, our fairs are always very well attended. The Lake County Fair kicks off next week, and the McHenry County fair gets underway during the first week of August. To learn more about the Lake County Fair, click here, and to learn more about the McHenry County Fair, click here.