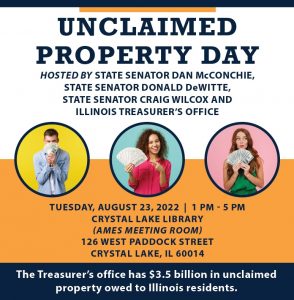 State Senators Dan McConchie (R-Hawthorn Woods), Don DeWitte (R-St. Charles), and Craig Wilcox (R-McHenry) are partnering with the Illinois Treasurer's Office to connect Illinoisans with more than $3.5 billion in unclaimed property and cash. From 1:00 to 5:00 p.m. on Tuesday, August 23, residents can meet with a counselor from the Treasurer's Office at the Crystal Lake Public Library to learn if some of the unclaimed items are theirs.
"There are so many people that aren't aware that they are owed money," said Sen. McConchie. "This event is a convenient way for folks to come and check if there is property that belongs to them."
Unclaimed Property Day
Tuesday, August 23
1:00 – 5:00 p.m.
Crystal Lake Public Library, Ames meeting room
126 West Paddock Street, Crystal Lake
"One in four people who search the Treasurer's Office ICash database discover property or cash they can claim," said Sen. DeWitte. "The ICash counselors at this event can assist with a search and help people file claims.""A few minutes of time could reap large rewards at this event," added Sen. Wilcox. "I hope to see a large turnout from residents from McHenry, Lake, and Kane Counties at this free and convenient event."
For additional information about this event, please contact Hannah at HSeaver@sgop.ilga.gov.