Administration Failures Force Lawmakers to Take Up New Rule Change for FOID Process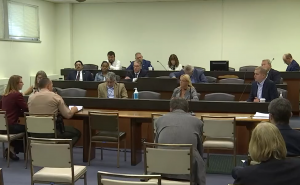 Members of the Joint Committee on Administrative Rules (JCAR) were in Springfield last week to consider a new rule from the Illinois State Police (ISP) changing how the Pritzker Administration requires the agency to handle "clear-and-present-danger" reports when an individual applies for a Firearm Owners Identification (FOID) card. The rule was proposed in response to the July 4th shooting in Highland Park, in which the suspect climbed onto a rooftop along a crowded parade route and fired shots into the people gathered below, killing seven and wounding dozens more.
The suspect in that shooting was able to obtain a FOID card and legally purchase firearms, even though Highland Park Police had filed a clear-and-present-danger report with the state just months prior, alleging that the man had threatened members of his family and had threatened to commit suicide. In this instance in Highland Park, the FOID card review processes clearly failed.
The Pritzker Administration says that its previous administrative rule had required the ISP to discard clear-and-present-danger-reports if there was no pending or active FOID card on record for the individual at that time. Following a 2019 shooting in Aurora, Governor JB Pritzker announced that his Administration was going to review existing rules and procedures to make sure that dangerous individuals were not able to obtain firearms. However, no changes were proposed to the clear-and-present-danger process between then and the Highland Park shooting.
The new rule requires the ISP to keep all clear-and-present-danger reports on file, regardless of whether the individual has a pending or active FOID card at the time. More work is needed by the Governor and his Administration to clear up the other gaps in their rules so that current law can be enforced to its fullest extent and so that going forward, dangerous people can be stopped from being issued a FOID card.
Summer and Fall Events Continue in 32nd District
My staff and I continue to deliver a variety of constituent outreach events across McHenry and Lake Counties. Upcoming events include:
Tuesday, August 23 Unclaimed Property Day: Representatives from the Illinois Treasurer's office will be at the Crystal Lake Library's Ames Meeting Room, 126 W Paddock St in Crystal Lake to help connect Illinoisans with more than $3.5 billion in unclaimed property and cash. One in four Illinoisans who search the state's database find items or money that is owed to them, so please take a few minutes to participate in this free event.
Saturday, August 27, Document Shredding & Food Collection Drive:
I am partnering with State Representative Steve Reick for this joint event. Constituents are welcome to bring up to two banker box-sized containers of documents for shredding, and we are encouraging visitors to bring a few non-perishable items that will be donated to local food pantries. The event will be held in the parking lot of Rep. Reick's office, 1072 Lake Avenue, in Woodstock from 9:00 AM until noon. Please note that documents will NOT be shredded on site but will be collected and placed in sealed bins for destruction at AMS Store & Shred in Lake in the Hills. An official certificate of destruction will be provided to each vehicle when documents are collected. The event will conclude at noon, or when the document truck is at capacity.
Thursday, September 1 Morning Coffee Chat: Join me at Kim & Patty's Café, 731 Ridgeview Dr, McHenry, from 8:00-9:30 AM for a cup of coffee and casual conversation. We'll discuss any issue that is important to you, so come on out and say hello!
Thursday, September 8 Barks & Brews: This is a joint event with ShadowView Brewing and Helping Paws. Join us at ShadowView Brewing, 2400 Lake Shore Dr, Woodstock from 6:00-8:00 PM. I'll be available for individual and small group conversations about issues that are important to you, and Helping Paws will bring some pets that are available for adoption.
Friday, September 16, Senior Fair: Senator DeWitte and I are co-hosting a free Senior Fair at McHenry County College, 8900 U.S. Route 14, Crystal Lake, from 9:00 AM until 11:00 AM. A variety of local vendors will be on-site to discuss and provide information about several local programs that benefit seniors. There will be free refreshments and health screenings.
Monday, September 19 Online FAFSA Event: If you have a current or future college student, join me for this informational online session to learn about filling out the FAFSA and how students can maximize their opportunities for college assistance, grants, and scholarships. Additional details coming soon.
University Ends Training Program for DCFS Investigators
A prestigious training program will no longer be available for Illinois Department of Children and Family Service (DCFS) investigators. The University of Illinois at Springfield (UIS) has announced that it is ending its contract to provide a much-lauded training program and simulations.
The program has included in-classroom learning as well as simulations of the conditions that the investigators could likely face in the field.
According to officials from UIS, the university had strongly recommended that DCFS offer new investigators a five-week training course at the program, but the Administration was only willing to offer training completed during a single week.
DCFS also has simulation labs at Northern Illinois University and on Chicago's south side.
The topic of DCFS investigator training has been a focus recently, especially following the death of Deidre Silas, who was killed earlier in the year during a home visit. She was the second investigator killed in recent years while on the job.
The agency has also faced significant controversy this year, with numerous stories regarding children the agency has interacted with, leading to the DCFS director being held in contempt of court a dozen times.