Senator Wilcox to Host Barks & Brews in Woodstock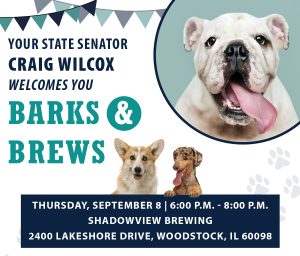 This week I'm trying a new twist on my Conversations Untapped series. On Thursday, September 8, I am partnering with ShadowView Brewing and the Helping Paws Animal Shelter on September 8 for a laid-back evening of casual conversation, craft brews, and pets available for adoption.
Senator Wilcox's Barks & Brews
Thursday, September 8
6:00-8:00 PM
ShadowView Brewing
2400 Lakeshore Drive
Woodstock, IL
What could be better than a crisp fall evening where constituents can meet and talk with their Senator while enjoying one of ShadowView Brewing's famous craft beers? Enjoying that same event surrounded by dogs! The four-legged friends that will be at the event are looking for their forever homes, and I am hoping we can help begin the process of placing the dogs with good families.
Helping Paws Animal Shelter will have a group of dogs available for adoption at the event, and those who find a pet they would like to adopt can then set an appointment to complete the adoption process at the shelter. No same-day adoptions will be permitted.
My dog Daisy is a rescue and I have always been an advocate for pet adoptions. I hope we can place several dogs through this collaborative event. For additional information about this event, please contact Ryan at rschwartz@sgop.ilga.gov.
Illinois auditor general breaks down latest IDES audit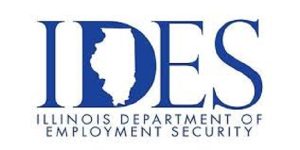 Reports continue to mount that show the Illinois Department of Employment Security (IDES) has been severely struggling for more than two years. The most recent audit conducted by the Illinois Auditor General (IAG) was released this week, and it shows similar findings of past reports which document mismanagement, dysfunction, and widespread fraud at the Pritzker agency.
The two-year audit shows 26 findings of non-compliance, including failure to prepare monthly reconciliations and weaknesses in security over confidential information, among many other concerning findings. It was noted that the massive disorganization regarding unemployment claimants continues to prevent auditors from determining the amount of fraud within the pandemic unemployment assistance (PUA) program.
According to the Department, more than 424,887 claimants had received benefits totaling $8.16 billion by June 30, 2021. Auditors were unable to conduct further testing to see whether those claimants were actually entitled to these benefits, or if they were fraudsters.
Illinois is one of several states that borrowed from federal taxpayer funds to pay unemployment claims during the pandemic. The state racked up $4.5 billion in debt with interest. After failing to fill the deficit this spring, the state still owes $1.8 billion.
Application period now open for energy bill assistance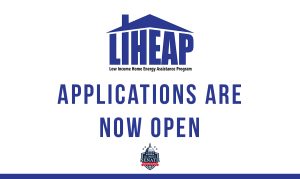 Low-income Illinois families can now begin to apply to receive utility bill assistance for natural gas, propane, and electricity through the Low-Income Home Energy Assistance Program (LIHEAP). The application period began September 1.
The amount of support families can receive varies based on the needs of the applicants, but 2021 recipients received an average of $1,330 per household. Annual eligibility levels are determined based on available funding and may not exceed 200 percent of the federal nonfarm poverty level. Additionally, families can also qualify for assistance with water and wastewater bills if their households are disconnected, in threat of disconnection, or if they are more than $50 in arrears on their current bill.
The eligible income thresholds can be found on the Help Illinois Families website. Families can also call the hotline at 1-833-711-0374 if they think they might be eligible for the program.
Official Illinois Bike Maps are now available
The Illinois Department of Transportation (IDOT) has announced new-and-improved Illinois Official Bike Maps this week. The new maps are said to be more user-friendly.
Maps for each of IDOT's nine districts include features and designs that offer more information on noteworthy stops and attractions easily accessible by bike, as well as details on attractions such as campgrounds, parks, and other points of interest.
To find a map or for more information, click here.