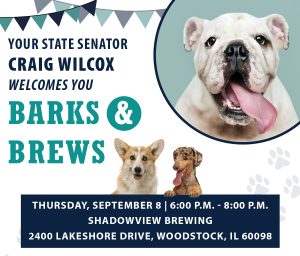 In a new twist on his Conversations Untapped series, State Senator Craig Wilcox (R-McHenry) is partnering with ShadowView Brewing and the Helping Paws Animal Shelter on September 8 for a laid-back evening of casual conversation, craft brews, and pets available for adoption.
Senator Wilcox's Barks & Brews
Thursday, September 8
6:00-8:00 PM
ShadowView Brewing
2400 Lakeshore Drive
Woodstock, IL
"What could be better than a crisp fall evening where constituents can meet and talk with their Senator while enjoying one of ShadowView Brewing's famous craft beers? Enjoying that same event surrounded by dogs!" said Sen. Wilcox. "The four-legged friends that will be at the event are looking for their forever homes, and I am hoping we can help begin the process of placing the dogs with good families."
Helping Paws Animal Shelter will have a group of dogs available for adoption at the event, and those who find a pet they would like to adopt can then set an appointment to complete the adoption process at the shelter. No same-day adoptions will be permitted.
"My dog Daisy is a rescue and I have always been an advocate for pet adoptions," added Sen. Wilcox. "I hope we are able to place several dogs through this collaborative event."
For additional information about this event, please contact Ryan at rschwartz@sgop.ilga.gov.