COVID-19 Disaster Declarations to End May 11
Gov. JB Pritzker announced this week that he will finally be ending his continued COVID-19 disaster declarations on May 11, 2023. This announcement coincides with the decision by the White House to end the federal emergency declarations on that date.
Illinois' disaster declaration has been in place since March 9, 2020. Since then, the Governor has issued the disaster declaration every 30 days, which has allowed him to order statewide mandates and restrictions at his discretion.
Illinois remains one of only eight states that still have a disaster declaration in place, and it's the only state in the Midwest currently under a declared state of emergency.
Over the past three years, the Governor used the disaster declaration to impose restrictions such as forcing businesses and schools to close and mandating the use of masks in public.
While I am pleased that the emergency declarations will finally come to an end, I am still critical of how long the declarations lasted and maintain my belief that the Governor has been abusing his executive powers.
Deadline to submit Valentines for Seniors Approaching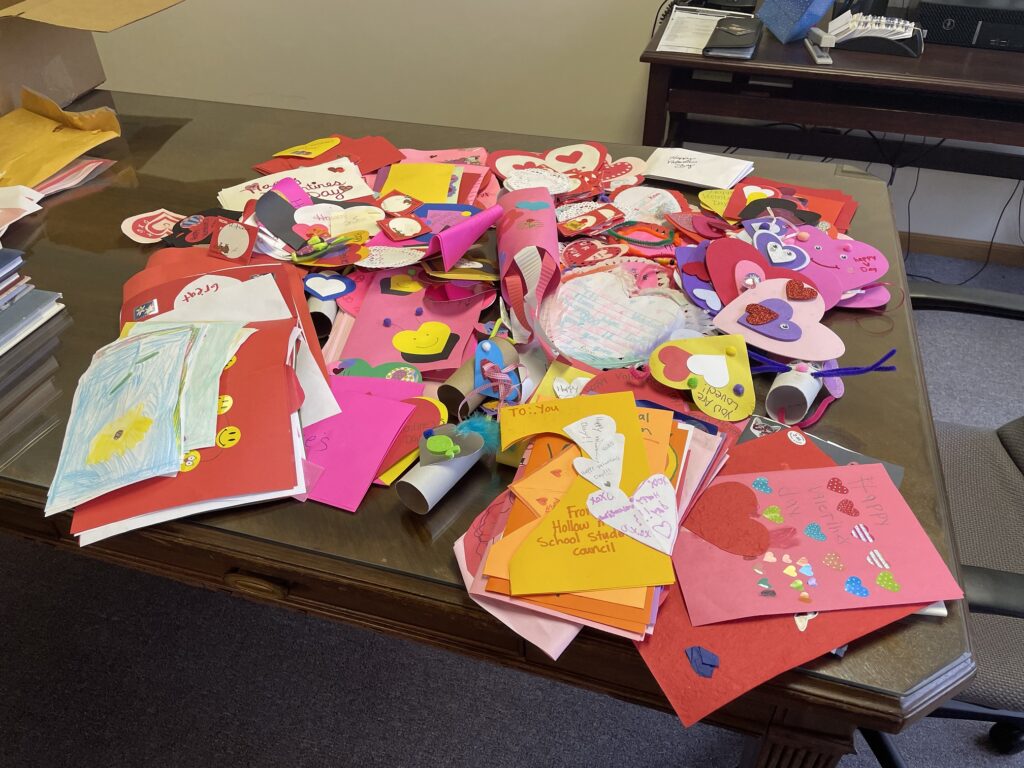 This coming Tuesday, February 7 marks the deadline to submit valentines and notes for my Valentines for Seniors program. Wonderful and creative valentines continue to arrive at my McHenry office, but we could use your help if we are to set a new record for the number of valentines distributed in the 32nd District.
To help reach that goal, I'm hoping students from public and private schools, church groups, Scouting organizations and other groups will participate and create homemade cards that will be delivered to seniors on or before Valentine's Day.
Cards, poems, and other well-wishes will be collected between now and February 7 at my McHenry office, located at 5400 W. Elm Street, Suite 103. Those dropping off cards in person can place them in the valentine mailbox outside of the office between 8:00 a.m. and 8:00 p.m. on weekdays. Cards can also be mailed.
Woodstock Willie Predicts Six More Weeks of Winter

On Thursday I joined hundreds on the Woodstock Square to hear Woodstock Willie's prognostication on Groundhog Day. Unfortunately, Willie saw his shadow and predicts six more weeks of Winter. This year's Groundhog Day celebration in Woodstock was a celebration of the 30th anniversary of the release of the iconic movie "Groundhog Day," which was filmed on and near the Woodstock Square.
Speaking of Winter weather, we are experiencing some really cold weather. If you know someone in need of a warming center, a list of centers can be found at: https://keepwarm.illinois.gov/warming-centers.html?fbclid=IwAR1BPi6c0i5bLNR4RrbgbMh20oHRwNNMBNE5RXjoqce3ne4mbX38GveNGIk.
Sen. Wilcox Chosen as Republican Spokesperson for Senate Veterans Affairs and Labor Committees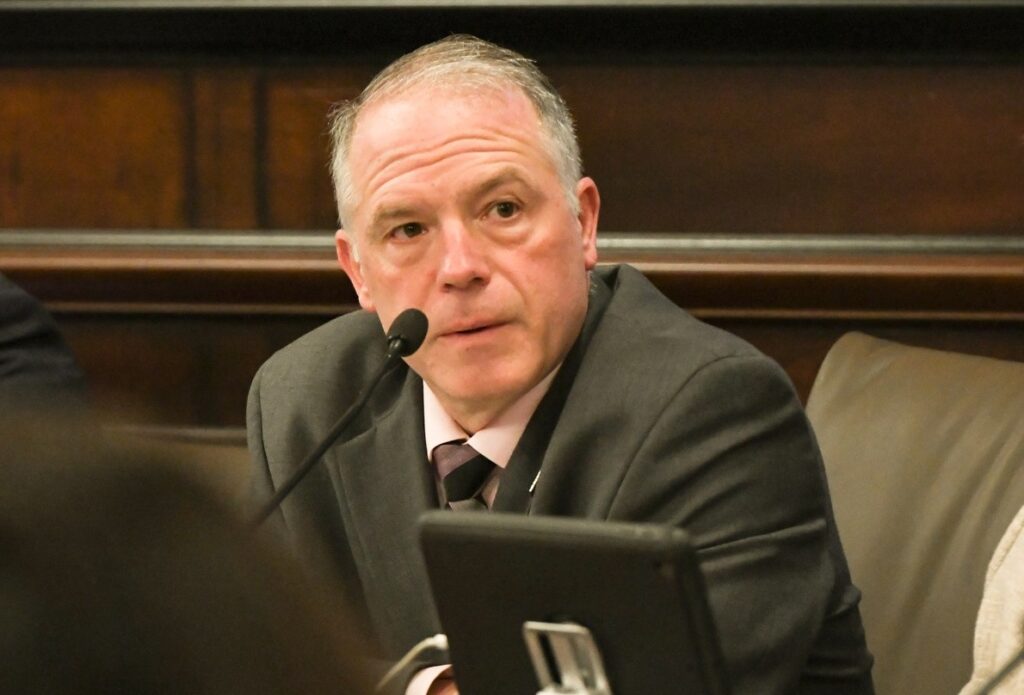 As the vetting process for bills begins for the 103rd General Assembly, I will assume leadership roles as the Republican Spokesperson for the Senate Veterans Affairs and Labor Committees. As a veteran myself, I am honored to be the leading Republican voice on the Senate's Veterans Affairs Committee. It's a privilege to have a hand in shaping public policy that assists and protects our veteran heroes.  I also look forward to serving as the ranking Republican on the powerful Labor Committee. Illinois faces a great number of challenges regarding the workforce, and I look forward to having a seat at the table for these important discussions. In the 103rd General Assembly, I will also serve on the Education, Transportation, Local Government, and Appropriations Committees.
Illinois Unemployment Rate Continues to Trail the Nation
The federal Bureau of Labor Statistics released its December unemployment statistics, and Illinois remains among the worst in the nation with an unemployment rate at 4.7%. The only state with a higher rate than Illinois was Nevada.
In December, Illinois' 4.7% unemployment rate meant that at that time 303,000 Illinoisans were unemployed. This rate is higher than its neighboring states, where the highest rate is 4.3% in Michigan and the lowest is 2.8% in Missouri. Additionally, Illinois' unemployment rate stands significantly higher than the national average rate of 3.5%. While Illinois' December rate still shows a 0.4% decrease in the unemployment rate from December 2021, it still marks a trend of slight increase over the past few months. In 2022, unemployment had been slowly decreasing in the first half of the year, but from August 2022 on, the data showed a steady increase for the first time since April 2020.
State Employee Retirees Notified of Tax Withholding Mistake
In an email notification, state retirees were informed that their January pension checks were accidentally increased this month, as the State Employee Retirement System (SERS) failed to withhold the correct amount for federal taxes. Currently, SERS is leaving it to the retirees to correct this mistake but has offered a FAQ document on its website to help address concerns and questions.
In the SERS pension plan, withholding is used to withdraw a set amount of money from each paycheck or retirement pension that is used toward paying taxes. Thus, if a month is skipped, the annual amount withheld will be less than what taxpayers set for themselves. This means that state retirees will end up having to either pay more in taxes or receive a lower tax return when they file their taxes.
Despite this mistake, SERS will not be withholding any additional taxes in February that might compensate for the January error. They are recommending that state retirees either set aside the amount that should have been withheld from their January check personally, submit a modified W-4P form that will authorize SERS to withhold additional federal tax from future months, or contact a tax advisor to come up with another solution. In order to find out how much should have been withheld in January, retirees can check through their SERS Member Services account. Furthermore, SERS cautions that any changes in withholding may not take effect until March.