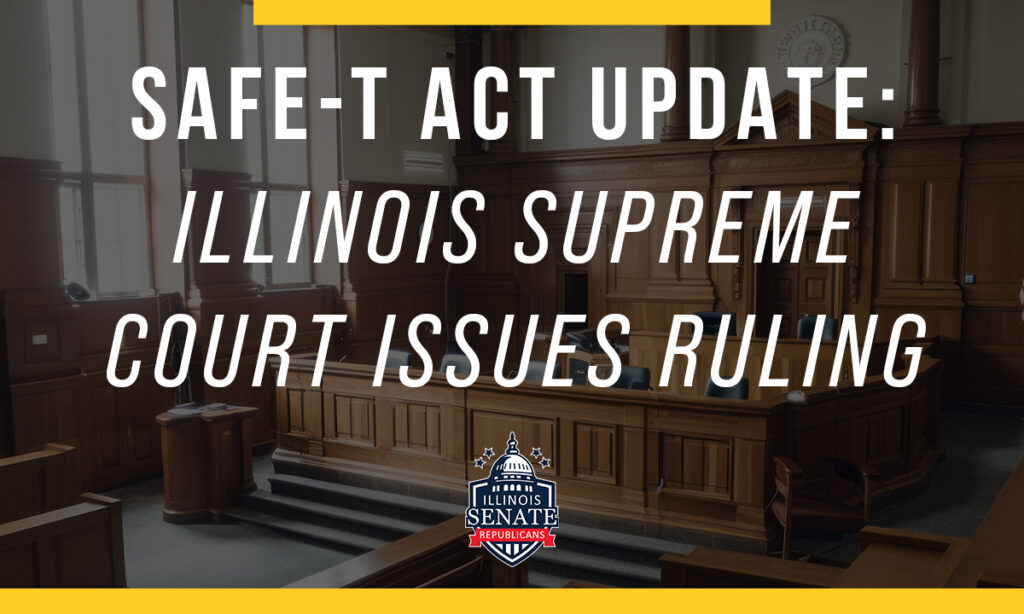 On July 18, the Illinois Supreme Court upheld the highly controversial SAFE-T Act. Despite strong opposition from law enforcement and state's attorneys across the state, the court issued a split 5-2 decision along party lines in favor of the no-cash bail provisions found within the law. Click here to read the ruling.
In its ruling, the Supreme Court is giving counites 60 days to implement the law, which will take effect statewide beginning Monday, Sept. 18. Many counties have expressed concern over the negative impact the law will have on the safety of its residents, as well as the financial impact eliminating cash bail will have on local government budgets. I believe those costs will likely be made up by an increase in property taxes, a decrease in government services, or both.
Since its infamous late-night passage on the final day of the 2021 lame-duck session, the SAFE-T Act has been highly criticized for the lack of input allowed by law enforcement, state's attorneys, and judges by the Majority Party leaders who forced the legislation through the General Assembly with little-to-no time for public scrutiny.
Upon learning of the ruling, I issued the following statement:
"This is not the ruling I had hoped for in this case. The bottom line is that Illinoisans deserve to feel safe in their communities, and this decision makes our cities and towns less safe. The turnstile system of criminal justice that goes along with the elimination of cash bail will put dangerous offenders back on the streets within hours of their arrest. Judges must have the flexibility to set bail as they see fit given the circumstances of each individual case.
"In a state with alarming crime statistics, eliminating cash bail without giving judges full discretion is the last thing we should do. Until Illinois decides once and for all to get tough on crime and hold offenders accountable, this state will continue to have a serious crime problem."
Bipartisan Oversight Committee Admonishes Pritzker Administration Officials for Poor Process on Rules
When laws are passed in Illinois, it is common that affected agencies will "write rules" that explain the process by which a new law will be implemented. The Legislature's Joint Committee on Administrative Rules (JCAR) is a committee comprised of six Republicans and six Democrats who oversee the rulemaking process by state agencies, making sure the rules abide by the original intent of legislators when laws are passed.
At the panel's July meeting, representatives of the Illinois Departments of Children & Family Services (DCFS), and Healthcare & Family Services (HFS), and the Illinois Environmental Protection Agency (EPA) and Pollution Control Board were presenting rules for the implementation of a variety of programs. In each case, JCAR members expressed their disappointment in a lack of proper process in the formulation of the rules. Department heads were scolded by Republicans and Democrats alike for not engaging with affected stakeholders before bringing rules forward, and for creating "manufactured emergencies" by waiting until right before statutory deadlines to bring rules to JCAR for consideration.
Retailers Discuss Challenges at Roundtable Event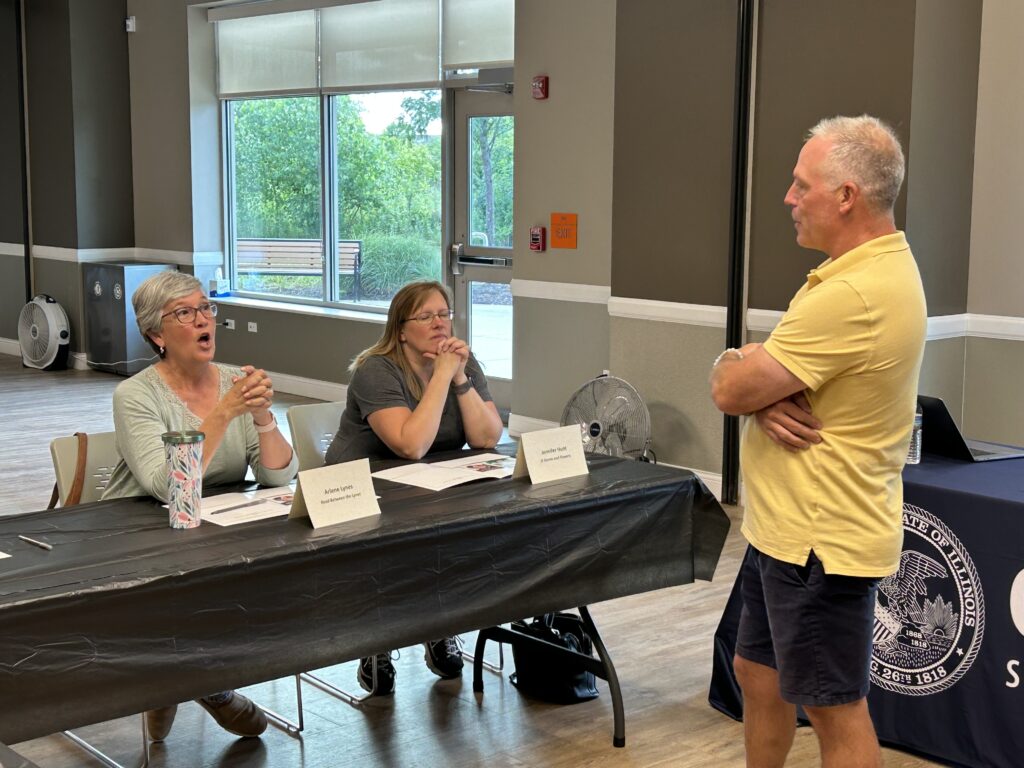 Thank you to everyone who attended my recent Retail Roundtable discussion. We had a very productive conversation about the challenges these businesses continue to face with hiring, inflation, and other issues. These roundtable discussions are incredibly important, as they provide a space where I can hear directly from constituents about the challenges they are having and how I may help provide a legislative solution.
Upcoming community events in the 32nd District include:
August 16, Unclaimed Property Day: 2:30 PM-4:30 PM, Fox Lake Public Library, 255 E. Grand Ave., Fox Lake


September 19, Virtual FAFSA Information Meeting: 6:00 PM-7:00 PM, online, details coming soon


October 17, Senior Fair: 10:00 AM-12:00 Noon, Grand Oaks Recreation Center, 1401 IL-176, Crystal Lake
Crystal Lake's First Emergency Room Opens for Business Today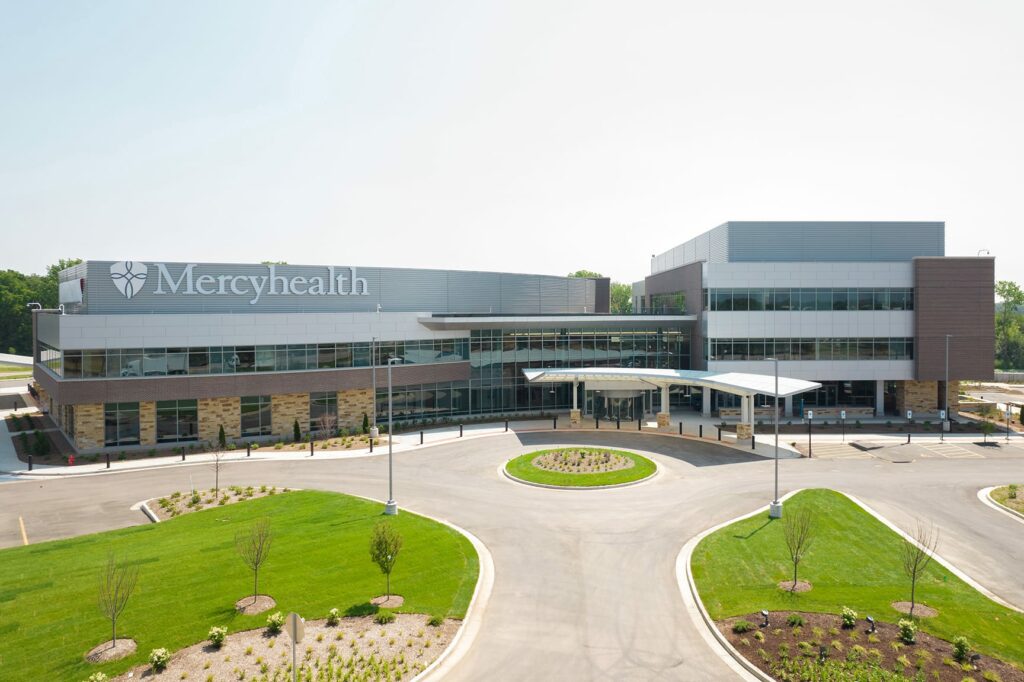 On July 15, local officials and the public were able to get their first glimpse of the new Mercyhealth Hospital in Crystal Lake. Mercyhealth Hospital, complete with the city's first emergency room and a physicians clinic, is officially set to open on Monday, July 24 (today).
The new hospital and physicians clinic is located at 875 S. Route 31, near the intersection of Route 31 and Rakow Road. It will offer 24-7 emergency care and has 13 inpatient private rooms and two licensed intensive care units. The facility also will offer family medicine, orthopedics, sports medicine, gastroenterology, general surgery, cardiology, cancer care, infusion therapy and physical therapy.
The project broke ground in 2021, and I am delighted that the City of Crystal Lake finally has a fully functional emergency room.