Record turnout and success at Wilcox-Weber Unclaimed Property event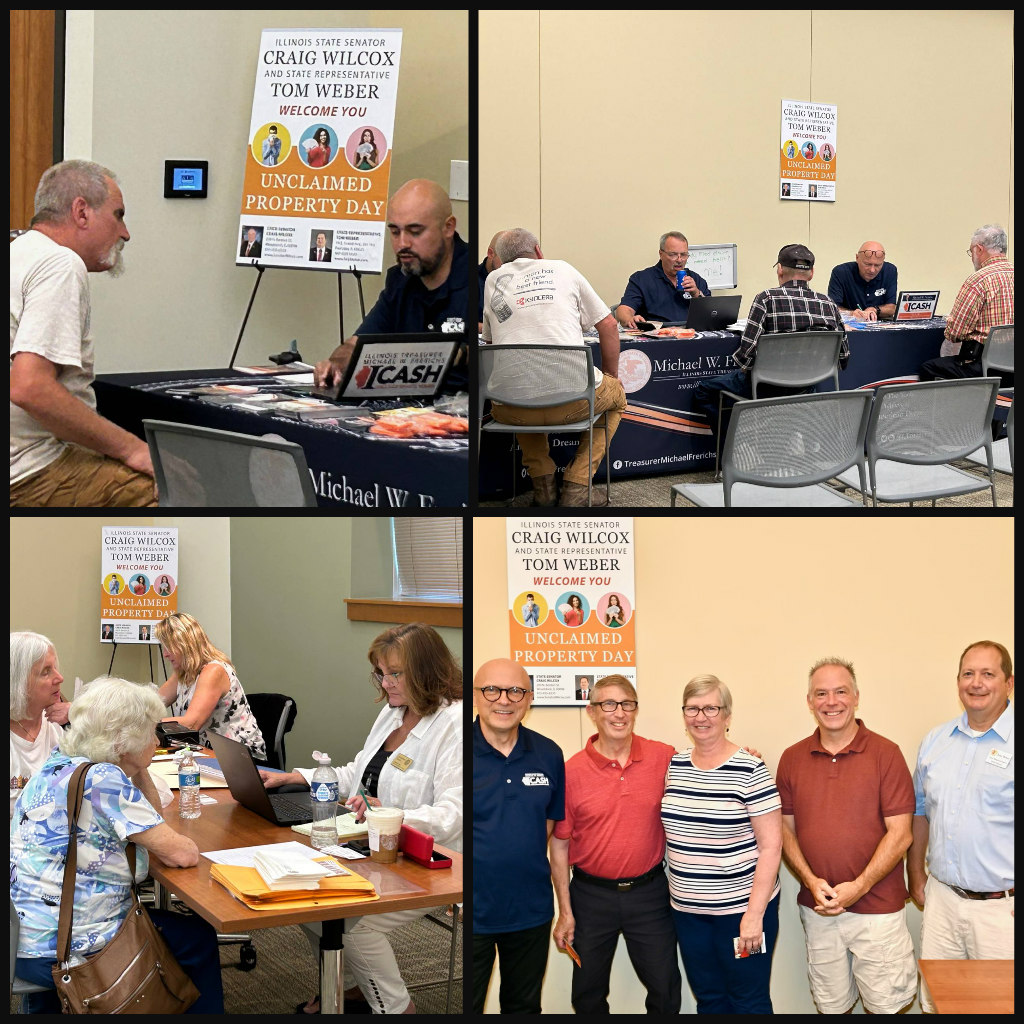 My deepest appreciation goes out to the Treasurer's Office ICASH team and other staff who helped out at the Unclaimed Property Event held last week with State Rep. Tom Weber. We had over 100 people work with ICASH professionals, and by the end of the event, more than $183,000 was returned to constituents, including one $48,000 claim, a $6,000 claim, a $600 claim, and many more. These Unclaimed Property events are the real deal, and they reconnect Illinoisans with unclaimed property and cash they didn't know was waiting for them.
I will certainly host another of these events in the future. Watch this newsletter and/or my website (senatorwilcox.com) to find out when the ICASH team will be in the 32nd District for another event.
Governor vetoes bipartisan nuclear legislation
On Aug. 11, Governor JB Pritzker issued a full veto of legislation I co-sponsored that would have ended Illinois' decades-old ban on the construction of advanced nuclear reactors.
Senate Bill 76 garnered strong bipartisan support, receiving a 36-14 vote in the Senate and an 84-22 vote in the House of Representatives. Despite the wide margins of passage, the Governor's veto message cited his concerns that the definition of an advanced nuclear reactor was "overly broad" and could allow for the building of large nuclear facilities.
In response to the Governor's veto, proponents of Senate Bill 76 pointed out that the legislation was amended before its final passage to narrowly define what constitutes an advanced nuclear reactor using federal law with the intent that only small modular reactors could be built.
This legislation would have assisted in Illinois' ongoing energy goals to build a cleaner, stronger, and more robust power supply. Unfortunately, wind and solar alone cannot fulfill the state's needs, and this legislation would have helped bridge the gap. I hope that Senate and House leadership will allow the bill to be called for an override vote during the upcoming fall Veto Session.
Legislation targeting gun industry signed into law, but faces legal challenge
Governor Pritzker recently announced the signing of House Bill 218, which allows the Attorney General, counties, and private citizens to sue members of the firearm industry for vaguely defined so-called "unlawful business and marketing practices."
Proponents claim the new law is intended to clarify that the gun industry is subject to Illinois' Consumer Fraud and Deceptive Business Practices Act for marketing firearms, accessories and related products in a way that promotes illegal paramilitary or private militia activity in Illinois or that encourages people younger than age 18 to illegally possess, purchase, or use firearms.
Opponents of the new law note that the gun industry is already subject to the state's Consumer Fraud and Deceptive Business Practices Act, like every other business. The changes within House Bill 218 have very little, if anything, to do with actual consumer fraud or deceptive business practices.
Opponents also point out that House Bill 218 was intentionally written with broad language to make it easier for the Attorney General and anti-gun groups to target gun manufacturers and Federal Firearms Licenses (FFLs) in order to put them out of business.
Two days after the Governor signed House Bill 218, opponents of the law filed a lawsuit in the federal Southern District of Illinois. The lawsuit claims the new law violates the First Amendment right to free speech, the Second Amendment right to bear arms, and the 14th Amendment guarantee of due process. The lawsuit also claims that the law imposes liability in Illinois for actions committed by other individuals or in other states and is preempted by the federal Protection of Lawful Commerce in Arms Act.
Pair of higher education scholarship bills become law
On Aug. 11, the Governor signed a pair of bills directed at establishing scholarship programs to attract talented high school graduates to attend Illinois universities and colleges.
The first bill, House Bill 301, permanently establishes Illinois' Aspirational Institutional Match Helping Illinois Grow Higher Education (AIM HIGH) Grant Pilot Program. AIM HIGH was originally a statewide pilot program that provided merit-based scholarships to Illinois high school graduates to incentivize more high-achieving students to attend Illinois public universities, rather than them taking out-of-state offers with the chance they never return.
The second bill signed into law, House Bill 1378, establishes the Illinois Graduate and Retain Our Workforce (iGROW) Tech Scholarship Program. The iGROW program awards scholarships in order to recruit and train individuals to work in technology jobs that have a high demand for new employees and offer high wages. Scholarships may be made through the 2029-2030 academic year for a maximum of eight academic semesters.
Both scholarship programs should help the state deal with the ongoing "brain drain" of young, talented high school graduates and help ensure that Illinois' workforce remains full of strong and qualified candidates.
Governor takes action on remaining legislation
As the 60-day deadline for executive action on 2023 legislation now passed, the Governor has now taken action on all remaining bills.
Some of the Governor's final actions included the signings of several bills supported by Senate Republicans. Those bills included:
House Bill 2317 – Allows anyone older than age 26 who has not purchased a fishing license in the last 10 years to be eligible to receive a one-time annual resident fishing license for $5. Any nonresident who has not purchased a nonresident fishing license in the past 10 years shall be eligible to receive a one-time annual sport fishing license for a fee of $10.
House Bill 3326 – Requires insurance or managed care plans to offer, for an additional premium, coverage for hearing instruments if prescribed by a hearing care professional.
House Bill 3814 – Allows students who participate in FFA and 4-H to be excused from school when attending their official events, and to be considered in attendance.
Upcoming Events in the 32nd District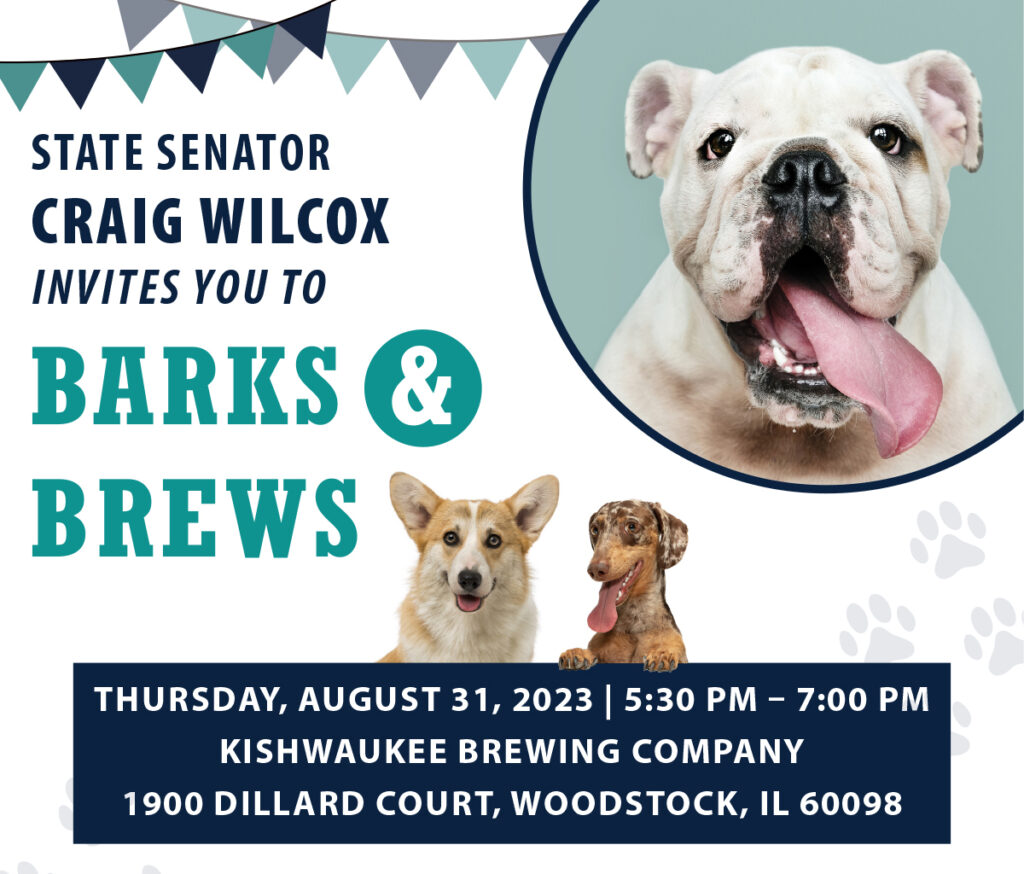 We have several upcoming community outreach events. I hope to see you at the following events in the 32nd District:

August 31, Barks & Brews: 5:30 PM-7:00 PM, Kishwaukee Brewing Company, 1900 Dillard Court, Woodstock


September 14, Conversations Untapped: 5:30 PM-7:00 PM, Cary Ale House & Brewing, 208 W. Main Street, Cary


September 19, Virtual Student Financial Aid Information Meeting: 6:00 PM-7:00 PM, online, to receive the webinar link, please RSVP to Lori at lyates@sgop.ilga.gov


October 10, Conversations Untapped: 5:30 PM-7:00 PM, Timothy O'Toole's Pub, 10 W. Grand Avenue, Lake Villa


October 12, Conversations Untapped: 5:30 PM- 7:00 PM, Rivalry Alehouse, 945 Main Street, Antioch


October 17, Senior Fair: 10:00 AM-12:00 Noon, Grand Oaks Recreation Center, 1401 IL Route 176, Crystal Lake