DCFS Director Stepping Down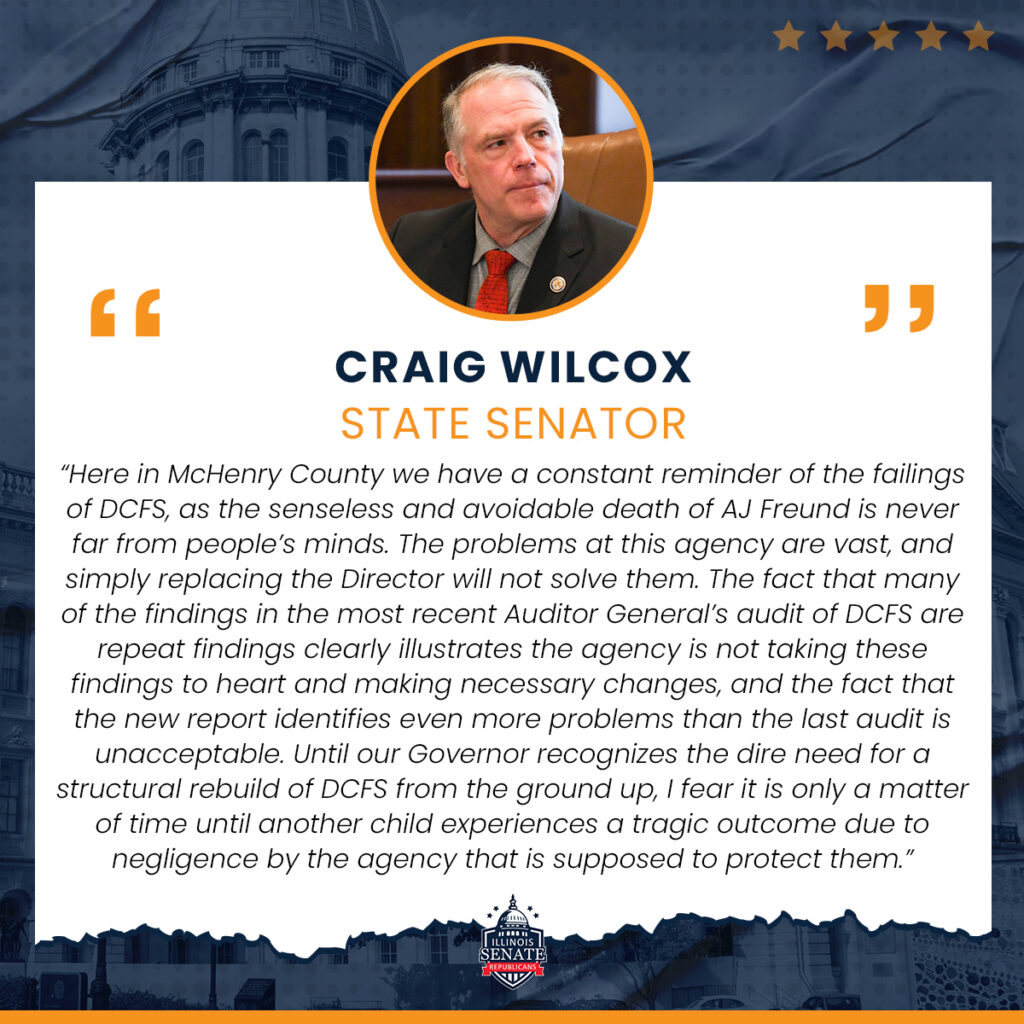 In last week's newsletter, I highlighted a recent IL Auditor General audit report of Illinois' Department of Children & Family Services (DCFS). The report showed operations at the agency charged with keeping vulnerable children safe are getting worse, not better. Not only is the Department not making changes based on previous audit findings, but new problems also seem to be identified in each new audit. Based on the audit, DCFS Director Marc D. Smith announced last Tuesday he would step down from his position at the end of the year.
DCFS is charged with caring for vulnerable Illinois children, including victims of abuse and children who are in the care of the state for various reasons.
The recent compliance audit of DCFS contained 33 findings of the agency not being in compliance with state laws and rules, including multiple failures by the agency to properly notify authorities about evidence of abuse against children in a timely fashion. The audit also called "misstatements" that were "both material and pervasive." Twenty-three of the audit's findings of noncompliance were repeat findings from the agency's previous audit. It's unacceptable and infuriating.
Additionally, in recent years, DCFS and Director Smith have been found to be in contempt of court in multiple cases for failing to properly place children into safe homes. Some of the cases involved children who were left in psychiatric facilities months after they were ready to be released. Another involved a teenage girl who was moved 24 times in just 4 months.
According to news reports, Director Smith first announced that he was leaving during a conference call with staff. The information was later confirmed by the Governor, along with the departures of the directors of the Department of Healthcare and Family Services (HFS) and the Department on Aging (DoA).
The Governor needs to act swiftly to find a competent new director for DCFS, but the Governor must also acknowledge that the issues at the agency run much deeper than just one person. It is unacceptable that the administration has allowed the agency to continue to fail to protect the vulnerable children of our state for so long. In my opinion, DCFS has ballooned into a mammoth agency where accountability is nearly impossible, and DCFS needs to be completely restructured from the ground up.
Veterans Memorial Returns to Capitol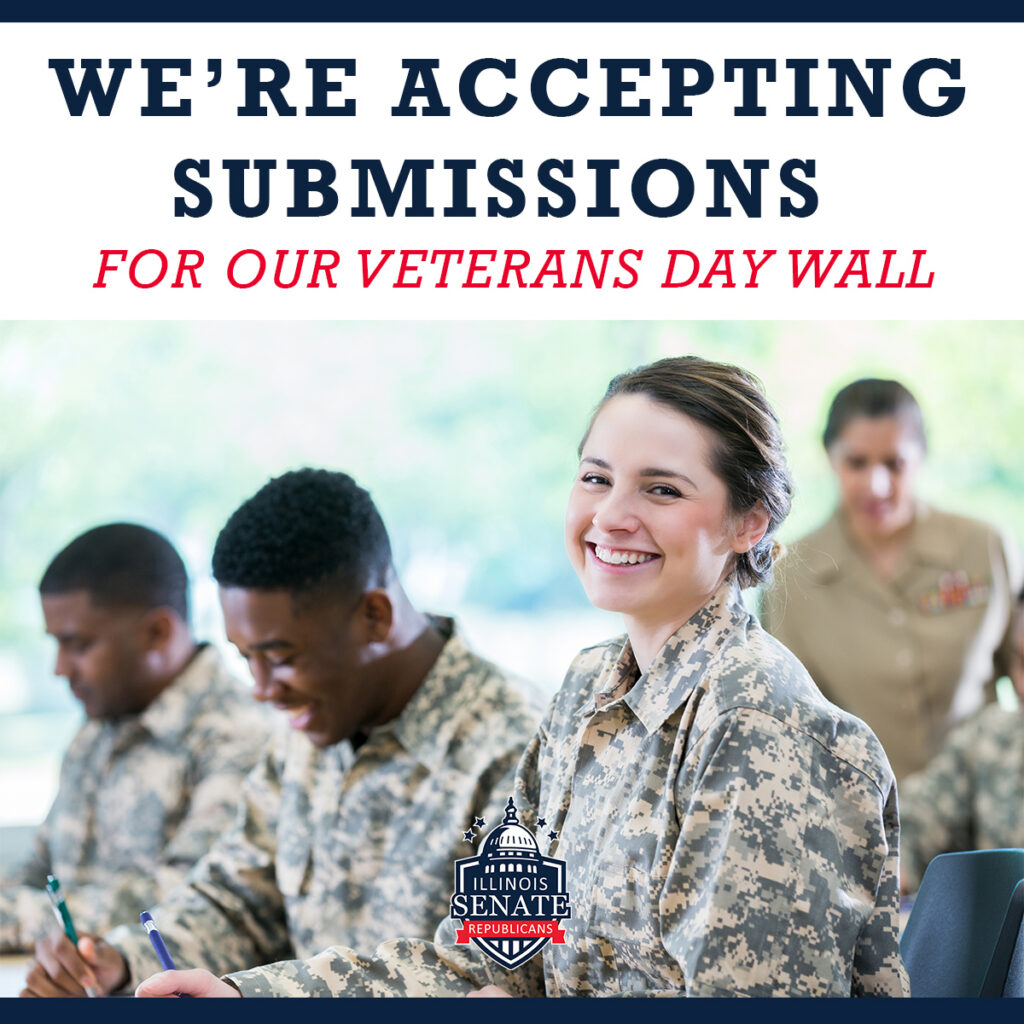 Members of the Illinois Senate Republican Caucus are once again working to honor the sacrifices of veterans with a memorial at the Illinois State Capitol, and I am encouraging friends and families across the 32nd District to submit a photo and short story (less than 250 words) of their veteran by Nov. 6 so it can be included in this year's memorial display.
The caucus' memorial will be on display in the Capitol rotunda from November 7th to November 20th. It will feature a large electronic display of veterans and their stories, along with a wall where visitors can write notes of thanks to those who served.
Entries can be submitted to VeteransDay@sgop.ilga.gov.
Three Outreach Events Coming Up in the 32nd District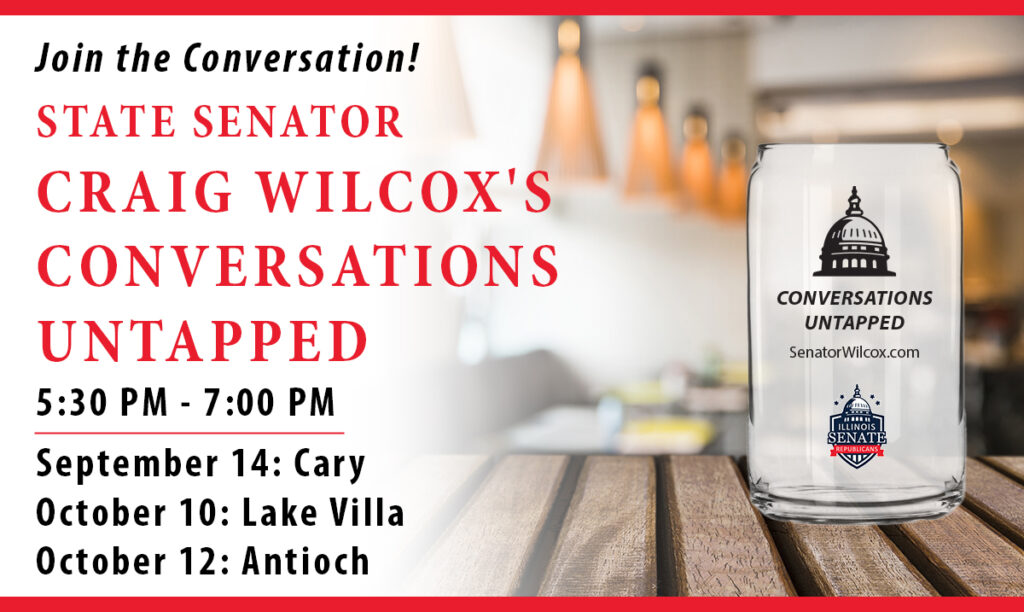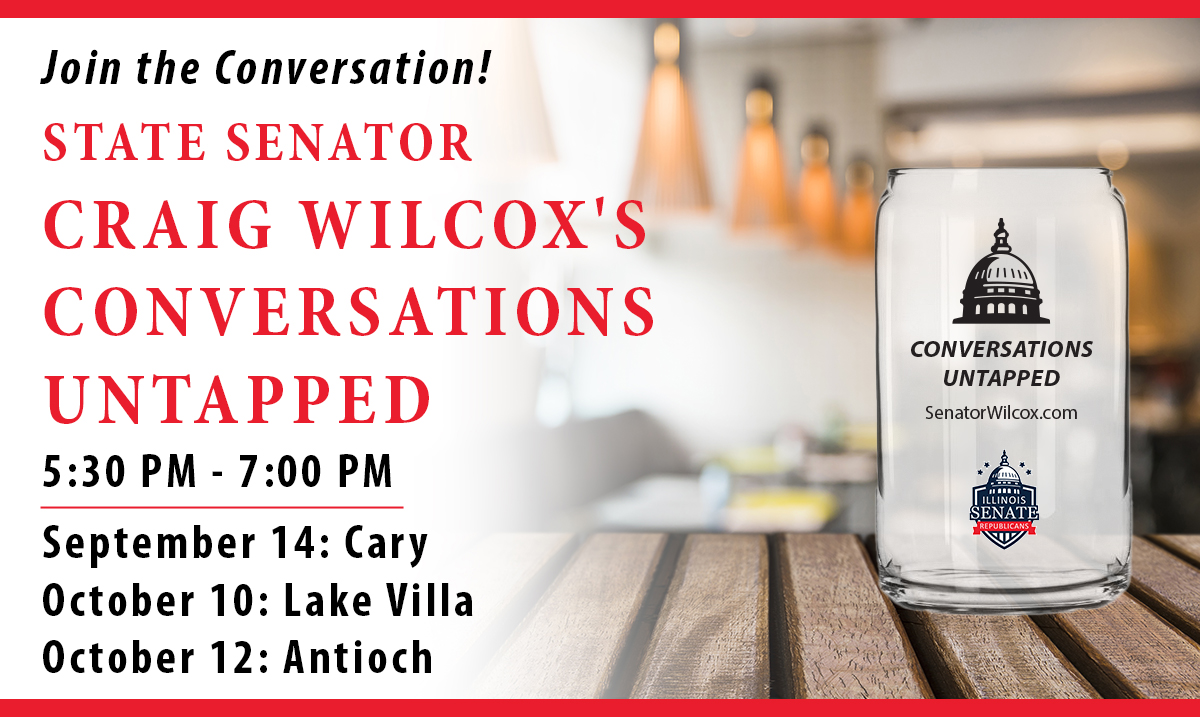 Events in the 32nd District continue in October, with three outreach events scheduled in the next week and a half. They include:

October 10, Conversations Untapped: 5:30 PM-7:00 PM, Timothy O'Toole's Pub, 10 W. Grand Avenue, Lake Villa


October 12, Conversations Untapped: 5:30 PM- 7:00 PM, Rivalry Alehouse, 945 Main Street, Antioch


October 17, Senior Fair: 10:00 AM-12:00 Noon, Grand Oaks Recreation Center, 1401 IL Route 176, Crystal Lake
USDA Announces Grants to Enhance Rural Water and Waste Systems
The U.S. Department of Agriculture (USDA) Rural Development has unveiled an opportunity for private nonprofit organizations to apply for grants aimed at enhancing water treatment and waste disposal systems in rural areas. This initiative, part of the Water and Waste Disposal Technical Assistance and Training Grants program, strives to improve essential facilities for households and businesses in rural communities.
Funds may be used for:
Identifying and evaluating solutions to water problems related to source, storage, treatment, distribution, collection, and disposal;
Providing technical assistance and training to improve management, operations and maintenance of water and waste disposal systems; or
Preparing water and waste disposal loan and grant applications.
Eligible areas for these grants encompass cities, towns, unincorporated rural regions with populations up to 10,000 residents, and tribal lands. Priority consideration will be given to projects serving areas with populations of fewer than 5,500 or 2,500 residents. Projects are expected to be completed within 12 months.
Applications will be accepted from now until December 31, 2023, on grants.gov. For more information on the USDA Rural Development's priority points and updates, please visit https://www.rd.usda.gov/priority-points.
Illinois Farmers Making Progress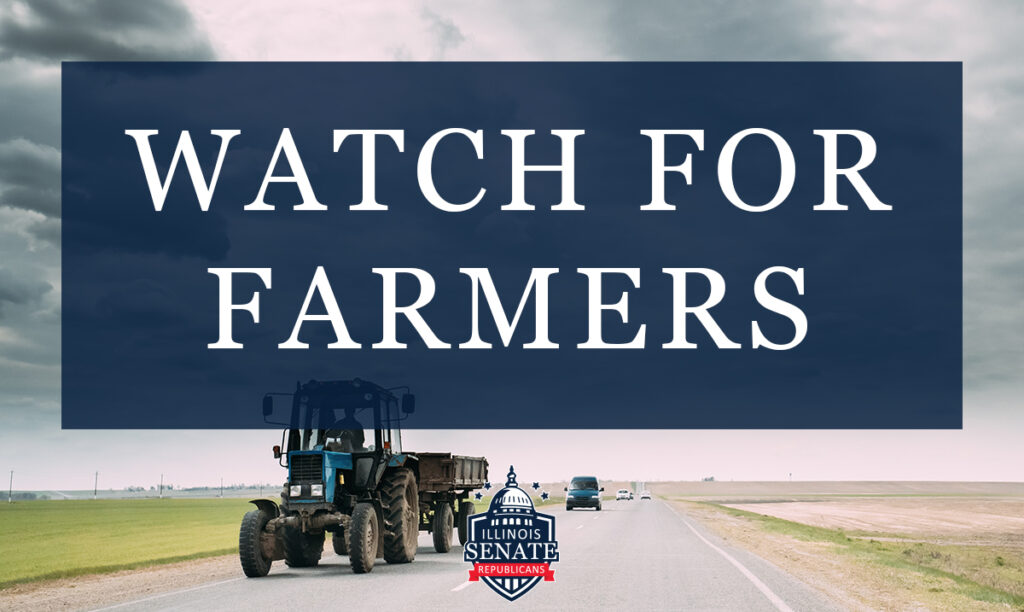 Farmers in the Land of Lincoln are starting to make significant progress in harvesting the state's corn and soybean crops.
According to the United States Department of Agriculture's (USDA) National Agricultural Statistics Service (NASS), 23% of Illinois corn acres have been harvested, along with 19% of soybean acres. Those totals are just about double the number of acres that were harvested at the same point in 2022.
The condition of the crops has improved significantly as well. While much of the state was suffering from moderate to severe drought as recently as June, late-season rains helped the fields to rebound.
According to the NASS data, 66% of Illinois corn and soybean acres are rated as good or excellent.
October is Breast Cancer Awareness Month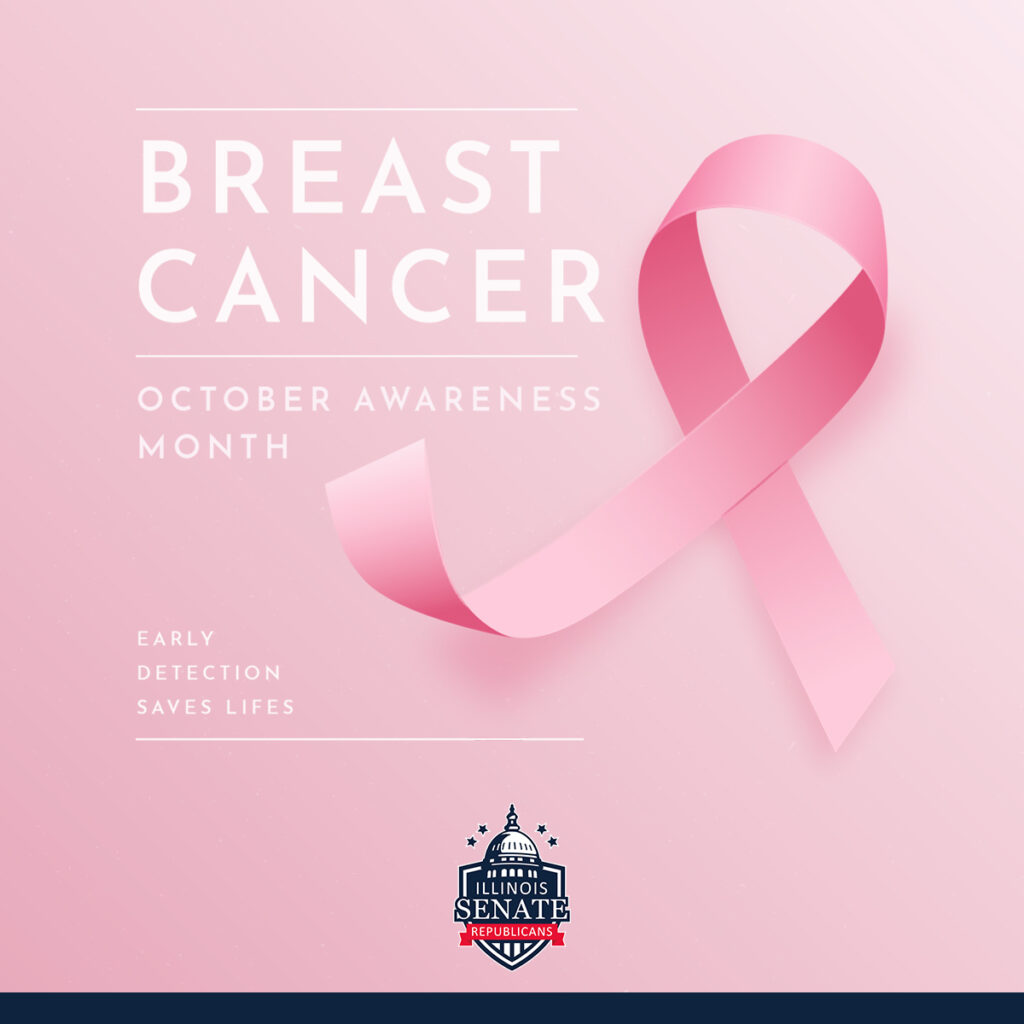 If you've noticed lots of folks wearing pink ribbons in recent days, that's because October is Breast Cancer Awareness Month.
The focus is on promoting awareness of the disease, along with the stories of survivors and those who lost their lives. Numerous breast cancer organizations also hold fundraisers to help generate money for research on treatments to help patients.
According to the National Breast Cancer Foundation, 1 in 8 women in the U.S. will be diagnosed with breast cancer in their lifetime. An estimated 43,700 American women will die in 2023 from the disease. When caught early, however, the 5-year survival rate is 99%. There are currently 3.8 million breast cancer survivors in the country.
For more information on breast cancer, visit Breast Cancer (illinois.gov).