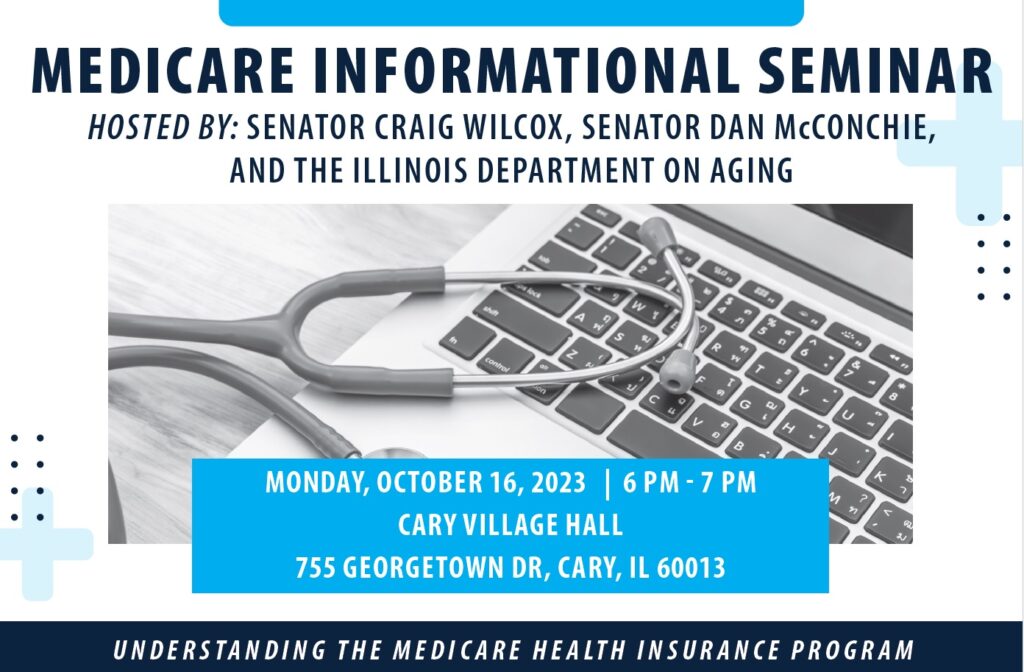 Senators Craig Wilcox (R-McHenry) and Dan McConchie (R-Hawthorn Woods) invite those interested in learning more about the federal Medicare program to attend a free informational session that will be held at the Cary Village Hall on Monday, October 16.
Medicare Informational Seminar
Monday, October 16
6:00 PM – 7:00 PM
Cary Village Hall
755 Georgetown Drive, Cary
"We're bringing back this informational session about Medicare so our constituents can better understand the ins and outs of this federal health care program," said Wilcox. "I hope to see a large turnout of current enrollees and those that are approaching the age of eligibility."
The Senators will partner with the Illinois Department on Aging for the one-hour event which includes an overview of the Medicare program, including eligibility, enrollment, benefits, and other helpful information. A question and answer period will be included.
"As representatives of our community, Senator Wilcox and I are dedicated to ensuring everyone in McHenry and Lake Counties understands their healthcare options." Said McConchie. "We aim to help individuals make informed decisions that pave the way for a healthier future."
For more information about this free seminar, please call Senator Wilcox's office at (815) 455-6330, or Senator McConchie's office at (224) 662-4544.